George Melendez Wright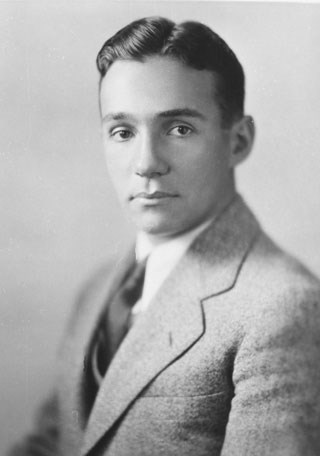 "...Sometimes while I am watching these birds on the water, the illusion of the untouchability of this wilderness becomes so strong that it is stronger
than reality, and the polished roadway becomes the illusion, the mirage that has no substance."
–George M. Wright (Fauna No. 2)
Although his career lasted less than a decade, George Melendez Wright's many contributions to the National Park Service are as valuable today as they were a century ago.
George Wright was born June 20, 1904 in San Francisco into a successful family; his father was a ship's captain and his mother's family held great political clout in her home country of El Salvador where two of Wright's uncles had served as president. After losing both of his parents at a young age, his great aunt helped to raise him in the San Francisco area. Wright became an avid wildlife enthusiast early on, often hiking in the hills of the San Francisco Bay Area. His love of natural history led him to become a Boy Scout instructor during his teens, the President of the Audobon Club in high school, and later, to major in forestry at the University of California, Berkeley. During his college years, Wright often explored Yosemite's backcountry as well as other parks on the west coast and helped lead students as a guide for the Sierra Club during the summer of 1922.
Wright spent a lot of time in national parks, keeping detailed notes and observations about wildlife and other natural resources. In 1927, Wright became assistant park naturalist in Yosemite National Park and his contributions to the park were many. He regularly wrote natural history articles for Yosemite Nature Notes, and was a teacher of field classes in the park. Additionally, Wright also aided the development of the Yosemite Museum.
While assuming these roles, it was soon clear to Wright that wildlife management would become the focus of his National Park Service career. Wright noticed mismanagement of wildlife while living in Yosemite Valley; the abundance of deer, scarcity of mountain lions, presence of Tule elk, and the feeding of black bears for entertainment. Due to the sheer lack of staff devoted to wildlife, he took it upon himself to address the problems.
In 1928, Wright set out to establish a wildlife biology plan for the National Park Service (NPS). Despite being a newcomer to the NPS, Wright managed to gain permission for his project by personally assuming all costs, including travel, equipment, and staff salaries. Using more than half of his inheritance from his father, Wright solely funded his endeavor until July of 1931, when a wildlife budget became a regular portion of the National Park Service's budget.
During the initial seasons of his wildlife surveys, Wright was made aware of the frequent killings of predators in national parks across the nation—often witnessing park employees shoot and trap coyotes, eagles, and even badgers. Wright documented these issues and made the case for a servicewide wildlife division.
In 1933, National Park Service Director Horace Albright established the Wildlife Division of the National Park Service, naming Wright the first division chief. From then until his untimely passing a few years laster, Wright further solidified the Wildlife Division at the headquarters in Washington, DC, as a prominent focus of the National Park Service. In 1934, President Franklin D. Roosevelt appointed him to head the National Resources Board. He spent the next two years traveling to areas and researching areas where new national parks could be established, such as Everglades National Park.
In 1936, while traveling from newly established Big Bend National Park in Texas to Tucson, Arizona, an oncoming vehicle collided with Wright's vehicle, killing his passenger immediately, and Wright the following morning. At just 31, George Melendez Wright's institutional reforms rang loudly throughout the National Park Service as he ushered in a new era of wildlife conservation and resource management in the National Park Service. He is honored with mountains named after him in both Denali National Park & Preserve as well as in Big Bend National Park.
Last updated: November 7, 2019