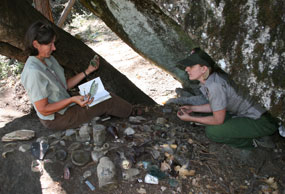 Objects older than 50 years are considered historic and can be significant pieces of our collective history. Cans found at a construction camp can indicate the number of workers and the length of stay at that particular camp. Chinese ceramics and imported food containers in refuse piles along the river reveal information about trade networks and the ethnic groups that were living and working in the park. This is not information that can be found easily in historical documentation. It can often only be discovered by careful scientific examination of archeological material.
If visitors come upon archeological materials, they should not remove them. Removal of artifacts from their location destroys essential information needed to understand who was here and how they lived. The interrelationship of objects or how they are situated on the landscape can often be more important than the objects themselves. Federal and state laws, in fact, protect archeological site location information to prevent unauthorized collection, vandalism, or other visitor-caused disturbances. The first congressional act passed to protect cultural resources on public lands was The American Antiquities Act in 1906 by President Theodore Roosevelt. Other laws that assisted include the 1966 National Historic Preservation Act, the 1978 American Indian Religious Freedom Act, the 1979 Archeological Resources Protection Act, and the 1990 Native American Graves Protection and Repatriation Act.
Follow Ways to Protect Archeological Sites
Watch Your Step. Cultural sites are fragile and easily damaged by picnicking, hiking and camping in the front and back country.
Hands to Yourself. Oils from skin damage pictographs and petroglyphs. Leave artifacts where you find them. Do not move them from one place to another. Out of context, artifacts mean little to experts.
Keep Your Food to Yourself. Crumbs attract rodents that may nest in archeological sties.
Keep Your Eyes Open. Tell someone in charge if you see someone collecting or disturbing an archeological site. Call the park's dispatch office at 209/379-1992.