A Buffalo Soldier Speaks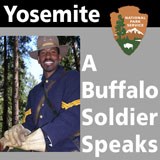 "A Buffalo Soldier Speaks" is a weekly audio podcast featuring National Park Ranger Shelton Johnson as Sergeant Elizy Boman, Troop "K," Ninth U.S. Cavalry, who was dispatched to Yosemite National Park in 1903 and served there through 1904. On their routine patrols through the high country of Yosemite, these Buffalo Soldiers recorded the pertinent but mundane details of their journeys in ledgers that were housed in the remote patrol posts that served as both the beginning and end of long days spent in the saddle. Certainly they must have entertained thoughts more provocative than "encountered 500 head of sheep in Return Canyon. Brand "P," which mirrors the sort of entry you can find in the historic patrol reports! This podcast is an exploration of those thoughts via the imagination of Ranger Johnson, but based on years of historic research of what a particular Buffalo Soldier by the name of Elizy Boman, a man who did exist but of whom we know practically nothing about, might have been feeling or thinking after one of those long, arduous, but inspiring patrols through the "Range of Light."
Subscribe to this podcast on iTunes.

---
Time In Yosemite

Sgt. Boman talks about Time as its own sort of geography, that in the Sierra Nevada you can get lost in the when, the here and now, as easily as taking a wrong turn in the mountains.

Credit / Author:

Shelton Johnson

Date created:

2020-10-14 00:00:00.0
On Two Fronts III

Sgt. Boman's final thoughts on fighting that war for freedom, for true emancipation.

Credit / Author:

Shelton Johnson

Date created:

2020-10-14 00:00:00.0
On Two Fronts II

Sgt. Boman continues this conversation about colored men who serve in the military, and their fight for freedoms that are elusive once they return from the battlefield.

Credit / Author:

Shelton Johnson

Date created:

2020-10-14 00:00:00.0
On Two Fronts

Sgt. Boman tells of an encounter in Jerseydale that prompts him to consider some of the differences between being a colored soldier versus a white soldier in a time of war.

Credit / Author:

Shelton Johnson

Date created:

2020-10-14 00:00:00.0
Power

Sgt. Boman reflects on his status as a sergeant in the Ninth Cavalry and the meaning in his own life of the word "power".

Credit / Author:

Shelton Johnson

Date created:

2020-10-14 00:00:00.0
Moonlight on Banner Peak

Sgt. Boman feels the power of Yosemite on another memorable night in the wild.

Credit / Author:

Shelton Johnson

Date created:

2020-10-14 00:00:00.0
Last updated: March 1, 2015