Wawona Wastewater Treatment System Rehabilitation
Finding of No Significant Impact (FONSI) signed February 2019.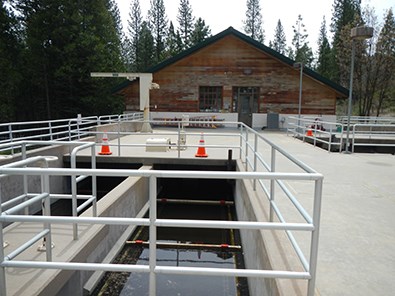 The National Park Service plans to improve visitor facilities, address deferred maintenance, and increase efficiency and capacity in the Wawona Wastewater Treatment System. The project will implement actions prescribed in the Merced Wild and Scenic River Comprehensive Management Plan Environmental Impact Statement (2014).

The environmental assessment (EA) presents two action alternatives. Alternative 2 (Preferred Alternative) provides central sewage treatment to the Wawona Campground, upgrades to the Wawona Wastewater Treatment Plant infrastructure, improves the Big Trees Lodge Golf Course effluent disposal system (including construction of underground disposal trenches), and eventually replaces the vault toilet at the South Fork Picnic Area with a double-stalled flush toilet restroom (once funding is available). Alternative 3, which was analyzed and not identified as the preferred alternative, would use a different arrangement of lift stations for sewage conveyance at the Wawona Campground and construct sub-surface drip irrigation for effluent disposal at the Big Trees Lodge Golf Course instead of disposal trenches.

The project will:
Upgrade the wastewater treatment plant to allow for solids waste handling, improve controls and efficiency, improve staff operational spaces, and address employee safety hazards.
Increase sewage treatment and effluent disposal capacity in the wastewater treatment system to accommodate the build-out of parcels in the Wawona community.
Connect Wawona Campground to central sewage treatment at the Wawona Wastewater Treatment Plant and decommission the campground septic systems.
Improve and expand the sewage effluent disposal system at the Big Trees Lodge Golf Course by renovating the existing spray irrigation system and constructing sub-surface effluent disposal trenches.
Replace the vault toilet at South Fork Picnic Area with a double-stall flush toilet restroom and connect it to central sewage treatment (as funding becomes available).
Decommission effluent discharge infrastructure to the South Fork of the Merced.
Last updated: March 18, 2019