Stock Available for Adoption
Please apply if you'd like to adopt an animal.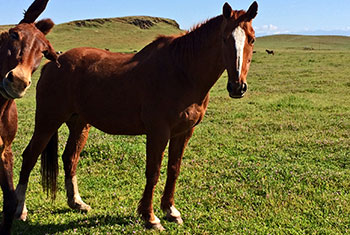 Utah
Utah is a 25-year-old sorrel thoroughbred cross. He stands about 16 hands tall. He was primarily utilized in a frontcountry setting, but is an all-round good trail horse and would be good with an intermediate-level rider. He is a bit arthritic in his hind end, which can make him difficult to shoe. Utah does set back on occasion when tied.
Last updated: October 17, 2016