MRP User Capacity Workshop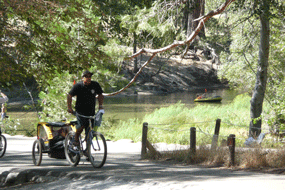 This workshop will outline how the National Park Service will meet Wild and Scenic River Act requirements to address user capacity, or the kinds and amounts of visitor use that can be accommodated in the Merced River corridor without negatively affecting river values. Foundational aspects of this process will be discussed along with engaging the public in first hand case examples. Relevant science and information will be brought to bear on this important topic to illustrate how user capacity will be addressed the planning effort.
Date: April 29, 2011
Time: 8 AM-4:30 PM
Location: Yosemite Lodge, Garden Terrace
Agenda [115 kb PDF]
Presenter Bios. [104 kb PDF]
Draft User Capacity Process Outline for MRP [46 kb PDF]
User Capacity Workshop - Exercise Instructions [246 kb PDF]
User Capacity Workshop - Exercise Information Sheets [1.2 MB PDF]
Watch a recording of the User Capacity Workshop. This is an unedited recording of the workshop with all of its technical glitches. Presentations 1 and 2 are included in these three (100-MB MOV) files: Part 1 Part 2 Part 3.


Presentations given at the workshop:
Last updated: March 5, 2015