Bridalveil Fall Rehabilitation Project
Finding of No Significant Impact (FONSI) signed June 2018.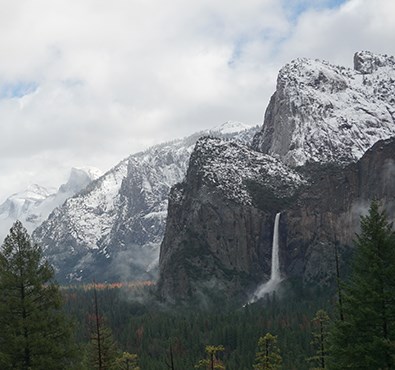 Bridalveil Fall is the first grand waterfall that most visitors encounter upon entering the iconic Yosemite Valley. Bridalveil Fall typically flows throughout the year, impelling year-round visitation and high volumes of use during spring flows. Currently visitors to the Bridalveil Fall area encounter low-functioning vault toilets, congestion associated with the parking lot, crowded trails and viewing platform, a lack of accessible path of travel to the primary viewing platform, and unclear way-finding. The project will consider a range of options to address these issues.
Overall, the purpose of the Bridalveil Fall Area Rehabilitation Project is to:
Improve visitor services at the base of the waterfall, including restroom facilities
Protect natural and cultural resources in the area
Reduce crowding on the trails and the viewing platform
Improve safety and congestion in and around the parking lot
Improve interpretation and wayfinding
Improve accessibility for visitors
The project will implement actions prescribed in the
Merced Wild and Scenic River Comprehensive Management Plan Environmental Impact Statement and Record of Decision (Merced River Plan)
(NPS 2014)
for the Bridalveil Fall area.
Last updated: July 9, 2018