Ansel Adams Gallery Rehabilitation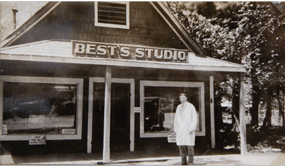 Plan announced and presented at the July 2011 monthly Open House.
Best's Studio was one of several artists' studios operating in Yosemite Valley at the turn of the twentieth century. Harry Best opened his studio in Yosemite Valley in 1902. In 1925 he relocated the business from Old Yosemite Village (near the Chapel) to its present location (between the Visitor Center and the Yosemite Post Office).
A young and talented artist named Ansel Adams often played the piano at Best's Studio. Ansel met his future wife, Harry Best's daughter Virginia, there and it is where he first publicly exhibited his art. He and his family lived and worked at this site through the late 1940s.
In the 1960s, Ansel made improvements to the Gallery and designed the porch and pergola that exist today. These buildings are on the National Register of Historic Places and sited within the Yosemite Valley Archeological District. The family still operates their photography studio and gallery there.
Needed Repairs
After more than 90 years of continuous operation and occupation, the buildings are in need of major repair and rehabilitation. A 2002 NPS Facility Assessment recommended that the main building undergo substantial stabilization and rehabilitation, and the residences either be substantially stabilized and rehabilitated or completely replaced due to their deteriorating condition. These building are historically significant for their association with the late Ansel Adams. The site and this area of Yosemite Valley are rich in traditional cultural and archeological history. Rehabilitation plans for this project will seek to protect and avoid impacts to these treasured and sensitive resources.
Last updated: March 5, 2015