Earlier this year while visiting Sequoia National Park, I craned my neck back and forth along the winding road in search of the coveted entrance sign for a photo. My efforts to find it proved futile, and my disappointment grew when a park ranger informed me the sign had been removed for maintenance and wouldn't be reinstated for a few months.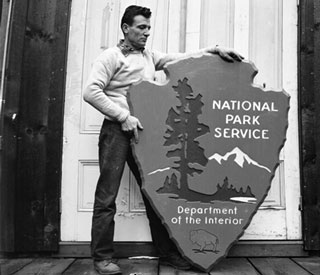 Ever since childhood, I've been fascinated by the welcome signs positioned at or near the entrances to national parks. My parents would pull over when we reached one and have my brother and I pose in front for a quick disposable camera photo before jumping back in the car. Park signs can vary in font, style, and size, but the arrowhead emblem—the official National Park Service (NPS) symbol since 1951—is a constant on all of them. Although the design was updated in 2001 for publication and media purposes, most of its features have remained true to the original: a sequoia tree, bison, and a mountain inside of an arrowhead. According to National Park Service history, the designers never revealed the reasoning behind these symbols, but the bison is intended to denote NPS as part of the Department of the Interior.
Due to icy road conditions, my only option for a welcome sign photo was just outside El Portal, my new home at Yosemite National Park. I remember looking up at the small hanging sign and feeling my heart swell with pride and adventure as my first steps into working for the National Park Service were about to begin. Once I became situated at my new position, I saw the logo everywhere: on fellow coworkers' uniforms, informational bulletin boards, volunteer patches, government vehicle doors, and the list goes on. The symbol of the bureau operating our country's "greatest idea" was all around me, representing more than just places to vacation or get outside.
In this day and age, we take for granted the ability to print symbols like the National Park Service logo on anything from t-shirts to water bottles, all the way up to official road and trail signage. We don't often think of how labor intensive signs were to create all over the park, especially ones with carving, painting, metal work, and extensive detailing. The archives office is situated right next to Yosemite's sign shop and I've only ventured inside once since I was hesitant to disrupt or startle workers. After you look past the usual machinery and shop essentials, the large space is decorated with signage spanning decades, some with beautiful fonts, names of buildings or places that no longer exist, or broken sections almost resembling mismatched puzzle pieces.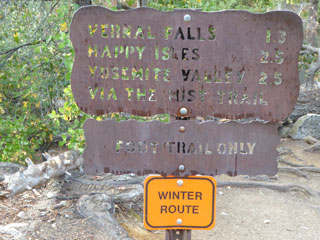 My search through our first batch of reconciled negatives and their corresponding metadata only resulted in a few images referencing anything about signage. I dug a bit deeper and found one of a man holding an arrowhead almost his height. Although his identity may not be as famous as the conservationists, historians, and photographers to come through Yosemite, Lee Buzzini was a well-known sign maker during his career at the park. In the mid-1950s, concern arose around the paint smell on the classic trail signs and its potential to attract bears, so Buzzini and welder Bill Kirk put their heads together and created new signs from sheet metal with torched letters. The signs—weathered and rusted from many decades but keeping an almost "historic" charm—can still be seen all over the park at trailheads and along popular hikes.
Not only was Buzzini's role crucial in the development on this new signage for Yosemite, he was appointed in 1954 to create the newly approved NPS emblem arrowheads for all parks in Region 4. It was a hefty responsibility for the "signwriter" with an hourly wage of $2.20. Although his expression in the photo isn't completely readable, it seems like a mix of determination and apprehension, as the region did include more than twenty parks at the time.
The next time you see a handmade NPS arrowhead or well-marked mileage post, take a step back and think about the importance of the individuals who use their skills to create these. They help inform and keep the public safe and in a more broad sense, display what the National Park Service stands for. Even as Yosemite National Park—and all the park units across the country—continues to change and adapt to the demands of the modern area, necessary aspects like signs will continue to have meaning and purpose.
Although I won't be able to add Sequoia's sign to my photo collection this time around (but I was able to snap one for Yosemite at Big Oak Flat Road earlier in the spring), I know the album will continue to grow as I visit more NPS sites and appreciate the significance and craftsmanship of everything from entrance signs to trailhead posts.