Black-backed Woodpecker and Pine Grosbeaks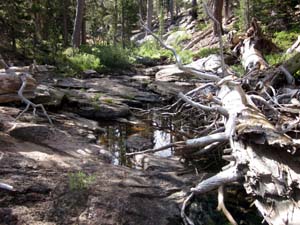 August 20-21, 2012
Middle Fork of the Tuolumne River near White Wolf

Sitting along the Middle Fork of the Tuolumne River near White Wolf this week, I was visited by a couple of interesting birds. A black and white woodpecker with a solid black back landed very near to me on a medium-sized lodgepole pine tree one morning - a black-backed woodpecker and apparently a female by the lack of a yellow crown. She poked around that tree and then moved on to about three other nearby trees within the next few minutes. The next afternoon, a group of gray birds fluttered down to some nearby rocks. These afternoon visitors seemed to be getting a drink from a small pool. As they left one by one, they made quite an impression with two of them noisily fluttering straight for me and then swooping just above my head and away. As a few of them flew away in a different direction (making the same noise in their flight), I was able to see a faint yellow coloring on their rumps and heads  - maybe they were female pine grosbeaks? The river itself is hardly flowing but is still luring many of us to its shores.

---
American Lady Butterfly
Vanessa virginiensis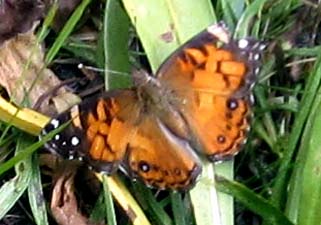 August 13, 2012
Trail from White Wolf to Lukens Lake

The wildflowers on the trail to Lukens Lake from White Wolf are well beyond their prime this season, but the ones that are left are still attracting quite a few butterflies, including this American Lady. American Lady butterflies can be distinguished from other "Ladies," partly by the two large eyespots on the hindwing.