On July 1, 2017 about an hour before sunset, a wilderness patrol ranger on a routine wilderness patrol encountered three separate parties, seven hikers total, all completely lost while facing darkness. They were in the Sunrise Pass area, which is south of Tenaya Lake (along Tioga Road).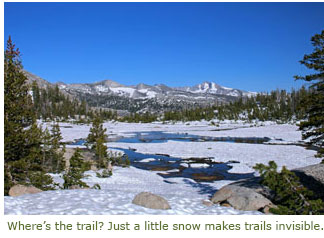 Although Tioga Road opened two days earlier, many high country trails remained (and remain) snow covered, including trail signs. All three parties discovered how challenging route finding is on snow-covered trails and lost their way going to Clouds Rest and back. This trail is misperceived as an easier route and some of the hikers had been on this trail before. While lost, one party found another trail they could not identify, which led them away from their intended destination.
Through route finding efforts and cross-country travel, the ranger successfully led the hikers to their destination at 11 pm. By this time, one hiker was suffering from altitude sickness and another was asthmatic. None of the hikers was enjoying their experience.  
Although the cross-country travel occurred after darkness, only two of the hikers had headlamps and the ranger had to loan out his spares.  
It was fortuitous that a ranger in a vast wilderness happened across three lost parties. He was not looking for anyone specifically nor were there any reports of missing hikers (there is little to no cell service in this area). Otherwise, searches would not have started at least until the following day and this would have required a significant number of personnel, at least one miserable night outside for the hikers, and an uncertain outcome.  
Lessons Learned
:
Traveling over snow-covered trails requires route finding skills. This includes carrying—and knowing how to use—a detailed topographical map and compass. Navigation by GPS is also possible, but you must know how to navigate by map and compass in case your GPS can't get a signal, the batteries die, or the GPS fails after falling, getting wet, etc.
Always, always, always, have the ability to retreat or return to where you have come from by the same route.  This requires you to remain aware of what's behind you while hiking to your destination.
Hike prepared with the ten essentials. Few hikers intend to hike in the darkness. Each hiker should have a headlamp, preferably two, with spare batteries. We frequently respond to hikers who only need assistance because they didn't finish their hike before dark and don't have a light.
Against our advice, hikers sometimes place rock cairns for their own reference.  These are not official National Park Service markers and they are often inaccurate. Bottom line, follow someone else's markers (or footprints) at your own risk.
When in doubt, hike on well-defined trails. Just because the trail is snow free at the trailhead doesn't mean it will remain snow free for the entire hike. Be willing to turn around if conditions change.
News media contact: Jamie Richards - 209/372-0248