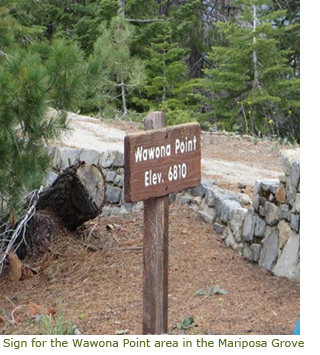 As you enter Yosemite, you might notice that some names in the park such as "sequoia" groves and "Wawona" are difficult to pronounce. Why would that be? The study of word origins is fascinating and often insightful. In order to understand these words and their meanings we must go back in time. 
In the 1830s the European pioneers first entered the Yosemite area and in the 1850s discovered the beauty of the Mariposa Grove. In 1864 the legislation creating the Yosemite Grant was signed by Abraham Lincoln protecting and preserving the Mariposa Big Tree Grove and Yosemite Valley. The Mariposa Grove quickly grew in popularity. Although the Yosemite Grant put these places on the map for many people, in reality it had been home to groups of native people long before it was "discovered" by the rest of the world. For centuries several groups of native people were familiar with the area we now call Wawona and the nearby giant sequoia trees. 
One of several explanations of how Wawona got its name is cited in the book of The Giant Sequoia of the Sierra Nevada which claims that Wawona was named in the Miwok tongue as "who-who'nau". "Wawona" represented the hoot of an owl which was considered to be the guardian spirit of the sequoia trees. Later this name was adopted by the hotel and community located a few miles north of the grove which still retains the name. This story demonstrates a connection between the native cultures of the region and European pioneers who later settled in this area of Yosemite.   
The name Sequoia is also believed to be associated with American Indians;however, the meaning of the word "sequoia" does have multiple interpretations. One of the explanations surrounding the name Sequoia is also mentioned in the book The Giant Sequoia of the Sierra Nevada. The writers explain that the word "Sequoyah," or most commonly spelled as Sequoia, was the name of a highly regarded Cherokee Indian chief from the Appalachian Mountains and that the tree was named as a tribute to him.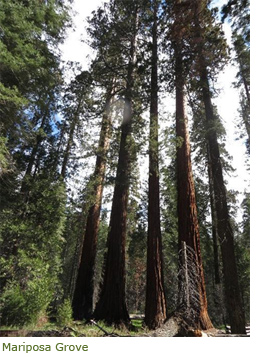 We don't know for sure where the name Sequoia came from due to the lack of written documentation but I like to believe in this explanation because it demonstrates the overlap of two worlds. 
Yosemite was home for American Indians perhaps as early as ten thousand years ago, and now people from all over the world explore the same land. The names around the park might be difficult to pronounce, but they reflect some of the park's history. The words "Wawona" and "sequoia" carry interesting meanings. These words represent more than the names of must-see tourist attractions, they also remind us of Yosemite's past.