New snow: 4 inches
Total settled snow depth: 30 inches (at 8,600 feet)
High temperature: 50°F (January 25)
Low temperature: 1°F (January 29)
January Precipitation Summary
Total snowfall: 18 inches (average 55.8 inches)
Total water: 1.16 inches (average 5.05 inches)
 

Ski Conditions and Weather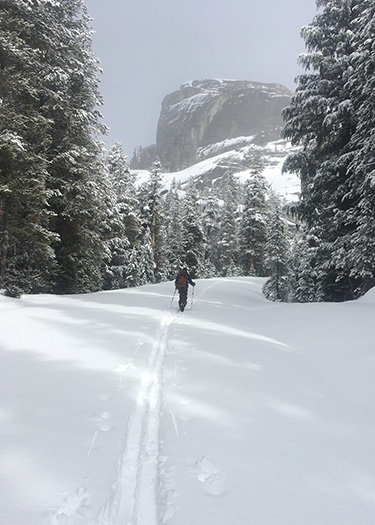 We have been out doing the February 1 snow surveys this week. This has given us an opportunity to measure snow depth and water content and to ski across a large cross section of Yosemite National Park. In spite of the dry January, there is still three to five feet of snow on the ground. Our measurements so far indicate a snowpack, based on water content that is approximately 40% of the April 1 average. Hopefully more precipitation in February and March will bring that number closer to average. In a mere decade, we have seen the pendulum swing dramatically from the drought inducing winters of 2012-2015 to the wet winters of 2017 and 2019.
There have been a few winters that would be considered "average" based on historical data, but it is important to remember that this concept of "average" is arrived at by adding all of the years up and coming up with an "average." This includes the extremes such as the dry winter of 2015 where the April 1 Tuolumne Meadows snow survey was 0% of average (there was no snow on the course!) and the epic wet winter of 2016-2017 where that same survey was 217% of average (the snow depth was 107 inches on that same course). How climate change will affect water in the west still remains to be seen. Never take snow or water for granted. Stay tuned and may we take good care of our one and only planet Earth.
All of that being said, the ski conditions and snow coverage overall remain good. The Tioga Road is 100% snow covered (depths of 2-4 feet) from Ellery Lake Dam in Lee Vining Canyon to Olmsted Point (and presumably beyond to Crane Flat). There is presently a good ski track spanning that distance. Visitors approaching from the east should expect mostly dry pavement from the closed gate in Lee Vining Canyon to the Warren Fork (9,000 feet).
Avalanche and Snowpack Conditions
Please refer to theEastern Sierra Avalanche Center (ESAC) for the avalanche advisory for this part of the Sierra Nevada.

Presently the avalanche hazard in the Tuolumne Meadows area is low. Higher up, the northeast winds are currently transporting loose snow as is evidenced from the flagging that we can readily see outside on Johnson Peak today. Winds are forecasted to shift out of the north-northwest later. So, for now, newly formed pockets of wind slab will be the primary hazard. However, our snowpack still contains persistent weak layers, a sandwich of facets, wind slab and melt-freeze crusts, many of which are reactive during stability tests especially on more easterly aspects. That said, we have not witnessed any other signs of instability. If temperatures warm up this weekend, be cautious of rockfall, roller balls and or the possibility of any wet slide activity. South facing aspects with snow are already becoming spring-like for brief windows of time.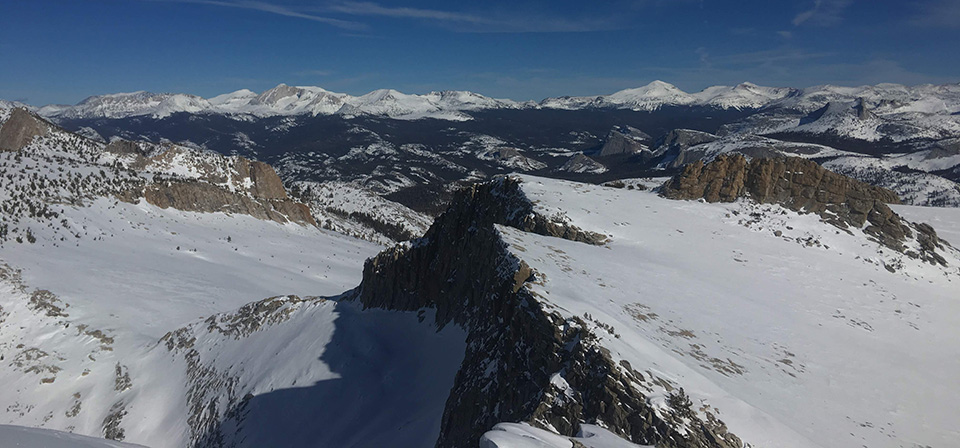 Wildlife
This week along with some warm temperatures, we were awakened to the hoots of a northern saw-whet owl. Its constant cadence is not all that unlike an alarm clock, but certainly more pleasant! We also saw four Steller's jays near aptly named Spring Hill east of Tenaya Lake. Since most water is frozen up here in the winter time, birds and other wildlife tend to congregate where running water is available. Although there is enough snow to eat, it is much more energy efficient to drink of the liquid form.
General Information
The Tuolumne Meadows Ski Hut is open. There is firewood and 10 bunks that are available on a first-come, first-served basis.

For those visiting the Tuolumne Meadows Ski Hut from the east (only) permits are self-issued at the Ski Hut. For those entering from other areas, please see Yosemite's website:https://www.nps.gov/yose/planyourvisit/wildpermits.htm (#3: Do I need a wilderness permit during winter?) or you may contact the wilderness office at 209/372-0740. There is no phone service in Tuolumne Meadows. We can be contacted regarding winter travel to Tuolumne Meadows viaemail, but we may be delayed in responding if we are on patrol.

Come prepared, and please make good decisions while traveling in the wilderness!

In memoriam of Jeff Mathis, first Tuolumne Winter Ranger, 1973-1974
Rob and Laura Pilewski - Tuolumne Winter Rangers