New snow: 1 inch
Total settled snow depth: 27 inches (at 8,600 feet)
High temperature: 45°F (December 31)
Low temperature: -9°F (December 27)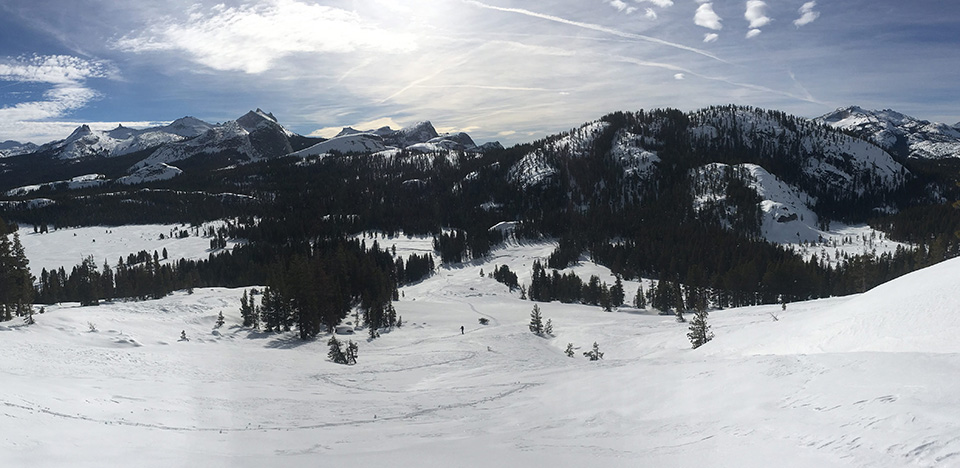 Ski Conditions and Weather
It was a mostly dry, cold, and windy week in the Yosemite high country. Several weather systems passed by to the west bringing only a few snow showers to Tuolumne Meadows, and leaving strong northeast winds in their wake. Christmas night saw an interesting "lake effect" snow event in the Mono Basin favoring the east side.

Ski conditions are a mixed bag out there presently. With warmer and drier conditions in the forecast, the snow surface is transitioning from colder and drier to warmer and wetter. After a few more days of this pattern, this should result in more favorable ski conditions at middle elevations. The alpine terrain around Tioga Pass and elsewhere has been hammered by high winds resulting in scouring, loading, and some shiny slopes where the old melt freeze crust has been exposed. The best skiing presently is in the north facing trees and drainages where it is least wind affected.

Holiday visitors arrived from the west and east this week. Those coming from Yosemite Valley via the Snow Creek Trail reported hiking from the Valley to the Snow Creek Bridge, then being able to ski from there to Tuolumne Meadows. Those coming from Lee Vining, reported being able to ski from the closed gate at the bottom, but reported a shallow depth on the road until around 9,000 feet elevation.  
Avalanche and Snowpack Conditions
Please refer to the Eastern Sierra Avalanche Center (ESAC) for the avalanche advisory for this part of the Sierra Nevada.

Presently the avalanche hazard in the Tuolumne Meadows area (below 9,000 feet) is low. Wind slabs have been developing in the alpine terrain on varying aspects depending on wind direction. Careful route selection and real time avalanche hazard analysis is necessary to avoid these sneaky wind slabs.
 

Wildlife
An unkindness of ravens has been hanging out near Lembert Dome this season. Normally in the winter, we have only seen a pair or two. This group of twelve has been quite vocal as they circle overhead around sunset. With the warmer temperatures, we have also heard American robins, brown creepers, mountain chickadees, and red-breasted nuthatches. The golden-crowned kinglets are back again this winter as well. They have been coming down from the canopy of the trees to drink some of the snowmelt on the exposed rocks, allowing us a rare glimpse of their striped faces.
General Information
The Tuolumne Meadows Ski Hut is open. There is firewood and 10 bunks that are available on a first-come, first-served basis.
For those visiting the Tuolumne Ski Hut from the east (only) permits are self-issued at the Ski Hut.
For those entering from other areas, please see Yosemite's website: https://www.nps.gov/yose/planyourvisit/wildpermits.htm (#3: Do I need a wilderness permit during winter?) or you may contact the wilderness office at 209/372-0740. 
There is no phone service in Tuolumne Meadows. We can be contacted regarding winter travel to Tuolumne Meadows via email, but we may be delayed in responding if we are on patrol.  
Come prepared, and please make good decisions while traveling in the wilderness!

Happy New Year!
Rob and Laura Pilewski - Tuolumne Meadows Winter Rangers