New snow: none
Total settled snow depth: 25 inches (at 8,600 feet)
High temperature: 47°F (February 15)
Low temperature: 6°F (February 19)
Ski Conditions and Weather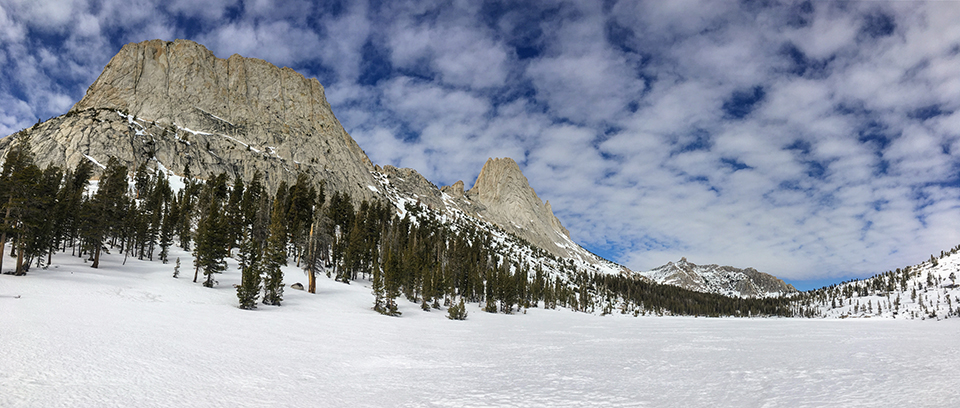 The dry weather pattern continued this week. Daytime highs were in the mid 40s and overnight lows dropped into the teens. The snow surface at the middle elevations has now gone through enough melt freeze cycles to make for decent touring conditions. This snow is firm and supportable for the first part of the day but transitions to a less desirable, unsupportable snowpack as the day warms up. We went on several long patrols this week and were able to cover the miles with relative ease. The skiing on the frozen and smooth Tuolumne River up Lyell Canyon was particularly speedy.
Around tree-line especially in steeper terrain, caution is advised around talus, downed trees and vegetation as it is easy to fall into hollow areas of faceted, sugary snow. Above the tree-line the snow surface is hard, supportable, and shaped by the wind. It is a bit like skiing on a frozen ocean. Some of the waves are even curled! Interesting to say the least, but again, using skis as a mechanical advantage one can really travel some distances and enjoy the diverse and amazing scenery of this part of Yosemite National Park. Snow coverage is still good except where it has been scoured by the wind, and on south aspects where it is becoming a bit patchier with each passing dry and sunny day. Gullies and drainages are holding the most snow.
Avalanche and Snowpack Conditions
Please refer to the Eastern Sierra Avalanche Center (ESAC) for the avalanche advisory for this part of the Sierra Nevada.

Presently the avalanche hazard in the Tuolumne Meadows area is low. Hard and potentially hazardous (i.e. slide-for-life) snow surfaces exist at the higher elevations. Ice axe and crampons are recommended.
 

Wildlife
Another member of the Fringillidae family was seen and heard this week: the pine siskin. A flock of these wheezy or raspy sounding birds were flitting about the lodgepole canopy as the morning sunlight hit the highest branches. Clark's nutcrackers, red-breasted nuthatches, brown creepers and other common winter residents became a bit more vocal with the increasing temperatures. We even heard what we thought might be a northern flicker drumming on one occasion.
General Information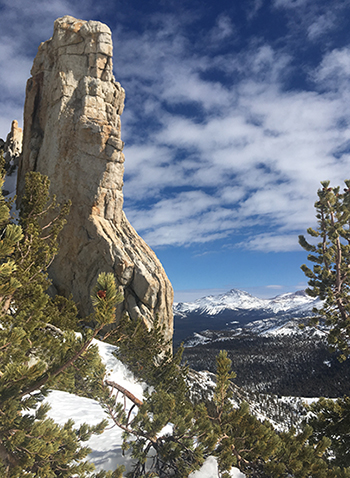 The Tuolumne Meadows Ski Hut is open. There is firewood and 10 bunks that are available on a first-come, first-served basis.

For those visiting the Tuolumne Meadows Ski Hut from the east (only) permits are self-issued at the Ski Hut. For those entering from other areas, please see Yosemite's website: https://www.nps.gov/yose/planyourvisit/wildpermits.htm (#3: Do I need a wilderness permit during winter?) or you may contact the wilderness office at 209/372-0740. There is no phone service in Tuolumne Meadows. We can be contacted regarding winter travel to Tuolumne Meadows via email, but we may be delayed in responding if we are on patrol.

Come prepared, and please make good decisions while traveling in the wilderness!

Happy Touring!
Rob and Laura Pilewski - Tuolumne Meadows Winter Rangers