New Snow: 5 inches
Settled Snow Depth: 36 inches
High temperature: 55 °F (March 1)
Low temperature: -1 °F (March 6)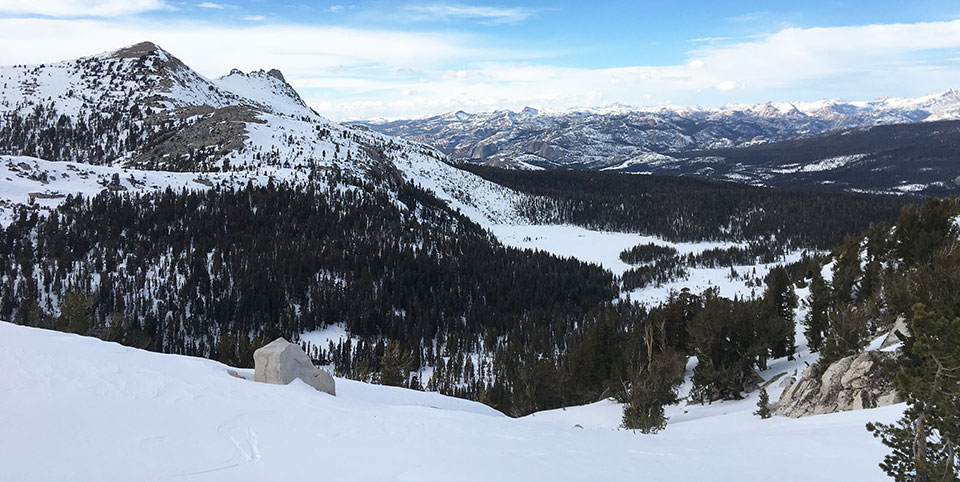 Ski Conditions and Weather
In only seven days, we had a representation of practically all four seasons' weather. It started with freezing overnight temperatures and warm days of spring, and the abundant sunshine of summer. The latter half of the week saw a return to winter with snow showers and cold temperatures. To finish the week there was a return to the dreaded northeast winds. It wouldn't be the Sierra Nevada without those winds. The new snow this week was a welcome sight. We measured five inches of new snow at our weather plot here in Tuolumne Meadows (with 6 to 12 inches of additional blown snow on north through east aspects).

Ski conditions are variable depending on aspect and elevation. Snow coverage remains good between 8,000 and 11,000 feet on all but south aspects. The new snow over the past few weeks has helped to smooth out the textured snow surface that developed during the prolonged dry spell. Prior to the new snow this week, we found good ski touring conditions in the Cathedral Range, and after the freshen up, good powder skiing on north aspects below tree line. 
 

Avalanche and Snowpack Conditions
Please refer to the Eastern Sierra Avalanche Center (ESAC) for the avalanche advisory for this part of the Sierra Nevada. 

The avalanche hazard is generally low in the Tuolumne Meadows area. We did observe isolated, shallow, and small pockets of dense wind slab following the new snow and during the northeast wind event on March 7. Wilderness travelers should make localized assessments of terrain choices and be prepared for changing conditions.

The snowpack in the Tuolumne Meadows area is homogenous and supportable. Snow depths range from three to six feet.
 

Snow Travel Tip
It was still a bit blustery this week. On cold mornings, we are filling up a thermos of hot water before venturing out. Not only does a late afternoon mate warm the insides but it helps power us up to get back home on a long day. And, if your hydration hose that you forgot to blow back on and tuck away freezes up, just dip that in the hot water. Telemark binding not switching into downhill mode on a spring day? Pour a little hot water over it. Same with a wide mouth (less likely to freeze) water bottle. If it has a handle, a stick acts as a nice lever to twist that open as well. We also always carry an emergency energy and electrolyte packet or two.
Wildlife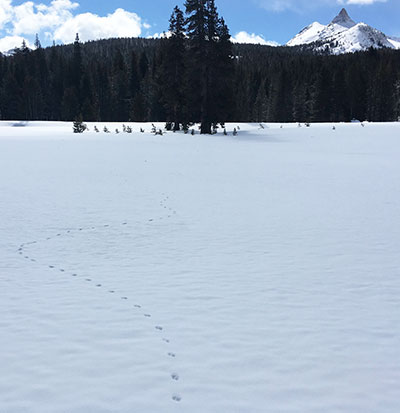 Although they are so difficult to see during the summertime, three of the park's mustelid species are somewhat common in this area of the park. The pine marten, short-tailed (ermine) and long-tailed weasels bound about over and under the snow in search of prey, leaving their distinctive loping prints behind. The past two seasons, their tracks seem even more abundant perhaps due to a predator-prey cycle, where initially the prey greatly outnumber the predator. But, shortly thereafter, the well-fed predator numbers increase while the prey then decrease. These relationships are crucial to keeping a healthy ecosystem and making sure that the prey populations don't go unchecked.
A lesser-known weasel that occurs in other areas of the park is the fisher:
https://www.nps.gov/yose/learn/nature/fishers.htm
.
Questions
The wilderness is open! Please #RecreateResponsibly by planning and preparing thoroughly for your outdoor activities in the park.

Read through the following two pages before embarking on any day or overnight snow travel within this park: 
You may contact us with any additional winter Tuolumne Meadows related questions.  

Think Peace!
Laura and Rob Pilewski - Tuolumne Meadows winter rangers