New snow:
12 inches
Total settled snow depth:
132 inches (at 8,600 feet)
High temperature:
49°F (March 2)
Low temperature:
- 6°F (March 1)  
Ski Conditions and Weather
During the first few days of March the ski touring and turning were some of the best of the season. This however, was then punctuated by an intense 48 hour blizzard. Southwest winds averaged 20-30 mph with peak gusts exceeding 100 mph at the higher elevations.  And, just as quickly, the sun and calm winds have returned. For now, expect just about every ski condition possible and make sure you bring your scraper, and ski and skin wax.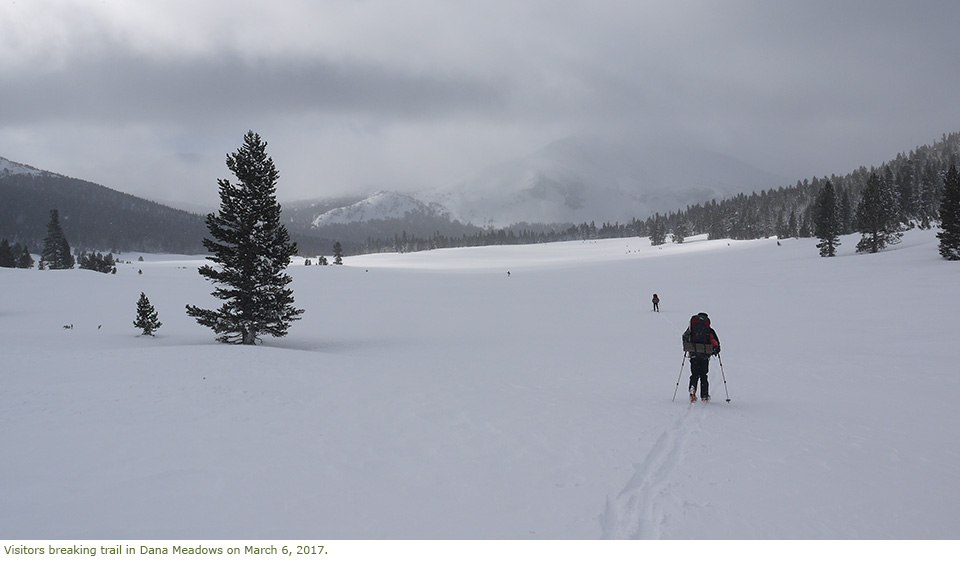 Avalanche and Snowpack Conditions
Please refer to the 
Eastern Sierra Avalanche Center
 for the avalanche advisory for this part of the Sierra Nevada.  
Winter-like snow conditions will rapidly change this week with the forecasted warm temperatures. Wet slides will be possible on all solar aspects. Recently deposited wind and storm slab avalanches are highly likely in the alpine zone and into the mid elevations at the time of this report.  
Visitors to the Tuolumne Meadows area should be aware of the slide paths that cross the Tioga Road to the east and west. Anyone entering via Lee Vining Canyon should be prepared with an ice axe and crampons and good route selection skills. The road corridor above the Warren Fork is not recommended at this time due to a prolonged steep traverse above cliffs.  
Wildlife
This week we spotted three Sierra Nevada bighorn sheep on the slopes of Mt. Dana. They were soaking up the warmth of some of the surrounding dark metamorphic rock among this world of white. After the blizzard we saw this week, one has to wonder which is more dangerous to the herd: a mountain lion or this winter weather?  
Questions
The Tuolumne Meadows Ski Hut is open. There is firewood and 10 bunks that are available on a first-come, first-served basis.
Power has been intermittent and there is NO phone service in Tuolumne Meadows this winter.
 We can be contacted via 
email
, but we may be delayed in responding if we are on patrol. Contact the wilderness office at 209/372-0740 with any questions or concerns. Come prepared, and please make good decisions while traveling in the wilderness this winter.  
Happy Skiing!
Laura and Rob Pilewski – Tuolumne Meadows Winter Rangers