New snow: 51 inches
Total settled snow depth: 31 inches (at 8,600 feet)
High temperature: 46°F (March 6)
Low temperature: -12°F (March 5)
Ski Conditions and Weather

Alas, a real winter storm hit the Sierra Nevada this week! Now it's starting to live up to its namesake. We measured 51 inches of new snow at our weather plot over a four day period, which is one inch more than the total snowfall for the three month period December through February. The new snow had a low water content which is why the settled base depth is as low as it is four days after the storm. Regardless, coverage is now good on most aspects. It was a very windy storm with blizzard conditions at its height. This resulted in lots of wind scoured slopes on southwest aspects and lots of wind loaded slopes on northeast aspects above tree line. Below tree line we were able to find good skiing this week on slopes that were previously bare ground. The sun and warm temperatures the past few days have started a melt freeze cycle on all aspects below 9,000 feet.

Some hearty travelers took advantage of the fact that, for the first time this season, one could ski from the gate in Lee Vining. Their efforts paid off with some good powder skiing and now there is a nicely broken trail from Tuolumne Meadows down to the east. However, being later in the season with a higher sun angle and longer days, that snowline will rapidly be creeping upwards.  Visitors are reminded to bring ski wax, a scraper, and patience until the snow has a chance to set up a bit more.  North aspects will have the most consistent soft snow, but also the most avalanche hazard. 
Avalanche and Snowpack Conditions

Please refer to the Eastern Sierra Avalanche Center (ESAC) for the avalanche advisory for this part of the Sierra Nevada.

This storm truly tested most slopes in the high country. The intensity of the snowfall and the associated high winds shock loaded avalanche paths. As a consequence of that and the continental like snowpack, we observed the most widespread avalanche cycle since we have worked up here. From one vantage point, we could count over twenty visible avalanches. Virtually all of them were located on north facing slopes right at tree line and adjacent to steep rocky terrain. Many of them stepped down from a wind slab down to the depth hoar. Normally people associate tree skiing as being safer, but this was not the case with this snowpack. These zones have maintained a shallower snow depth and have had more depth hoar formation as a consequence. That said, many avalanches were also observed along ridges and in bowls in the wind loaded alpine zone.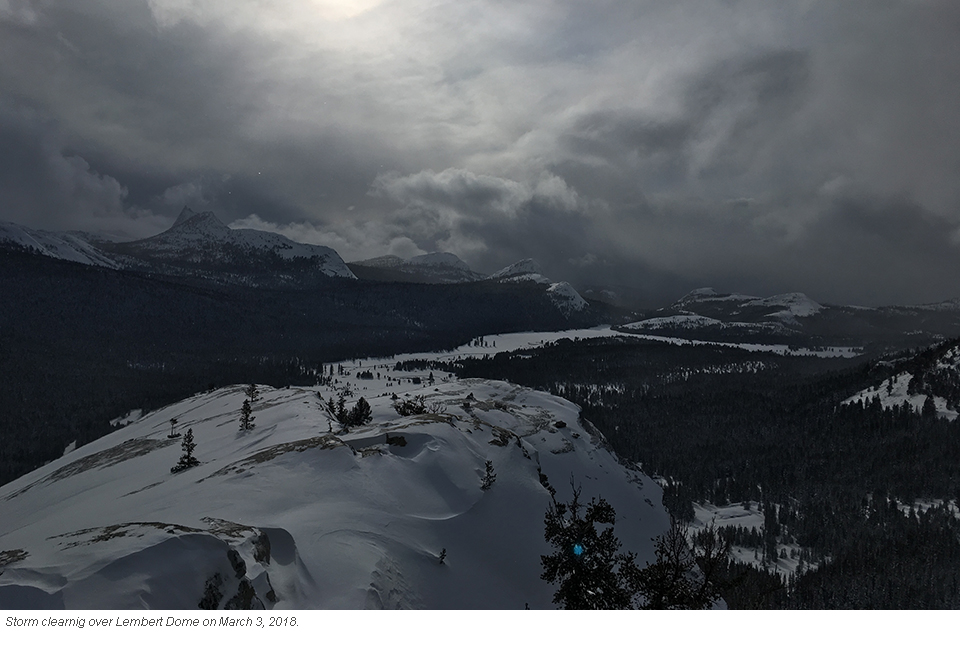 As we go through another melt freeze cycle, the snowpack will become more stable. However, newly formed MF crust may offer new sliding surfaces. Pockets of instability still exist out there so one still must be careful in their assessments. The hazard that currently exists is not typical for the Sierra Nevada as weak layers are now buried deep in the snowpack and difficult to trigger, but if triggered a large and destructive avalanche is possible.  The Eastern Sierra Avalanche Center has done an excellent job at spelling out the hazards that exist and their observations have been spot on with ours. Their site is a valuable tool that should be used before heading into the backcountry.
Wildlife

Every storm cycle is like an Etch-a-Sketch. The wind and snow wipe the slate clean. Just when we think we're going to be the first ones to hit the slopes, we'll top out on the local ski hill and see that some snow shoe hare has center punched not the "bunny" slope, but a "double black diamond." Powder fever!
General Information

The Tuolumne Meadows Ski Hut is open. There is firewood and 8 bunks that are available on a first-come, first-served basis. There is no phone service in Tuolumne Meadows at this time. We can be contacted regarding winter travel to Tuolumne Meadows via email, but we may be delayed in responding if we are on patrol. For permit information: https://www.nps.gov/yose/planyourvisit/wildpermits.htm. or you may contact the wilderness office at 209/372-0740. Come prepared, and please make good decisions while traveling in the wilderness this winter!

March miracles!
Laura and Rob Pilewski - Tuolumne Winter Rangers