New snow: 27 inches
Total settled snow depth: 96 inches (at 8,600 feet)
High temperature: 41°F (March 4)
Low temperature: 12°F (March 4)
Ski Conditions and Weather

It was another snowy week here in Tuolumne Meadows with measurable snow recorded on five out of seven days. Another two weather records were broke for the Tuolumne Meadows weather plot: most February snowfall of 191 inches (versus 174 inches in 1998) and coldest average temperature of 16.8°F for any month (versus 19.3°F in February 1998). The average temperature for February is 25.2°F.

Ski conditions at all elevations were quite good this week. The dense new snow bonded well, for the most part, to the hard wind affected snow in the alpine zone giving it that "cream cheese" texture that is not only a delight when eating with lox on a bagel, but also when carving turns down an alpine slope. Snow coverage is as good as it gets and we are patiently waiting for spring to bring warm sunny days and cold clear nights to reap the rewards that the Sierra Nevada is known for….the great corn snow harvest! Could this be the year??  Stay tuned, and get the sunscreen and corn appetite ready just in case…. For now, yawn, it's just another powder day.    
Avalanche and Snowpack Conditions

Please refer to the Eastern Sierra Avalanche Center (ESAC) for the avalanche advisory for this part of the Sierra Nevada.
 
This week saw the most widespread avalanche cycle that we have seen this winter. During the storm of March 2 and 3 there was a density change that left 10+ inches of new snow overlying several inches of lower density snow that all fell on a firmer snow surface. The resulting storm slab was very touchy and easy to trigger. Natural avalanches were noted on most aspects and elevations. While the crowns of these slides were relatively shallow, they moved down slopes very quickly and ran far, entraining a lot of snow in the process. While doing a hazard assessment on Lembert Dome (our local test slope) during this storm, we triggered the avalanche in the photo. While traversing the flat ridge (safe zone) just east of Lembert Dome we felt the dense snow collapse the soft snow underneath and trigger the avalanche that then stretched the entire north side (about 1/3 of a mile) of the slope. There was an impressive powder cloud and debris pile as the avalanche came to rest in the flatter, forested slope below. Being able to witness these events in real time are a real advantage to living in an avalanche laboratory all winter long.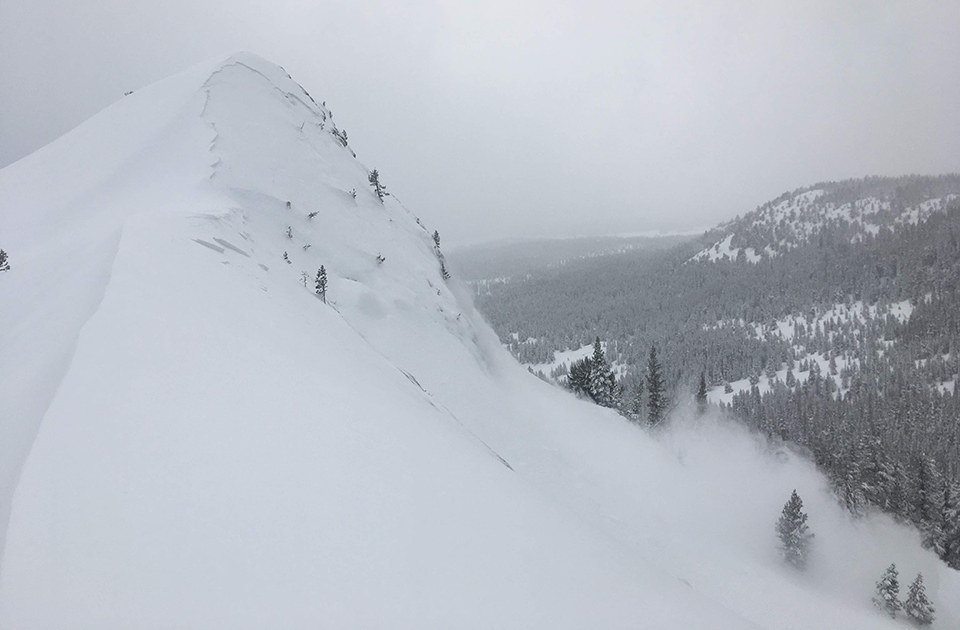 Presently there is heavy snow falling and the avalanche hazard is changing yet again. This winter we and the public are particularly grateful for ESAC's daily reports. The center is an invaluable resource, and their daily avalanche forecasts have been spot on this year. We start each day by reading their forecast. Thank you ESAC for your commitment in helping keep the public safe! 
As of this post, we have no new information on the road corridor east of Tioga Pass. But, we have heard Highway 120 is open to the gate just outside of Lee Vining along with the Poole Power Plant Road.
Wildlife

During one of the breaks in the weather, the skies cleared above Tuolumne Meadows and a golden eagle was spotted flying low over Lembert Dome and westward down the river drainage. It's amazing how much ground they can cover with just a few flaps of their wings especially when those on the ground are breaking trail through the deep snow.

Another unique sighting was near our residence. One evening, a young songbird (possibly western meadowlark) appeared to be seeking cover under the eaves of various cabins before the incoming storm. It would chirp plaintively but kept moving about and landing on the ground. Unfortunately, it was difficult to identify since it was dusk. Hope it survives this next round.
On a more positive note, we heard the first "cheeseburger" mating call of the mountain chickadee this week. Maybe spring will come after all.
General Information

The Tuolumne Meadows Ski Hut is open. There is firewood and 8 bunks that are available on a first-come, first-served basis.

There is no phone service in Tuolumne Meadows. We can be contacted regarding winter travel to Tuolumne Meadows via email, but we may be delayed in responding if we are on patrol.

For those visiting the Tuolumne Meadows Ski Hut from the east (only) permits are self-issued at the ski hut. For those entering from other areas, visit: https://www.nps.gov/yose/planyourvisit/wildpermits.htm or you may contact the wilderness office at 209/372-0740.

Come prepared, and please make good decisions while travelling in the wilderness!

Happy Skiing!
Laura and Rob Pilewski - Tuolumne Meadows Winter Rangers