Weather: February 27th through March 6th
High temperature: 53°F (March 1st)
Low temperature: 4°F (February 27th)
New snow: 7 inches
Total settled snow depth: 41 inches as of March 6th

Skiing Conditions and Weather: One would think that after a record dry February the skiing would be pretty bad. In fact the skiing is vastly improved. At the time of our post, the melt-freeze cycle has set up the snowpack to offer corn on what snow is left on south aspects, and a good variety of conditions, depending on time of day and aspect elsewhere. The ski touring is fantastic during the frozen and early thawed times of the day on all aspects. Coverage is still good on all but south slopes. With snow in the forecast for the next few days this may change, but a return to winter will also bring a welcome change to ski conditions.

Avalanche and Snowpack Conditions: For the latest avalanche advisory for this area go to www.esavalanche.org for the Eastern Sierra Avalanche Center and click on advisory. The ESAC site is updated several times a week and more often during weather events.

The old snow surface is hard and supportable on most slopes in the Tuolumne Meadows area. Any new wind affected snow in the alpine terrain should be travelled with caution. It would take a good load of new snow to effect any persistent instability deeper in the snowpack.

Wildlife: Spring was in the air this week as we heard the mating call of the mountain chickadee for the first time this season. The red crossbills were seen flying back and forth over Tuolumne Meadows. We observed a sooty grouse near Snow Flat and have heard a Northern pygmy owl during the evenings at Tuolumne Meadows.

Questions: The Tuolumne Meadows Ski Hut is open. There is an ample supply of firewood and 10 bunks that are available on a first come, first served basis. You can call the Tuolumne Meadows Ranger Station at 209/372-8734. If you leave a message we will get back to you the first chance we get. Power and phones are frequently out of service. Contact the wilderness office at 209/372-0740 with any questions or concerns if you are unable to reach the ranger station. Come prepared; don't count on electricity or phone service at the ski hut.

Happy Skiing!
Laura and Rob Pilewski
Tuolumne Meadows Winter Rangers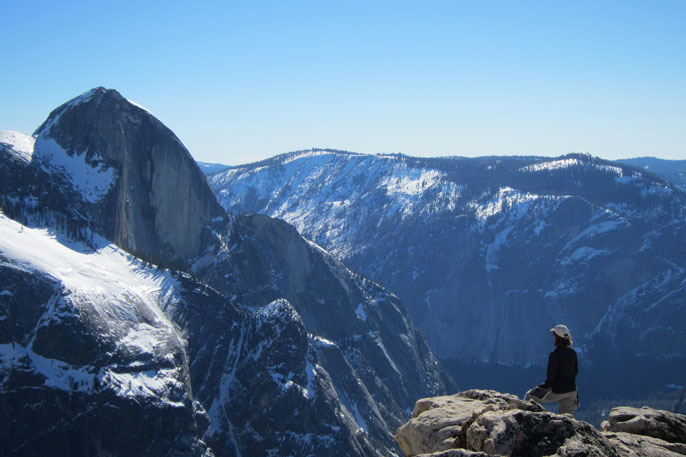 The view from Mt. Watkins: Half Dome and Yosemite Valley on February 27th, 2013.