New snow: 12 inches
Total settled snow depth: 7 inches as of March 4, 2015 (at 8,600 feet)
High temperature: 51°F, February 25
Low temperature: -1°F, March 3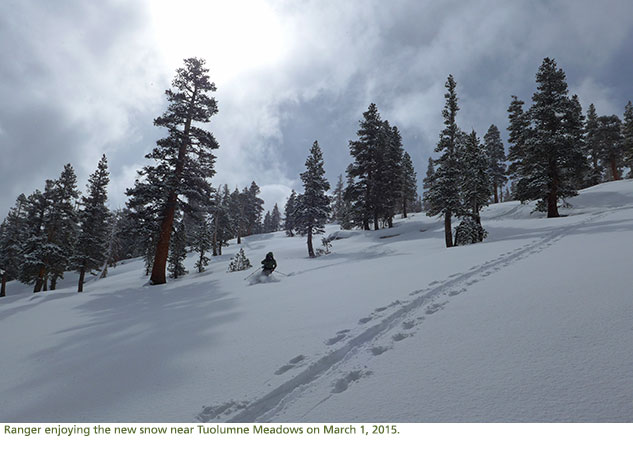 Skiing Conditions and Weather:
Though not the big Sierra dump that is sorely needed, the 12 inches of snow that fell this past weekend was a sight for sore eyes! The new snow was very low density so not much water was added to the sorry excuse for a late-winter snow pack that is out there now. The ski conditions are vastly improved from last week. Visitors can expect the Tioga Road to be mostly snow covered from Ellery Lake to Tuolumne Meadows. To the west, there are sections of dry pavement especially near Olmsted Point and on Spring Hill east of Tenaya Lake. From there to Tuolumne Meadows is mostly snow covered. The forecast is for warming temperatures toward the end of the week, so conditions will be changing again. The road and all aspects above 9,500 feet (except south-facing slopes) are the best skiing. The best, that is, of a pretty meager offering of ski opportunities.
February was the warmest on record for Tuolumne Meadows. Total snowfall here for the month was a paltry 10 inches, and even more alarming is the fact that it has only snowed a total of 56 inches since November. 
Avalanche and Snowpack Conditions: For the avalanche advisory for this area of the Sierra Nevada go to www.esavalanche.org for the Eastern Sierra Avalanche Center. The avalanche danger in the Tuolumne area and Lee Vining Canyon area on the Tioga Road is low. At the higher elevations, the new snow has bonded well to the old snow surface and the bomber rain crust that is out there from early February is still very supportable. Visitors travelling in the alpine zone should watch for wind slabs on steep slopes on N-E-W aspects.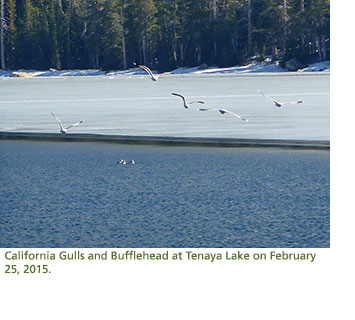 Wildlife: With this unseasonably warm weather and open water on Tenaya Lake, we witnessed the unusual sight of five California Gulls and three bufflehead! I guess this was a nice alternative to the heat and crowds of the Mono Lake area.
Questions: The Tuolumne Meadows Ski Hut is open! There is an ample supply of firewood and 10 bunks that are available on a first-come, first-served basis. There is power but no public phone service in Tuolumne Meadows this winter. We can be contacted via email, but we may be delayed in responding if we are on patrol. Contact the wilderness office at 209/372-0740 with any questions or concerns. Come prepared;don't count on electricity or phone service at the ski hut.