New snow: 2 inches
Total settled snow depth: 41 inches (at 8,600 feet)
High temperature: 54°F (March 27)
Low temperature:  11°F (March 29)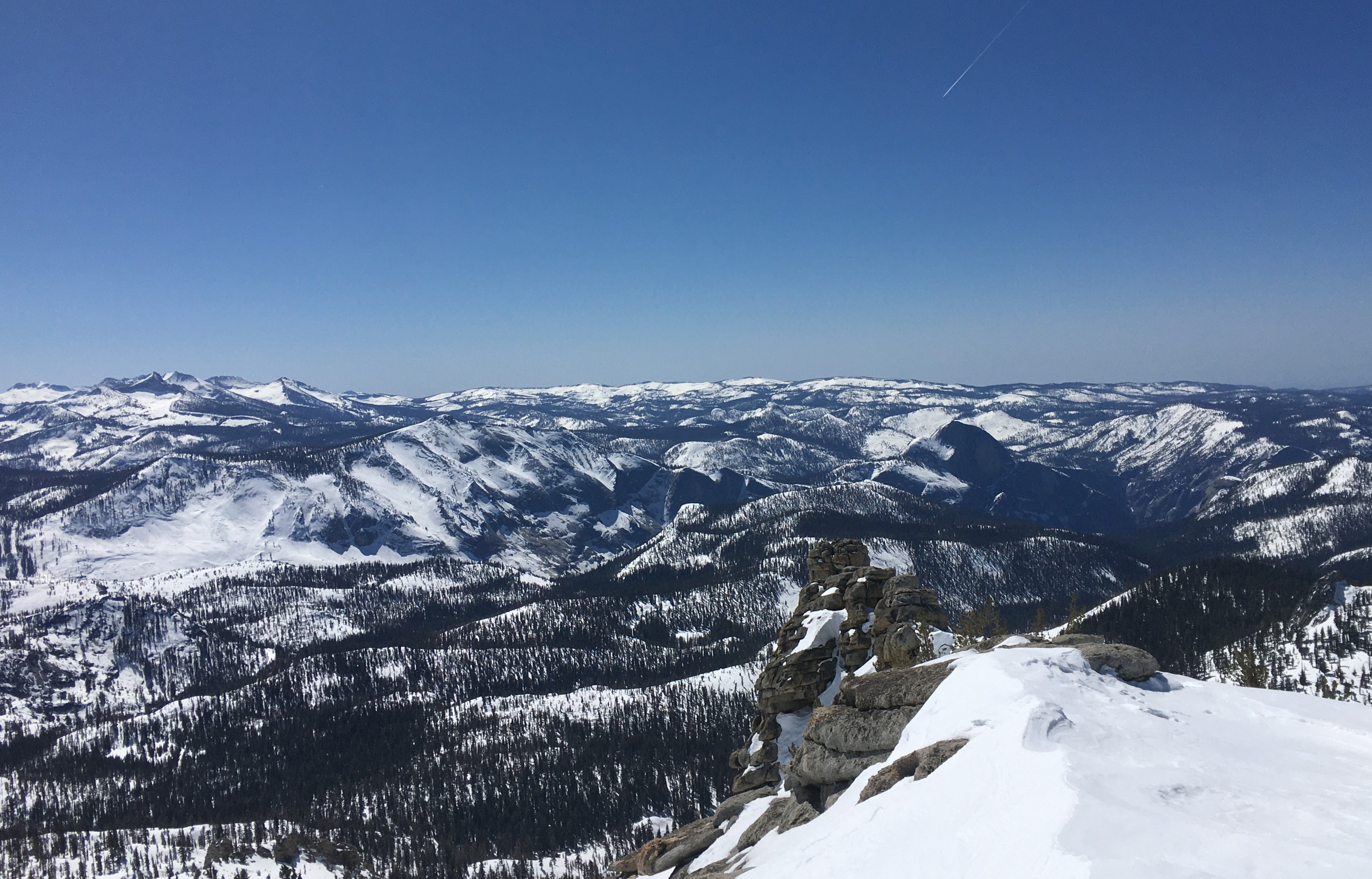 Ski Conditions and Weather
Springtime arrived in earnest this week. The mercury was pushed into the 50s the past five days, and near record highs are forecast into the weekend. These daytime highs and overnight lows here in Tuolumne Meadows have been quite favorable for corn snow development. Most aspects are getting a healthy dose of sunshine at these middle elevations (8,000–10,000 feet) this time of year. South aspects below 9,000 feet started with such a shallow snowpack that they are quickly becoming a patchwork of patchy snow and bare ground.
The April 1 snow surveys are in progress and here in the Tuolumne River Basin the results so far show a winter's worth of snowfall that has left about 63% of average SWE (snow water equivalent) on the ground at this time.
Ski conditions and coverage remain pretty good in this area. The continued melt-freeze cycles should keep touring conditions in good shape for now. The higher elevations are still textured from a winter of high winds, but as the days continue to lengthen and become warmer ski conditions will improve there too.  
The Tioga Road is 100% snow covered through Yosemite National Park from Tioga Pass to Crane Flat. Snow depths range from three to six feet. As of this writing, to the east, snow line starts around 9,000 feet (Warren Fork) on the road in Lee Vining Canyon.
Avalanche and Snowpack Conditions
For the avalanche advisory for this area of the Sierra Nevada go to https://www.esavalanche.org/ for the Eastern Sierra Avalanche Center.
The avalanche hazard is low to moderate in the Tuolumne Meadows area and along the Tioga Road. For now the primary concern will be wet loose avalanches on granite slabs and rocky outcrops during the heat of the day especially at lower elevations where with increasing temperatures the window of stable snow will be a bit shorter. Wilderness travelers should be particularly attentive to this hazard if the overnight temperatures do not produce a good refreeze of the snow surface.
Wildlife
While skiing through the meadows this week the sun was so intense as it reflected off the snow that it took a few minutes to figure out whether we were seeing white spots or the quick flash of the vibrant (white bellied) violet-green swallows. Sure enough, with the Tuolumne River starting to open up, these migrant flocks are venturing into the subalpine. The soft plaintive notes of a lone mountain bluebird was also heard as we headed out early one morning on our snow surveys. Spring is definitely in the air, but with the cool mornings it's not quite a chorus of song yet.
General Information
The Tuolumne Meadows Ski Hut is closed for the 2020-2021 season.