New Snow: 8 inches
Settled Snow Depth: 30 inches
High temperature: 59 °F (March 25)
Low temperature: 23 °F (March 25)

Ski Conditions and Weather
The weather this week brought us the best corn snow cycle of the season so far. Although the high temperatures were well above seasonal averages, overnight lows were just cold enough to ensure a freezing of the upper snowpack. To end the week a low-pressure trough brought the most snow in a single storm that we have recorded here in Tuolumne Meadows since December 30. The storm only amounted to eight inches of new of snow here, so that speaks to how dreadfully dry the past three months have been. Needless to say, the past couple of days of skiing fresh snow was much better than a sharp stick in the eye. Now it's back to spring according to the weather forecasters…… 

We found some excellent ski conditions while patrolling in the Cathedral Range this week. Our base camp at Evelyn Lake put us in striking distance of our work projects and the refrozen snow surface made for good and fast travel above 10,000 feet until the late afternoon. South aspects are rapidly losing snow coverage even at the high elevations. We had to walk most of the south side of Vogelsang Pass.

Skis or snowshoes are still strongly recommended for visiting the Yosemite High Country. Skate ski conditions along the Tioga Road and in the meadows and drainages are very good. Although we found some isolated pockets of collapsible and rotten snow during the heat of the afternoon this week, for the most part the snowpack at all elevations is supportable and skiable. The amount of bare ground increases daily, however, and it will be an abbreviated spring ski season in the Sierra Nevada this year.

The east side of Tioga Pass is mostly bare pavement from the closed gate to the Pass. A bike is a good tool to get to snowline. Bicycles are not currently allowed on the Tioga Road in Yosemite National Park.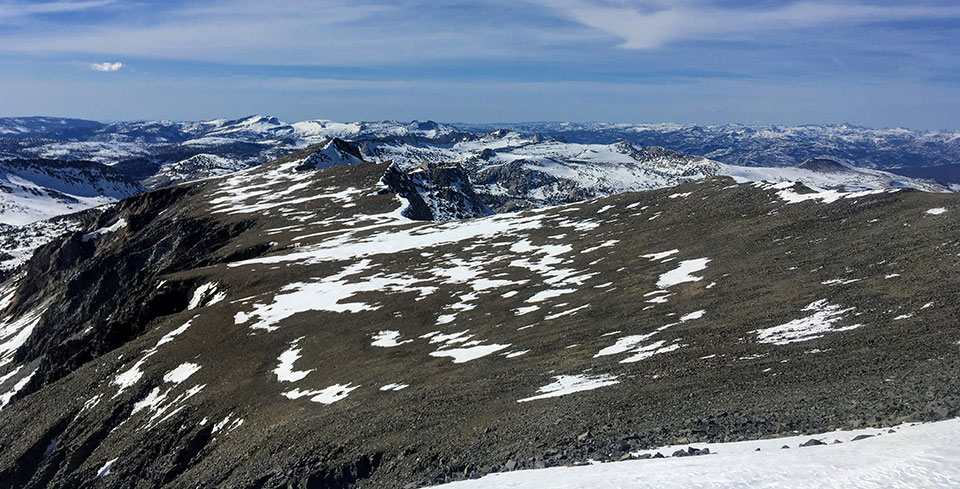 Avalanche and Snowpack Conditions
Please refer to the Eastern Sierra Avalanche Center (ESAC) for the avalanche advisory for this part of the Sierra Nevada. 

The avalanche hazard is mostly low in the Tuolumne Meadows area. There is still potential for wet slides on all aspects, however, especially if the snow surface does not freeze overnight. Wilderness travelers should be wary of deep ski penetration and collapsing snow when traveling in terrain steep enough to slide.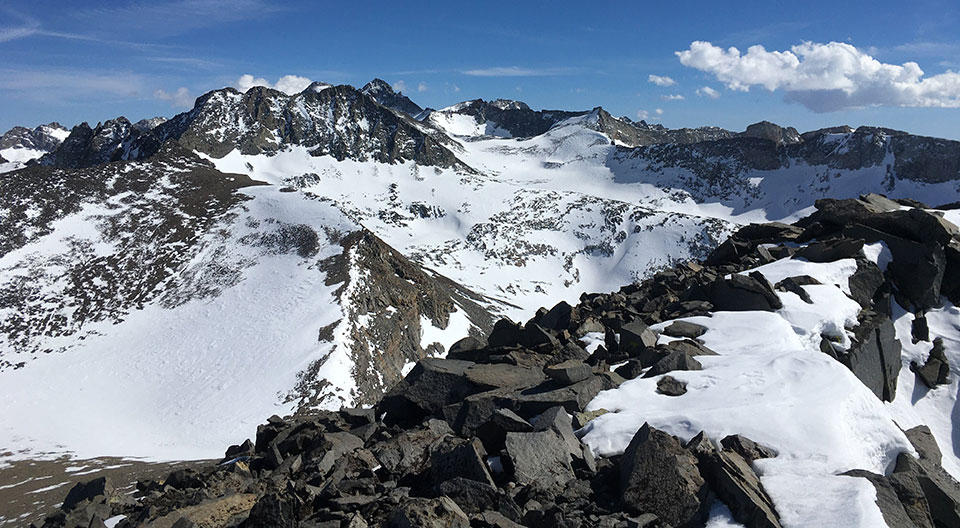 Snow Travel Tip
Snow bridges over creeks and rivers are increasingly unreliable and becoming more and more difficult to find. If you do locate one, make an assessment. Is there a better one up or downstream? As you scout for others, look to see how thick the first one you found is. What hazards are underneath it and/or downstream if it collapses or you fall. Would it be safer to just wade across with the water shoes you are now carrying in your pack? After a cold, below freezing night some of these snow bridges may be bomber in the morning but may collapse under their own weight during the afternoon. Keep that in mind for your return. If you can safely do so, use your avalanche probe to see how frozen and/or thick it is. In bigger snow years especially, you might not even realize you are crossing a snow bridge. Listen for water sounds underneath and pay attention to where gullies or trails become undercut by water seasonally. For bigger rivers and/or crevasses elsewhere, it is a good idea to rope up and belay your partner(s). Sometimes that ice axe can come in handy just getting up and down that steep snowbank.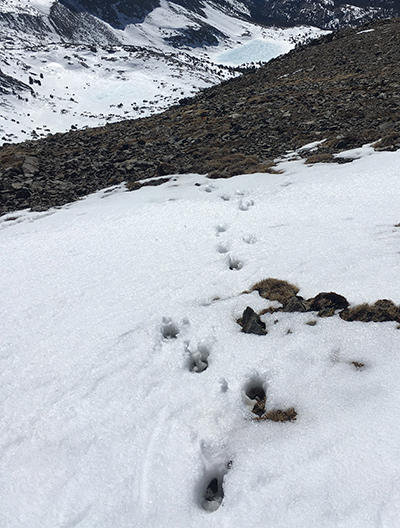 Wildlife
With such wonderful weather and travel conditions we passed through many ecological zones this week. As we headed out the door, we saw our first American robin of the season. Along the riverbank, the first song sparrow was belting out its tune from the leafless willows as a bald eagle flew overhead. The Steller's jays are anxiously awaiting the picnickers at Lembert Dome. And, among the hemlocks near Elizabeth Lake we believe we heard the solitary note of a mountain quail (a first for us in this area). When we went to Evelyn Lake, the Clark's nutcrackers kept us company among the white bark pine. As we climbed up towards Parson's Pass, we heard the high-pitched calls of horned larks as they blended into the landscape of snow and golden-brown grasses. The rosy finches seemed to be enjoying the snow melt puddles among the lichen covered metamorphic talus. And as we crested the Cathedral range, we came across many hoofprints and droppings of the hardy Sierra Nevada Bighorn sheep who endure some of the harshest weather imaginable in the alpine zone. Sierra Nevada Bighorn Sheep in Yosemite National Park - Yosemite National Park (U.S. National Park Service) (nps.gov).

Another critter that is adapted to many harsh environments left evidence of its classic "plantigrade swagger" on the snow (Halfpenny, A Field Guide to Mammal Tracking in North America, Johnson Printing Co., 1986). This powerful badger had recently excavated or done some home improvements on its burrow moving a large amount of dirt and rock. Although the badger doesn't hibernate, it will spend longer periods of time in its den during winter. And, last but not least, the bears are out too. Tracks were seen near Tuolumne Meadows and May Lake this week. So, even though it may still look like winter in places, don't forget, the parks' wildlife is now out in full force, so keep that food secure.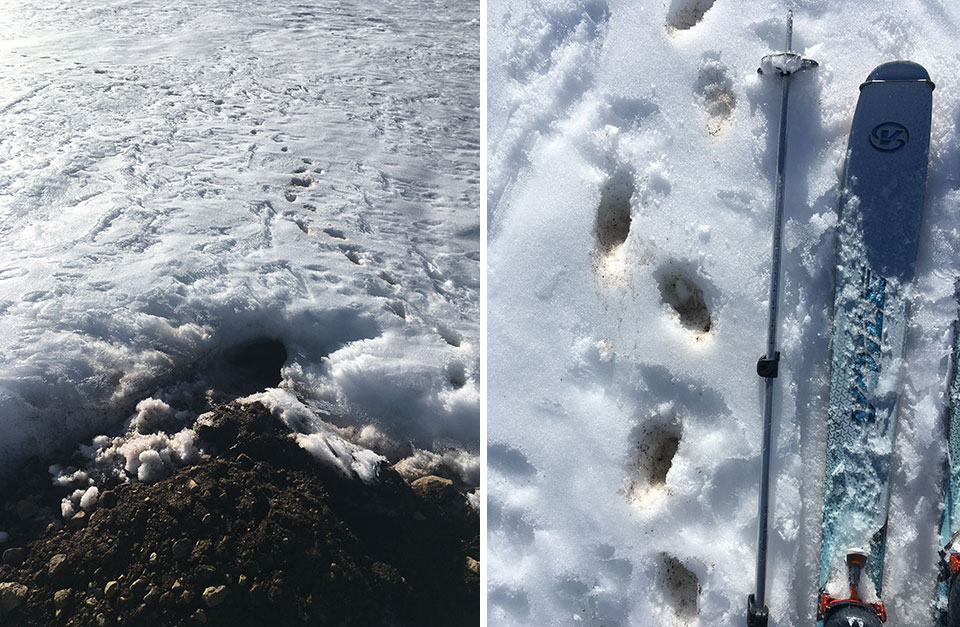 Questions
The wilderness is open! Please #RecreateResponsibly by planning and preparing thoroughly for your outdoor activities in the park.

Read through the following two pages before embarking on any day or overnight snow travel within this park: 
You may contact us with any additional winter Tuolumne Meadows related questions.  

Happy Spring Skiing!
Laura and Rob Pilewski - Tuolumne Meadows winter rangers