New snow: 10 inches
Total settled snow depth: 90 inches (at 8,600 feet)
High temperature: 42°F (March 26)
Low temperature: 1°F (March 24)
Ski Conditions and Weather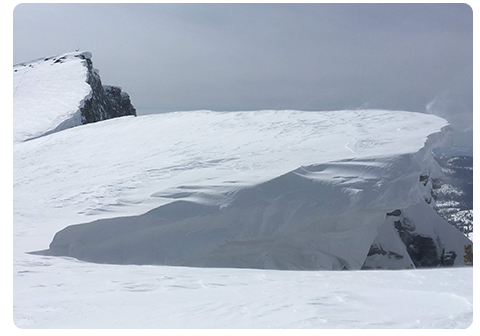 It is snowing again today after a brief three day window of dry weather and seasonal temperatures. The Tuolumne Meadows snow stake still reads 90 inches and the coverage is good on all aspects above 8,000 feet. This is snow survey week and the deep, dense snowpack at our courses tells us that the road crews will have their work cut out for them this spring. Mother Nature is doing her best to keep that asphalt covered. But, here and there, one can see an aspen or willow budding or a patch of spring-fed, saturated meadow surrounded by snow drifts.
One hundred and seven days ago we skied away from our vehicle and into the Tuolumne Meadows wilderness to start our winter season (and, no, that number isn't etched into the wood walls of our sometimes confining house).  That is a pretty long stretch of living in what we call our "snow globe" with only human powered transportation to take us places. Fortunately, this part of Yosemite National Park is so magnificent that living in what would be considered, in these fast paced times, a small area for such a long time is always interesting; never dull.  We are constantly amazed by the small miracles of the natural world.  
Park visitors approaching from the east via the Tioga Road and Lee Vining Canyon should not expect a road grade.  Along the road, there is one steep side-hill section at approximately 9,200 feet just below (east of) the Green Bridge that requires particular caution. Visitors have been taking both the road corridor and Lee Vining Canyon proper to get to Tuolumne Meadows and it's just a matter of personal preference. We still recommend carrying an ice axe and crampons for times when the snow is firm.
Avalanche and Snowpack Conditions
Please refer to the Eastern Sierra Avalanche Center (ESAC) for the avalanche advisory for this part of the Sierra Nevada.
 
We observed the results of an active March avalanche cycle as we traveled west to Tenaya Lake this week. There were large pieces of cornice that had fallen from Polly Dome onto the Tioga Road, and old avalanche debris littering the hillsides of Tenaya Peak and Polly Dome. The present snowfall will increase the avalanche hazard for at least the next few days.  After the new snow has had a chance to settle onto the old snow surface, the hazard will change from wind and storm slab to possible wet slab with solar activity.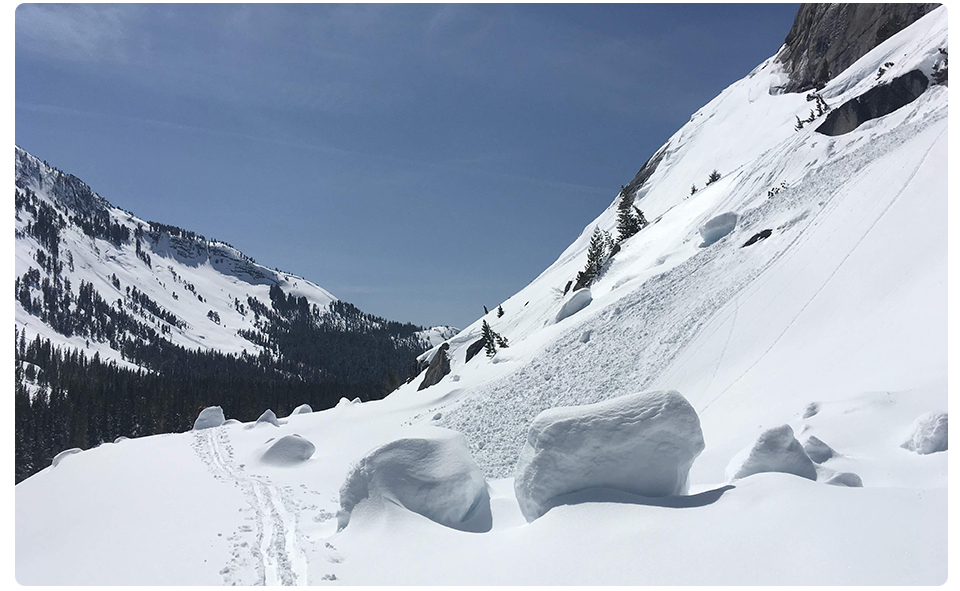 Wildlife
Once again, blood stained the snow in Tuolumne Meadows; always a stark reminder that Mother Nature is not always "friendly," especially if you're not paying attention. Always keep your eyes to the sky. If you do, you might also see the flashing red wings of a northern flicker like we did this week at Soda Springs.
General Information
The Tuolumne Meadows Ski Hut is open. There is firewood and 8 bunks that are available on a first-come, first-served basis.

There is no phone service in Tuolumne Meadows. We can be contacted regarding winter travel to Tuolumne Meadows via email, but we may be delayed in responding if we are on patrol.

For those visiting the Tuolumne Meadows Ski Hut from the east (only) permits are self-issued at the ski hut. For those entering from other areas, visit: https://www.nps.gov/yose/planyourvisit/wildpermits.htm or you may contact the wilderness office at 209/372-0740.

Come prepared, and please make good decisions while travelling in the wilderness!

Welcome Spring!
Laura and Rob Pilewski - Tuolumne Winter Rangers