New snow: 20 inches
Total settled snow depth: 47 inches (at 8,600 feet)
High temperature: 46°F (March 17)
Low temperature: 4°F (March 22)
Ski Conditions and Weather
This week continued the March trend of wintry weather. We measured 1.6 inches of snow water equivalent in the 20 inches of snow that fell here in Tuolumne Meadows. It looks like March, however, is going to be yet another month this season that comes in below average. This week's snowfall will certainly improve the spring runoff. We will be out and about performing the April 1 snow surveys this week gathering more data to paint a more accurate picture of the water situation in the Sierra.  
It was a mixed bag of ski conditions this week. Although the new snow softened things up for most of the week, the snow surface is presently going through a melt-freeze cycle that could produce some corn snow by early next week. The more solar aspects will see this change first.
The Tioga Road is 100% snow covered through Yosemite National Park from Tioga Pass to Crane Flat. Snow depths range from three to six feet. As of this writing, to the east, snow line starts around 9,000 feet (Warren Fork) on the road in Lee Vining Canyon.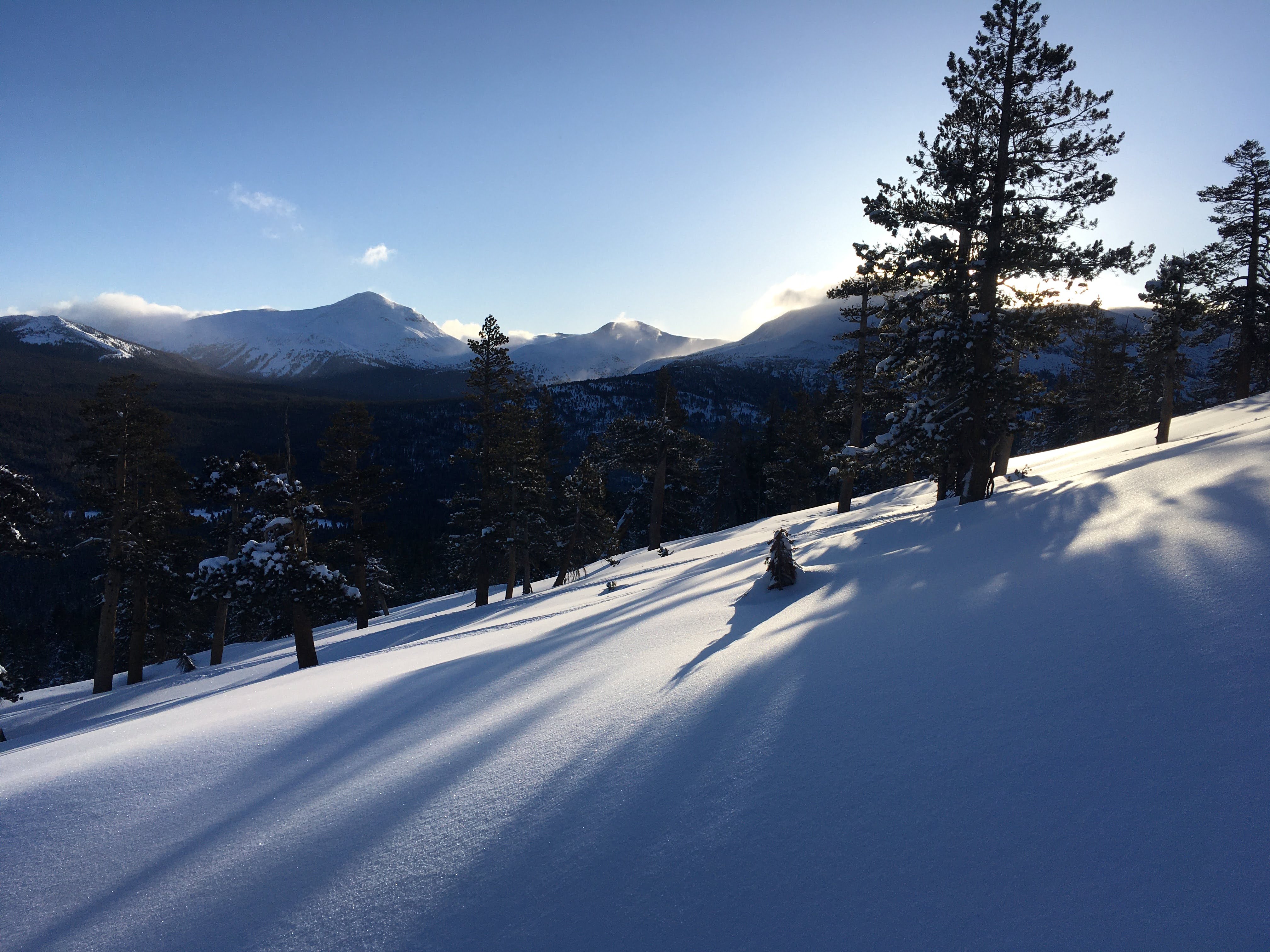 Avalanche and Snowpack Conditions
For the avalanche advisory for this area of the Sierra Nevada go to https://www.esavalanche.org/ for the Eastern Sierra Avalanche Center.
The avalanche hazard is low in the Tuolumne Meadows area and along the Tioga Road. A strong northeast wind event on March 23 transported a lot of snow in the alpine zone. Wind slab avalanches continue to be the primary avalanche concern above tree line. These slabs will become more stubborn to trigger as the days go by and the snowpack continues to settle. The forecast indicates that a warming trend is in store for the central Sierra over the next week
Wildlife
The Townsend's solitaires on Lembert Dome have been more active lately. They have been perching among the western juniper trees along the Tioga Road defending their territory as we ski by. "Occupants of the best berry-rich areas have higher winter survival rates" (Birds of the Sierra Nevada, their natural history status and distribution, Beedy & Pandofino, 2013). Shortly after we ski through, they relax and break out into a beautiful, lengthy song, characteristic of many other species of the thrush family.  
General Information
The Tuolumne Meadows Ski Hut is closed for the 2020-2021 season.