New snow: 6 inches
Total settled snow depth: 91 inches (at 8,600 feet)
High temperature: 50°F (March 16)
Low temperature: -1°F (March 14)
Ski Conditions and Weather

Spring sprung a week early in the high country and after such an intense winter we can't say we were too disappointed. We temporarily put down our shovels and headed south on a wilderness patrol (the opposite direction of most critters this time of year). The touring conditions were quite good with minimal trail breaking and fast travel. Snow conditions were a mixed bag at most aspects and elevations. But, one could find powder on sheltered north facing slopes and corn snow on the lower elevation south facing ones. Down at Merced Lake, snow depth averages 4 ½ feet with south aspects getting thinner daily. Below 7,500 feet things were melting fast and snow bridges are becoming fewer and farther between with deeply carved channels.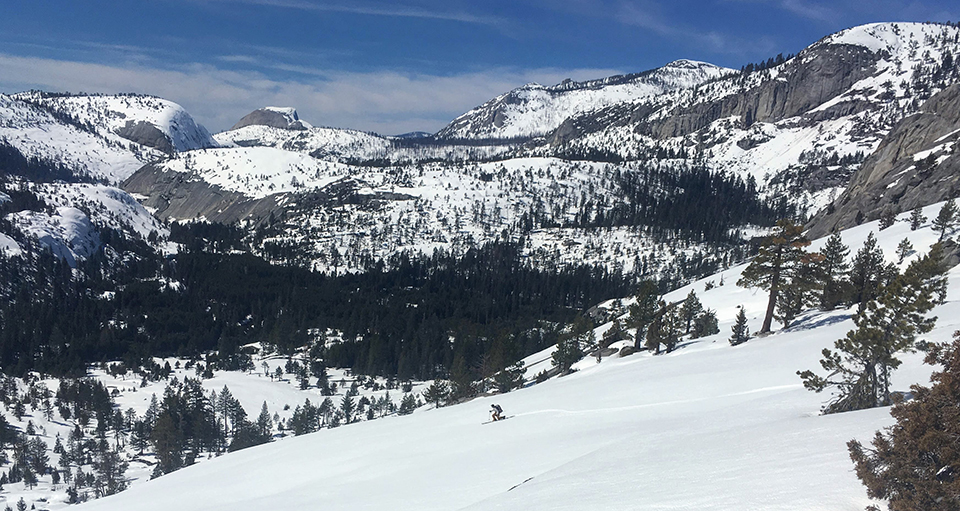 Now, the corn cooking cycle is on hold and unsettled weather has returned to the central Sierra Nevada with six new inches on the ground and constantly changing surface conditions.
Park visitors approaching from the east via the Tioga Road and Lee Vining Canyon should not expect a road grade. Along the road, there is one steep side-hill section at approximately 9,200 feet just below (east of) the Green Bridge that requires particular caution.  The snowline extends down to the closed gate, but there are several patches of bare pavement between the gate and 9,000 feet elevation. As spring progresses and the days get longer, the snowline will continue to creep upward. Visitors have been taking both the road corridor and Lee Vining Canyon proper to get to Tuolumne Meadows and it's just a matter of personal preference. We still recommend carrying an ice axe and crampons for times when the snow is firm.
Avalanche and Snowpack Conditions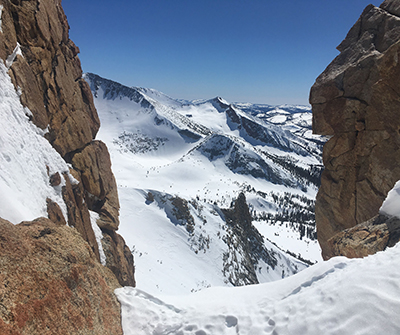 Please refer to the 
Eastern Sierra Avalanche Center
 (ESAC) for the avalanche advisory for this part of the Sierra Nevada.  
The snowpack went through a good melt freeze cycle on southerly aspects and at lower elevations this week. But, the new snow may not bond well to these firmer surfaces or the faceted powder that was on northerly slopes at higher elevations.
Winds are expected to follow some of these disturbances, so wind and storm slab avalanches may be a hazard depending on snowfall amounts and transport. If things do warm up post storm, wet slides may also become of concern.
Wildlife

At Merced Lake Ranger Station the songs of spring were in the air. In addition to the sounds of cascading water along the river, we saw and heard the water ouzel cheerfully (as it always appears) dipping upon a log. Brown creeper and mountain chickadee mating songs greeted the day while the great horned owl lulled us to sleep at night.
General Information

The Tuolumne Meadows Ski Hut is open. There is firewood and 8 bunks that are available on a first-come, first-served basis.

There is no phone service in Tuolumne Meadows. We can be contacted regarding winter travel to Tuolumne Meadows via email, but we may be delayed in responding if we are on patrol.

For those visiting the Tuolumne Meadows Ski Hut from the east (only) permits are self-issued at the ski hut. For those entering from other areas, visit: https://www.nps.gov/yose/planyourvisit/wildpermits.htm or you may contact the wilderness office at 209/372-0740.

Come prepared, and please make good decisions while travelling in the wilderness!

Happy Skiing!
Laura and Rob Pilewski - Tuolumne Meadows Winter Rangers