Weather: March 13th through March 20th
High temperature: 59°F (March 13th)
Low temperature: 14°F (March 17th)
New snow: 3 inches
Total settled snow depth: 32 inches as of March 20th
Skiing Conditions and Weather:
Above-normal temperatures and dry conditions prevailed in the Tuolumne Meadows area this week. It is presently snowing, however, and though not forecast to be a significant precipitation event, any additional water added to the snowpack will be welcome. Ski conditions are good, and above 9,500 feet, the snowpack is still in winter mode on all but south aspects. At the mid-elevations (Tuolumne Meadows is at 8,600 feet), the snowpack has gone through a significant melt-freeze cycle this week and hard and supportable snow conditions are found on all aspects (except southern, which are mostly bare) in the early part of the day. The snow has gotten punchy in places during the heat of the day. Subsequently, the best ski touring conditions are found in the early morning to early afternoon, and there is a good window of corn snow skiing in the late morning.
Avalanche and Snowpack Conditions:
For the latest avalanche advisory for this area go to www.esavalanche.org for the Eastern Sierra Avalanche Center and click on advisory. The ESAC site is updated several times a week and more often during weather events.
Overall, the avalanche hazard in the Tuolumne Meadows area is low. The collapsing that was observed last week following the storm on upper level faceted snow has stabilized with the warm temperatures this week. The avalanche concerns this week will be from wet snow slides that can occur on steep slopes during the melt period of the day. This hazard will also remain low as long as the overnight temperatures continue to freeze the snowpack.
Wildlife:
We are sad to report that winter is officially over in Tuolumne Meadows as we observed our first American robin of the season. On our extended patrol this week in the Cathedral Range, we observed many coyote and hare tracks. The coyotes are taking advantage of the firm snow and are now wandering into the higher elevations, as we observed tracks as high as 12,000 feet on the Lyell Glacier.
Questions:
The Tuolumne Meadows Ski Hut is open. There is an ample supply of firewood and 10 bunks that are available on a first come, first served basis. You can call the Tuolumne Meadows Ranger Station at 209/372-8734. If you leave a message we will get back to you the first chance we get. Power and phones are frequently out of service. Contact the wilderness office at 209/372-0740 with any questions or concerns if you are unable to reach the ranger station. Come prepared; don't count on electricity or phone service at the ski hut.
Happy Ski Touring!
Laura and Rob Pilewski
Tuolumne Meadows Winter Rangers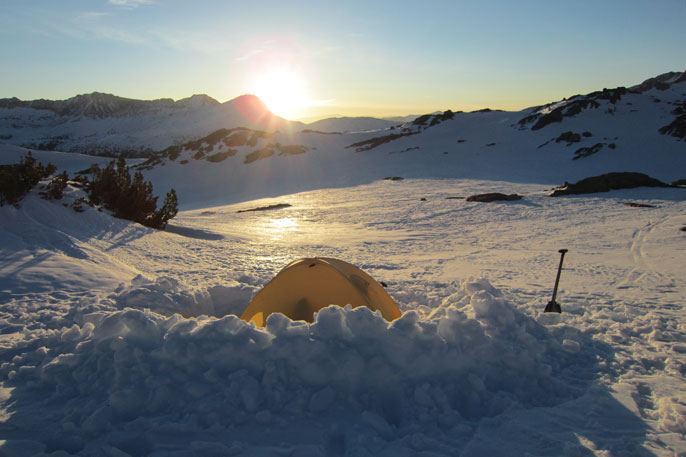 Sunrise over Donohue Pass, March 18,2013