New snow:
6 inches
Total settled snow depth:
28 inches (at 8,600 feet)
High temperature:
48°F (March 11)
Low temperature:
10°F (March 9)
Ski Conditions and Weather
The weather this week was dominated by spring like temperatures and ski conditions, although dry powder snow could still be found on north aspects, and at the highest elevations. The snow surface elsewhere was more spring like after numerous melt freeze cycles this week. Of course, that is all now buried beneath the six inches (and counting) of high density snow that fell last night. The snow and ski conditions are much more dynamic this time of year. On Mt. Dana the other day we found dry powder snow at the top and corn snow at the bottom. If one is fortunate enough to hit it right, the Sierra Nevada is a premier place to ski! With more snow in the forecast, visitors should be prepared for changing conditions and increased avalanche hazard.
At this time the Tioga Road is snow covered above (west of) the Warren Fork although snowline may change with upcoming storms and fluctuating temperatures.  It is 100% snow covered from Tioga Pass westward to Crane Flat.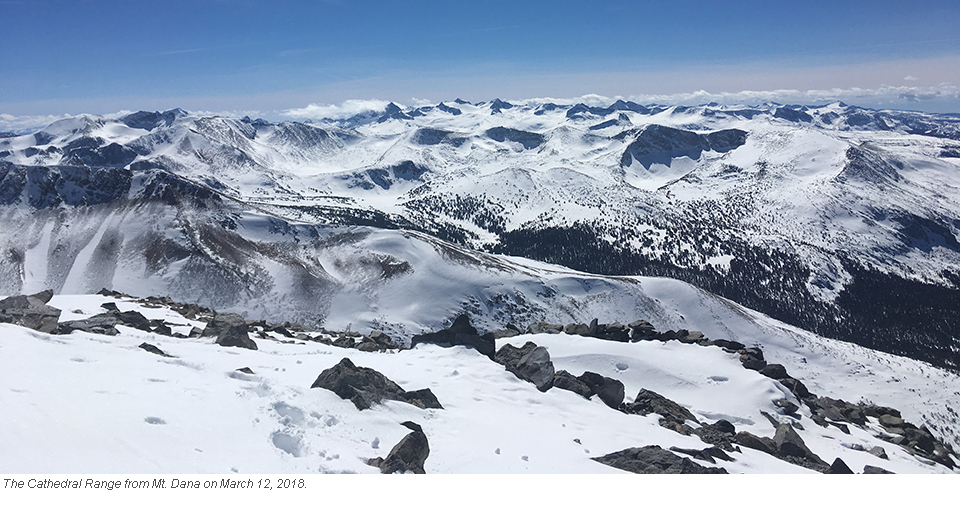 Avalanche and Snowpack Conditions
Please refer to the 
Eastern Sierra Avalanche Center
 (ESAC) for the avalanche advisory for this part of the Sierra Nevada.
The snowpack had a chance to stabilize this week with the warm and calm weather. We did not observe any new avalanche activity following the cycle that occurred the first week of March after the big storm. We still find the persistent weak layer of faceted snow buried deeply near the ground on north aspects between 9,000 feet and 10,000 feet but did not find it to be reactive.  This avalanche problem should be considered carefully by wilderness travelers when travelling on or beneath these slopes, particularly after recent loading of new snow. The new snow that is presently falling with strong southwest winds will again introduce the possibility of wind and storm slab avalanches. Visitors should look at the daily avalanche advisory from ESAC before venturing into the wilderness.
Wildlife
Although it is snowing again, spring was in the air this week. We awoke to hear the first red-winged blackbird stake his claim to Soda Springs in Tuolumne Meadows. The red flash under the wings of the northern flicker was also seen several times between here and Tioga Pass. And, for the first time this year we saw the beautiful golden eagle soar overhead on a clear day near Gaylor Peak.
General Information
The Tuolumne Meadows Ski Hut is open. There is firewood and 8 bunks that are available on a first-come, first-served basis. There is no phone service in Tuolumne Meadows at this time. We can be contacted regarding winter travel to Tuolumne Meadows via 
email
, but we may be delayed in responding if we are on patrol. For permit information: 
https://www.nps.gov/yose/planyourvisit/wildpermits.htm
. or you may contact the wilderness office at 209/372-0740. Come prepared, and please make good decisions while traveling in the wilderness this winter!
March miracles!
Laura and Rob Pilewski - Tuolumne Winter Rangers