Weather: March 6th through March 13th
High temperature: 56°F (March 11th)
Low temperature: 4°F (March 8th)
New snow: 12 inches
Total settled snow depth: 40 inches as of March 13th

Skiing Conditions and Weather: Winter returned to Tuolumne Meadows for much of this week. As of this posting, however, temperatures are on the rise and dry conditions are forecast for much of the week ahead. The 12 inches of new snow improved coverage and increased the base depth, but it will take more storms over the next two months to catch up to what is considered "normal" winter precipitation. The skiing conditions are good, and with the pending melt-freeze cycle, will only be getting better. South slopes are mostly bare below 9,000 feet, and coverage is still good on all aspects above 10,000 feet. The Tioga Road is 100% snow covered from the Warren Fork (9,000 feet) in Lee Vining Canyon to Crane Flat on the west side of Yosemite Park.

Avalanche and Snowpack Conditions: For the latest avalanche advisory for this area go to www.esavalanche.org for the Eastern Sierra Avalanche Center and click on advisory. The ESAC site is updated several times a week and more often during weather events.

There was a period of snowpack instability during and immediately following the storm this week. Faceted snow crystals had developed in the upper part of the snowpack, primarily on north aspects, and collapsing on this weak layer could be heard and felt as more weight was added to the snowpack with the newly fallen snow. The warm daily temperatures this week should develop a more stable snowpack and return the avalanche hazard to a low rating. Wilderness travelers need to be cautious on steeper terrain during the heat of the day, and pay close attention to overnight temperatures as spring progresses. The avalanche hazard will rise on any days where the surface of the snowpack does not freeze on the night before.

Wildlife: With the unsettled weather this week, most critters remained hidden. We did see numerous coyote tracks and the resident mountain chickadees and Clark's nutcrackers.

Questions: The Tuolumne Meadows Ski Hut is open. There is an ample supply of firewood and 10 bunks that are available on a first come, first served basis. You can call the Tuolumne Meadows Ranger Station at 209/372-8734. If you leave a message we will get back to you the first chance we get. Power and phones are frequently out of service. Contact the wilderness office at 209/372-0740 with any questions or concerns if you are unable to reach the ranger station. Come prepared; don't count on electricity or phone service at the ski hut.

Happy Skiing!
Laura and Rob Pilewski
Tuolumne Meadows Winter Rangers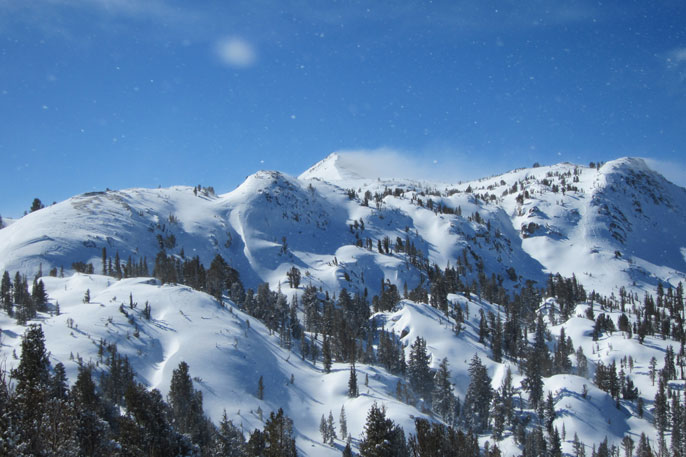 Plume of snow blowing off of Johnson Peak following snow storm on March 9th, 2013.