New snow: Trace
Total settled snow depth: 2 inches as of March 12 (at 8,600 feet)
High temperature: 56 °F, March 7
Low temperature: 9°F, March 5
Skiing Conditions and Weather: We spent the past week on patrol in the northern reaches of Yosemite for the Sierra Nevada red fox project. The snowpack is significantly deeper there, with an average of three feet of snow on the ground. Unfortunately, it is so dry below 8,600 feet that we had to carry our skis for ten miles before hitting "ski line." Some would consider this excessive, but for us it was well worth the effort. The skiing and weather were perfect for spring skiing and camping.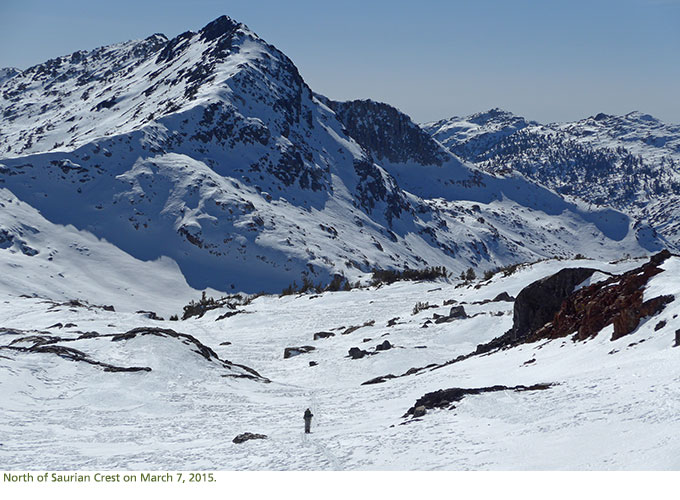 More locally, the snowpack continues to shrink. We skied back to Tuolumne Meadows on Wednesday and were able to ski on the Tioga Road from Ellery Lake to just east of Tuolumne Meadows before we had to start walking. There were a few sections where we had to step gingerly on our skis across short stretches of pavement. Otherwise, depending on aspect, there are also half-mile sections or so of dry pavement to the west toward Olmsted Point. The forecast is for warm and dry weather, so the melt will continue and ski conditions will continue to deteriorate at the lower elevations. Spring skiing opportunities exist at the higher elevations and there should be a good melt-freeze cycle to produce good corn snow (where there is still snow). Expect to do some walking and fording of creeks. 

Avalanche and Snowpack Conditions: For the avalanche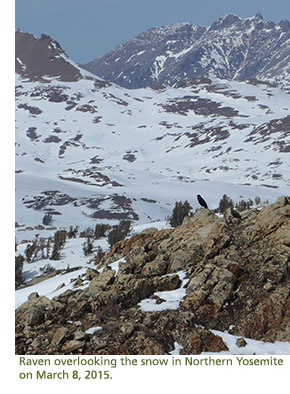 advisory for this area of the Sierra Nevada go to www.esavalanche.org for the Eastern Sierra Avalanche Center. The avalanche danger in the Tuolumne area and along on the Tioga Road including Lee Vining Canyon is low.  
Wildlife: Pine marten, coyote, chickarees, and snowshoe hare tracks abound in northern Yosemite. And, everywhere one travels now, the mornings are filled with the songs of springtime. Even though it is still only March in the alpine!!

Questions: The Tuolumne Meadows Ski Hut is open! There is an ample supply of firewood and 10 bunks that are available on a first come, first served basis. There is power but no public phone service in Tuolumne this winter. We can be contacted via email, but we may be delayed in responding if we are on patrol. Contact the wilderness office at 209/372-0740 with any questions or concerns. Come prepared;don't count on electricity or phone service at the ski hut.