New snow: 7 inches
Total settled snow depth: 41 inches (at 8,600 feet)
High temperature: 51°F (March 5)
Low temperature: 4°F (March 9)
Ski Conditions and Weather
Winter weather has returned to the Sierra. Although the week started warm and dry, as of this writing a cold low pressure system is bringing snow showers and below-average temperatures to the area. While skiing across Tuolumne Meadows yesterday, a short-lived, but very impressive, cloud burst left a fresh blanket of three inches of snow in its wake within only an hour's time. The old snow surface was overdue for a refresher as the warm and dry spell had left a textured melt freeze crust on the surface making for challenging ski conditions during certain times of the day. The snow has been supportable, but not quite in its spring skiing glory yet. This new snow will result in a delay to the spring ski conditions and a return to more of a winter feel for now.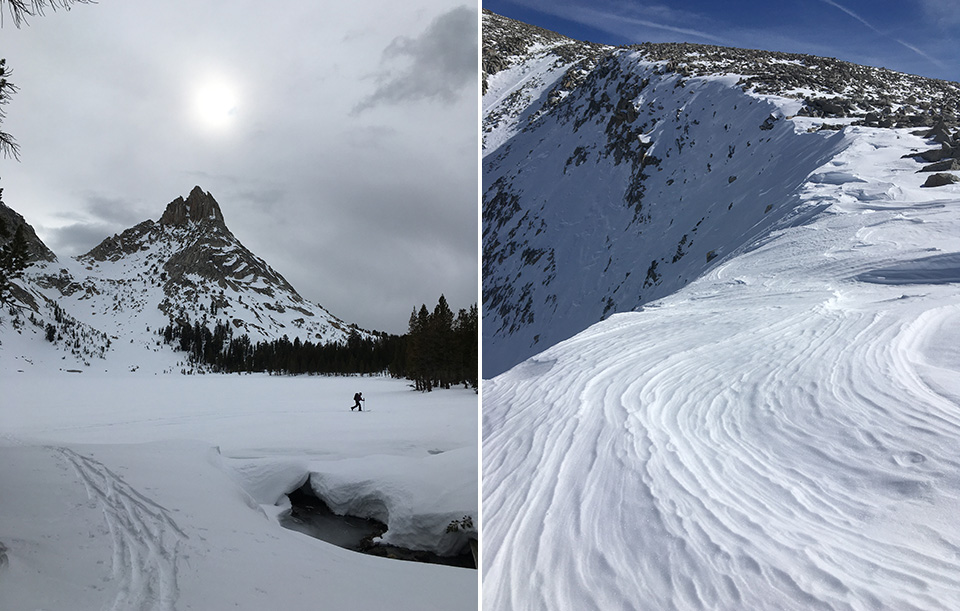 We took advantage of the good touring conditions this week to continue our wildlife surveys, as it was much easier to cover the miles and travel farther from the Tuolumne Meadows patrol area. While the ski conditions were good at and below tree line, the high alpine continues to be wind affected.  Above tree, line the snow surface is firm and very textured. This was most evident as we skied through the Roosevelt Lake basin this week on a surface resembling a "frozen ocean."  The "waves" that were formed by the wind were frozen in time and made for a pretty bumpy ride on skis.
Avalanche and Snowpack Conditions
Please refer to the Eastern Sierra Avalanche Center (ESAC) for the avalanche advisory for this part of the Sierra Nevada.

The avalanche hazard has increased over the past 24 hours due to the new snow and wind. The primary hazard now is from wind slab avalanches. Strong south west winds during this weather system have caused wind slabs to form primarily on north and east aspects. Travelers should be particularly attentive to terrain and aspect. The firm and slick snow surface that existed prior to the new snowfall could make for a good bed surface for wind slabs, as well as, loose snow avalanches in steeper terrain.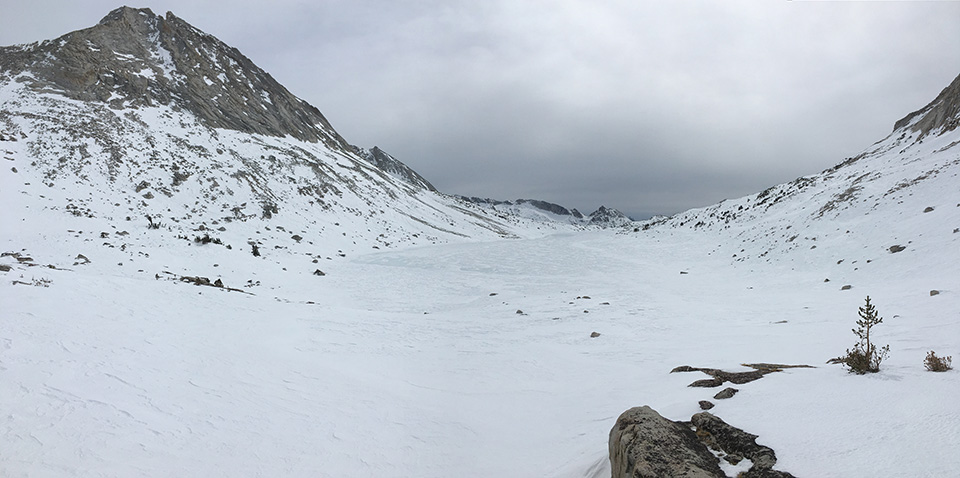 Wildlife
We have reliably seen a couple of Clark's nutcrackers out and about foraging most days this winter. Not unlike Lewis and Clark (the latter of whom this bird is named after) and the Tuolumne Meadows winter rangers, they got their caches in order long before the snow fell. Unlike us humans, however, they hid their caches in "…as many as 5,000…" different locations (Strycker, 2014). And, they don't rely on a GPS to find them. These intelligent corvids have the capacity to remember spatially where the majority of their (typically) white bark pine seeds were placed the fall prior. So, although we may not pause and admire the squawk and demeanor of these birds, we certainly can appreciate their capacity for memory. Remember that next time you misplace your keys! 
General Information
The Tuolumne Meadows Ski Hut is closed for the 2020-2021 season.

Rob and Laura Pilewski - Tuolumne Meadows Winter Rangers