New Snow: 1 inch
Settled Snow Depth: 36 inches
High temperature: 54 °F (February 28)
Low temperature: -9 °F (February 24 and 25)
February Weather Summary
New Snow: 3 inches (Historical Average: 62.1 inches)
Snow Water Equivalent: 0.11 inch (Historical Average: 4.53 inches)
Average High temperature: 43° F (Historical Average: 40.2° F)
Average Low Temperature: 11.7° F (Historical Average: 10.0° F)
Average Temperature: 27.35° F (Historical Average: 25.2° F)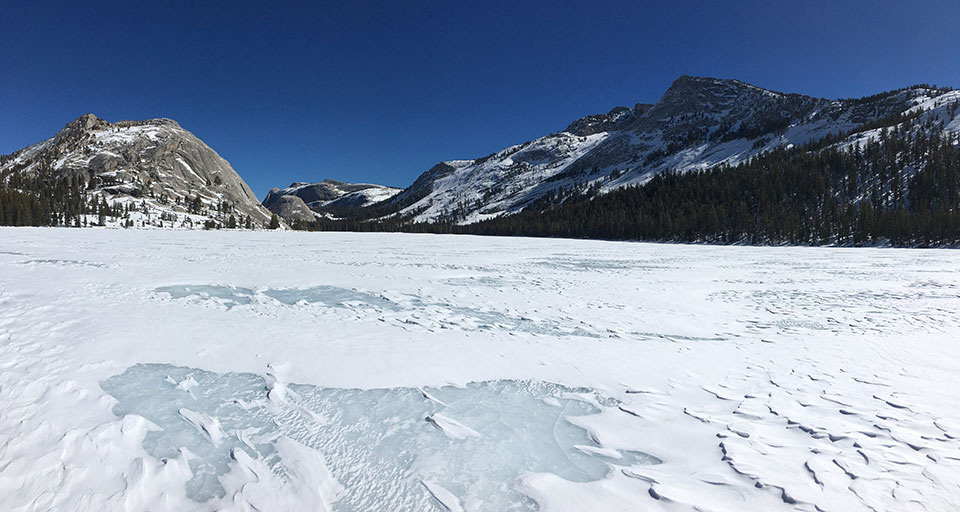 Ski Conditions and Weather
February 2022 was another warmer and drier than average month. Two for two. This week started with some of the coldest temperatures of the winter and ended with temperatures well above seasonal averages. The dusting of new snow that fell this week, though seemingly trivial, made the stale old snow surface white again, and vastly improved the ski conditions and morale.  

We were out doing the March 1 snow surveys this week. The touring conditions were quite good to cover the distances from Snow Flat to the west, Tioga Pass to the east, and Vogelsang to the south. The new snow was shallow but made for a soft layer on top of the refrozen and hard old snow surface. The warm temperatures of the past few days have returned things to a more springtime snow surface. There is corn to be had on south aspects that have not melted out yet, and stashes of powder snow on north aspects.

As for the results of our snow surveys… the last two months, not surprisingly, have seen a decrease in snow depth and snow water content but perhaps not quite as dramatic as one would think. The central Sierra Nevada snowpack is 67% of normal as of February 28 according to the California Cooperative Snow Surveys.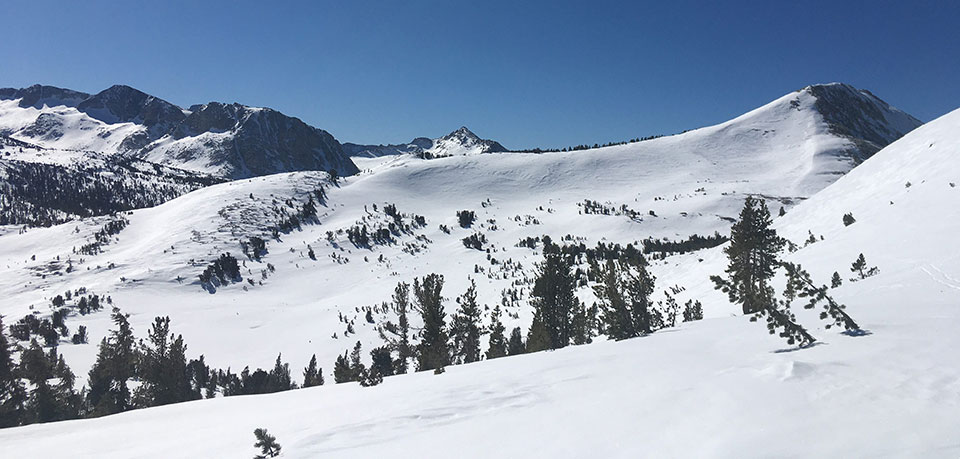 Avalanche and Snowpack Conditions
Please refer to the Eastern Sierra Avalanche Center (ESAC) for the avalanche advisory for this part of the Sierra Nevada. 

Given the forecast, the same is true for this week: The avalanche hazard has been holding steady at "low" for over a month. Even a little new snow coupled with strong winds will raise the hazard to moderate with the formation of winds slabs. The hard old snow surface will make for a slick bed surface for these wind slabs. There is a variety of faceted snow that has formed near the old snow surface during the dry spell. This could contribute to future avalanche concerns.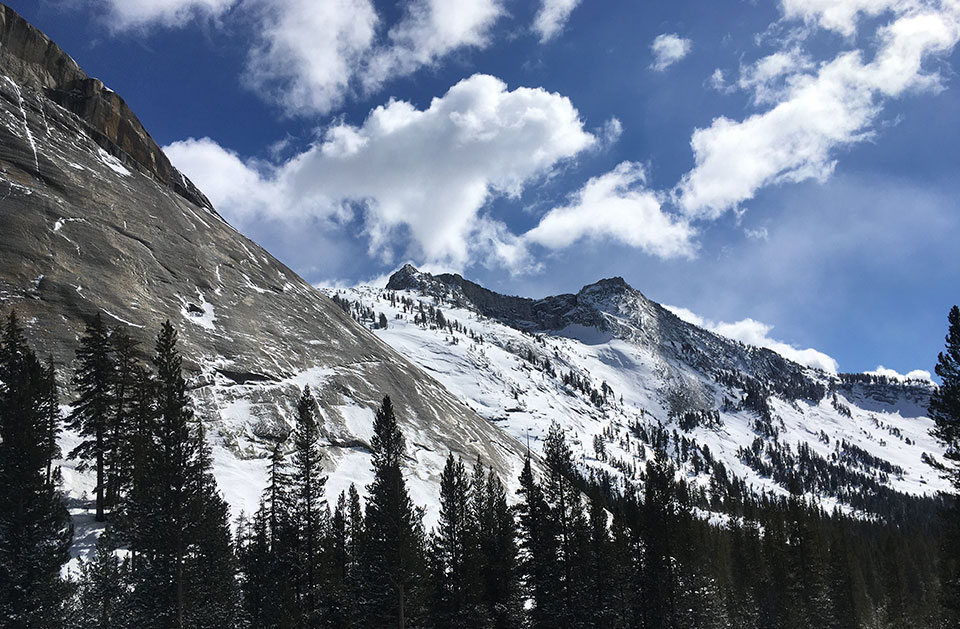 Snow Travel Tip
With the constantly fluctuating temperatures, it's a good time to wax your skins (with skin wax) before heading up that hill. Lunchtime is a good time to re-apply glide wax to the bases while basking in the sun. But sometimes that skiff of powder that is usually our friend, stubbornly clings onto your equipment, so don't forget the scraper. If you don't have one, you can always use the opposite ski to scrape the other perpendicularly.
Wildlife
With the dusting of powder, supportable snow, and little wind, many critters left their mark. The coyotes were howling in Dana Meadows and so many tracks abound, it appeared as if they were having a party. Perhaps they were celebrating the abundance of prey in the area as evidenced by lots of mouse tracks. One animal, we surmise a pine marten, found and dragged some prey away into the woods.
Questions
The wilderness is open! Please #RecreateResponsibly by planning and preparing thoroughly for your outdoor activities in the park.

Read through the following two pages before embarking on any day or overnight snow travel within this park: 
You may contact us with any additional winter Tuolumne Meadows related questions. 

Think Peace!
Laura and Rob Pilewski - Tuolumne Meadows winter rangers