New snow: 0 inches
Total settled snow depth: 25 inches (at 8,600 feet)
High temperature: 50°F (January 3)
Low temperature: 6°F (January 8)

Ski Conditions and Weather
This week started out rather spring-like with calm winds and a hint of corn snow on a few southerly mid-elevation aspects. But just when that looked promising, colder, windy conditions prevailed. Now it's a grab bag of sun crust, wind crust, supportable crust and bust through a crust which is a bit safer than "slide for life" which also lurks out there. As one visitor recently said "… in fifty miles of skiing I found 300 feet of soft powder turns…" But, the scenery never disappoints. In fact, despite the challenging conditions, below the alpine zone travel was quite fast and user friendly. The best turns can be found on north aspects in the trees where it is sheltered from the wind and sun.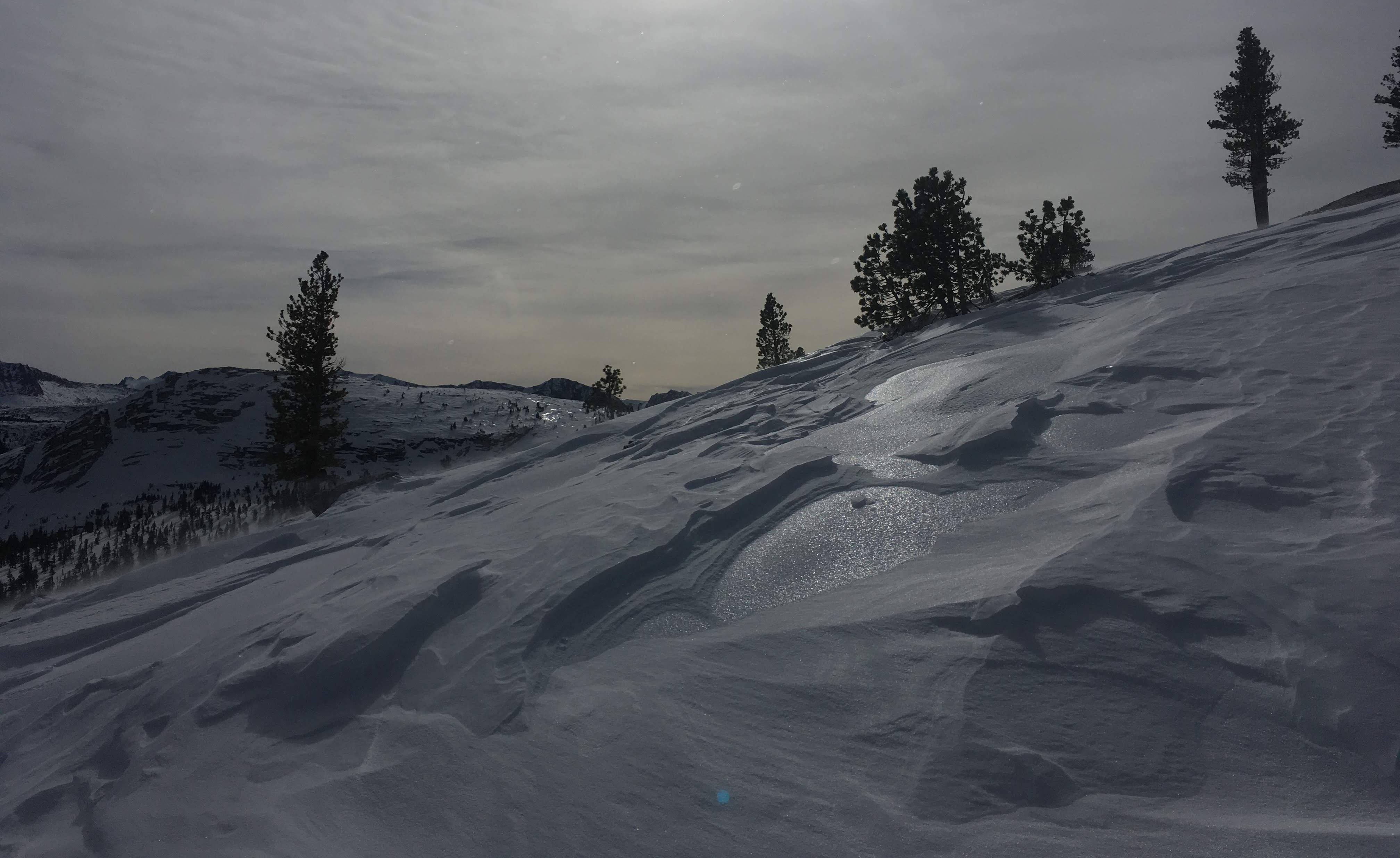 Avalanche and Snowpack Conditions
Please refer to the Eastern Sierra Avalanche Center (ESAC) for the avalanche advisory for this part of the Sierra Nevada.
Presently the avalanche hazard in the Tuolumne Meadows area is low. However, stay tuned as these next couple of weather systems roll through the area. 
Wildlife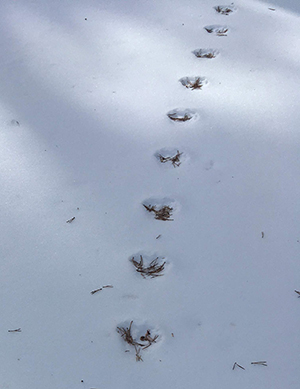 With the high winds and lack of recent precipitation, wildlife tracks abound (weasel, marten, coyote, snowshoe hare, white-tailed jackrabbit, and lots of Douglas squirrel). Additionally if one looks closer, they can find amidst the scattered pine needles and bark, peculiar shreds of paper littering the snow surface. These are the remnants of many yellow jacket nests blown off of the trees. Some even include egg remnants and the frozen wasps themselves. It must have been a banner year for them last summer given how many we have seen. But, it is certainly a strange sight to behold in winter.
General Information
The Tuolumne Meadows Ski Hut is open. There is firewood and 10 bunks that are available on a first-come, first-served basis.
For those visiting the Tuolumne Meadows Ski Hut from the east (only) permits are self-issued at the Ski Hut.
For those entering from other areas, please see Yosemite's website: https://www.nps.gov/yose/planyourvisit/wildpermits.htm (#3: Do I need a wilderness permit during winter?) or you may contact the wilderness office at 209/372-0740. 
There is no phone service in Tuolumne Meadows. We can be contacted regarding winter travel to Tuolumne Meadows via email, but we may be delayed in responding if we are on patrol.  
Come prepared, and please make good decisions while traveling in the wilderness!
Think Snow!
Rob and Laura Pilewski - Tuolumne Meadows Winter Rangers