New snow: 9 inches
Total settled snow depth: 40 inches (at 8,600 feet)
High temperature:37 degrees F (January 2)
Low temperature:-16 degrees F (January 1)
Ski Conditions and Weather
Although there was not a lot of new snow this week, ski conditions continue to be ideal. Cold temperatures, light winds, and a good settled snow depth have resulted in fine winter recreation opportunities. We did a patrol to Mono Pass this week and the ski touring was fabulous.  Powder snow on top of a supportable crust, who could ask for anything more? As I write, the flakes are falling again and the forecast is for a wet week ahead. Wilderness travelers to Yosemite should be prepared for changing conditions and the potential for breaking trail through deep snow.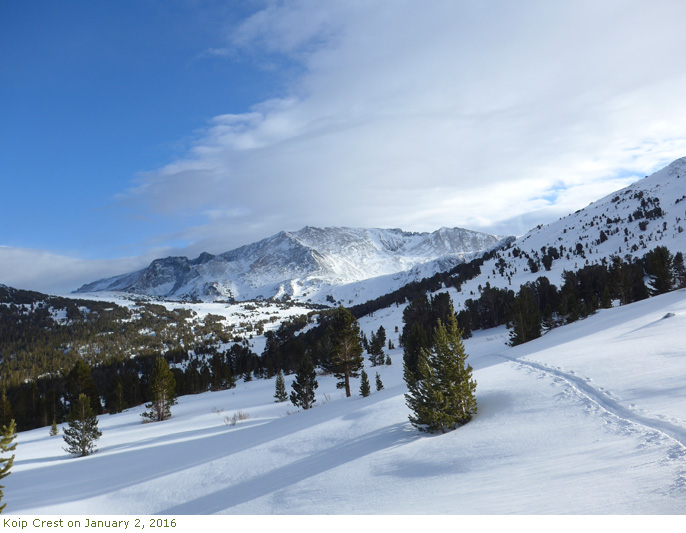 Avalanche and Snowpack Conditions
For the avalanche advisory for this area of the Sierra Nevada go to www.esavalanche.org for the Eastern Sierra Avalanche Center.
Overall, the snowpack continues to gain strength with the increasing snow depth. The avalanche concerns are now about the new snow falling on weak layers in the upper part of the snowpack, and for wind and storm slabs developing near and above tree-line. Deep slab instabilities do still exist primarily on north and east aspects, and although they may be hard to trigger, consequences are high if caught in a deep slab avalanche. As always, winter travelers to the Yosemite wilderness need to make safe travel decisions based on real time information and observations. For those new to winter mountain travel or those wanting to hone their mountain skills in general, we highly recommend taking an avalanche course. There are many excellent courses taught throughout California and the United States during the winter.
Wildlife

The Townsend's Solitaire became more vocal as temperatures warmed on the south-facing slopes of Lembert's Dome. This birds' solitary winter call note can be heard among the juniper woodlands throughout the Sierra Nevada. A Pine Marten visited our cabin yesterday, perhaps looking for the resident Bushy Tailed Wood Rat…
Questions

The Tuolumne Meadows Ski Hut is open! There is an ample supply of firewood and 10 bunks that are available on a first-come, first-served basis. There is power but no public phone service in Tuolumne Meadows this winter. We can be contacted via email, but we may be delayed in responding if we are on patrol. Contact the wilderness office at 209/372-0740 with any questions or concerns. Come prepared; don't count on electricity or phone service at the ski hut.
SAFE SKIING,
Laura and Rob Pilewski
Tuolumne Winter Rangers