Weather: January 24th through January 30th
High temperature: 44°F (January 23rd)
Low temperature:  -13°F (January 28th)
New Snow: 5 inches
Total settled snow depth: 43 inches as of January 30th                         

Skiing Conditions and Weather:  December came in with a bang and January is going out with a whimper. Only 14 inches of snow fell this month, but thanks to the short days of winter, the base depth remains solid. What snow did fall, has been thrown back, forth and beyond with some fierce winds. One would think with the week of warm temperatures there would be no loose snow to transport and to send flags of snow towering above the peaks, but that is not the case! But, coverage remains good and travel quick in most areas. Skiing is still skiing after all.
   
Avalanche and Snowpack Conditions: For the latest avalanche advisory for this area go to www.esavalanche.org for the Eastern Sierra Avalanche Center and click on advisory. The ESAC site is updated several times a week and more often during weather events.

With only five inches of new snow deposited over several days and more warm temperatures this week, snow conditions in Tuolumne remain stable.   Most slopes are wind effected and supportable above tree line, and in various stages of melt freeze below timberline.  Wilderness skiers still need to be cautious of triggering wind slabs on steep slopes above tree line.  Until the next significant snowfall the avalanche hazard is low in the Tuolumne area. But, the melt freeze and wind crusts will be lurking, for future reference.

Wildlife:  Clark's nutcrackers and Hairy Woodpeckers were squawking away as they gathered food during the afternoons of warm sun. Coyotes have been taking full advantage of old ski tracks along the Tioga road as have we. Can't blame the coyotes for wanting to save energy. Who wants to posthole?
Although not a Tuolumne resident, we sure hope our neighbor to the east,  Punxsutawney Phil sees his shadow and retreats to his burrow for at least six weeks more of winter weather!    

Questions: The Tuolumne Meadows Ski Hut is open for the season. There is an ample supply of firewood and 10 bunks that are available on a first come, first served basis. You can call the Tuolumne Meadows Ranger Station at 209/372-0450. If you leave a message we will get back to you the first chance we get. Power and phones are frequently out of service. Contact the wilderness office at 209/372-0740 with any questions or concerns if you are unable to reach the ranger station. Come prepared; don't count on electricity or phone service at the ski hut.

Happy Groundhog Day!
Laura and Rob Pilewski
Tuolumne  Meadows Winter Rangers
.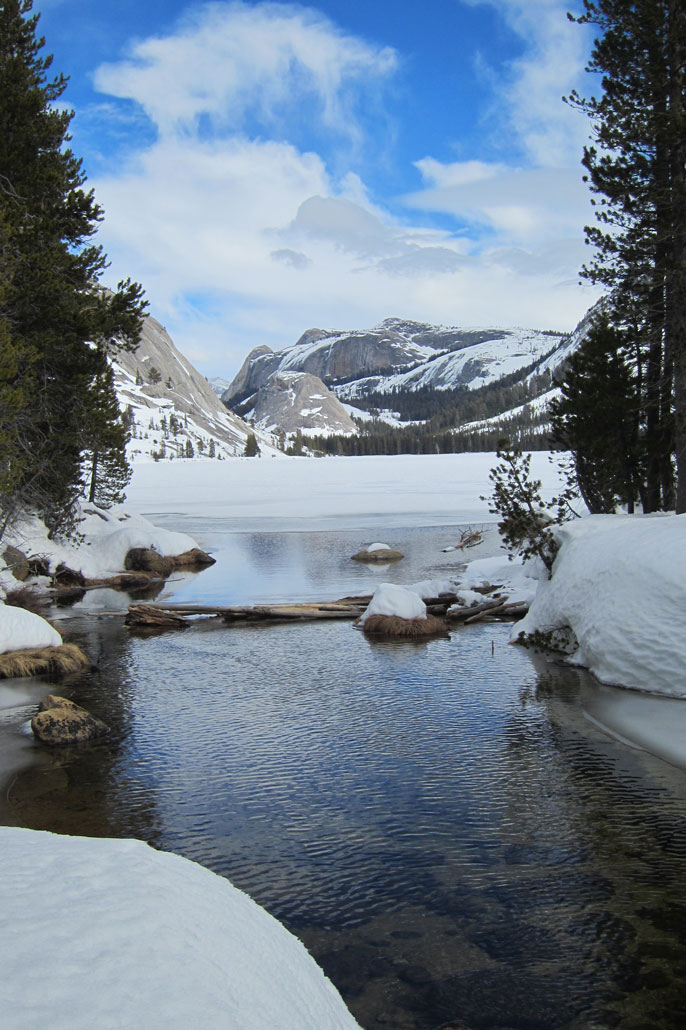 Tenaya Lake and Creek, with Pywiack Dome in the background.