New snow: 3 inches
Total settled snow depth: 8 inches as of January 28th, 2015 (at 8,600 feet)
High temp: 55°F (January 25)
Low temp: 12°F (January 22)

Skiing Conditions and Weather: This week saw a significant warm spell, a wind event, and today, finally, a dusting of new snow. Hence, the snow conditions are what we like to call "variable." The best skiing is still on the road, and in the drainages and meadows. There are not many turns to be had in the alpine zone, so touring is the best bet until (if) we get some more snow. The average snow depth from our snow surveys in the greater Tuolumne Meadows area this week is 15 inches. If snowshoeing from Yosemite Valley, snow line is approximately 9,000 feet on south facing slopes. Along the Tioga Road corridor, the steeper west-southwest road sections are snow free for short stretches. Otherwise, coverage is good from Olmsted Point to Tioga Pass. East of there, in Lee Vining Canyon, snow line starts near the Saddlebag Lake road junction. Some people have been using a bicycle to get to that point.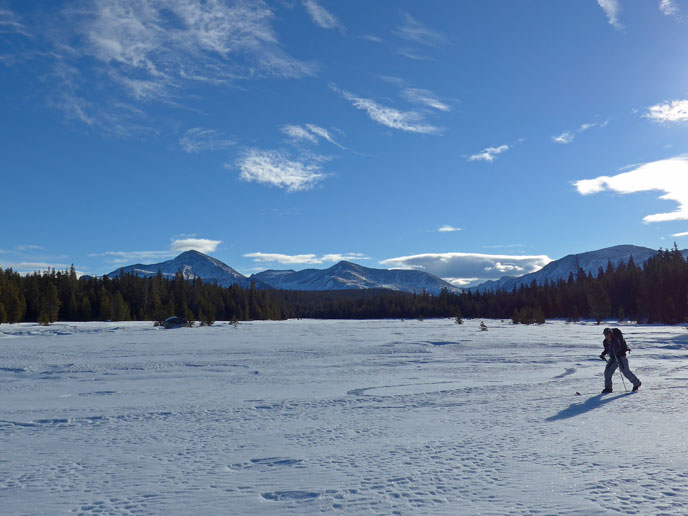 Ski touring at Delaney Meadow on January 22, 2015.

Avalanche and Snowpack Conditions: For the avalanche advisory for this area of the Sierra Nevada go to www.esavalanche.org for the Eastern Sierra Avalanche Center and click on advisory. The ESAC site is undergoing changes this season and is not regularly updated as in past seasons, but it still posts relevant observations. The avalanche hazard in the Tuolumne area is presently low.
Wildlife: While in the dense red fir forests of Snow Creek, we had the good fortune to see and hear two somewhat uncommon bird species. We spotted four pine grosbeaks way up in the canopy singing as the first morning light hit the tree tops. Later on that day, we observed a black-backed woodpecker busily stripping away tree bark looking for lunch, seemingly oblivious to our presence.
Questions: The Tuolumne Meadows Ski Hut is open! There is an ample supply of firewood and 10 bunks that are available on a first come, first served basis. There is power but no public phone service in Tuolumne Meadows this winter. We can be contacted via email [mail link: at Robert_Pilewski@nps.gov], but we may be delayed in responding if we are on patrol. Contact the wilderness office at 209/372-0740 with any questions or concerns. Come prepared; don't count on electricity or phone service at the ski hut. Happy skiing!
Laura and Rob Pilewski -Tuolumne Winter Rangers