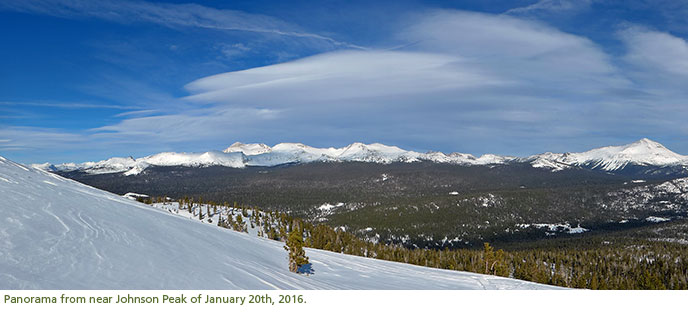 New snow:
21"

Total settled snow depth:
62" inches (at 8,600 feet)

High temperature:
46°F (January 21
st
)

Low temperature:
-2°F (January 20
th
)

Ski Conditions and Weather
We are happy to be heading out the door to do the first snow surveys of the winter with lots of trail to be broken. With the warmer daytime and cooler overnight temperatures, we expect better travel conditions than last week. As is usually the case this time of year, sun exposed areas will be forming crusts with less desirable skiing. Northerly aspects continue to be excellent skiing except where wind effected up high.  Coverage is good on all aspects and ski conditions continue to be ideal.
Avalanche and Snowpack Conditions

For the avalanche advisory for this area of the Sierra Nevada go to www.esavalanche.org for the Eastern Sierra Avalanche Center.
We observed several old wind slab avalanches primarily on north-northeast aspects. One in particular was on Parson's Peak.  Although viewed from a distance, it appeared to be quite large. That said, the weather since then has helped stabilize these conditions quite a bit. But, one should still be extra cautious especially in the alpine zone where these pockets of wind slabs can persist for some time.
W
ildlif
e
Du
ring these snow storms, even when visibility was poor, one could hear flocks of Red Crossbills flying overhead from time to time. It's funny how their chatter sounds to us humans as happy on a sunny day as on a stormy one. Maybe they like the snow as much as we do!


Questions
The Tuolumne Meadows Ski Hut is open! There is an ample supply of firewood and 10 bunks that are available on a first come, first served basis. There is power but no public phone service in Tuolumne Meadows this winter. We can be contacted via email, but we may be delayed in responding if we are on patrol. Contact the wilderness office at 209/372-0740 with any questions or concerns. Come prepared; don't count on electricity or phone service at the ski hut.
Happy Skiing!
Laura and Rob Pilewski
Tuolumne Winter Rangers