New Snow: none
Settled Snow Depth: 47 inches
High temperature: 51°F (January 20)
Low temperature: 6°F (January 21)
Ski Conditions and Weather
Last week was a great time to tune your skis, ski the groomers, and do some beacon drills. The only storm to hit this part of the Sierra Nevada this week was a windstorm on January 21 and 22. This was caused by an "inside slider" moving south and east of the district. Though not a "Mono Wind" event, this windstorm brought strong NE winds for 48 hours (with some gusts exceeding 100 mph along the crest). This further textured, hardened, scoured, sublimated, and eroded the alpine snowpack.
The touring conditions are pretty good, however, and we hope to take advantage of the fast travel when we are out doing the first round of snow surveys this week. Despite the extended dry spell, there is still a good amount of water (in the form of snow) on the ground and the February 1 snow surveys will start to paint a picture of the seasonal snowfall and anticipated runoff across the Sierra Nevada.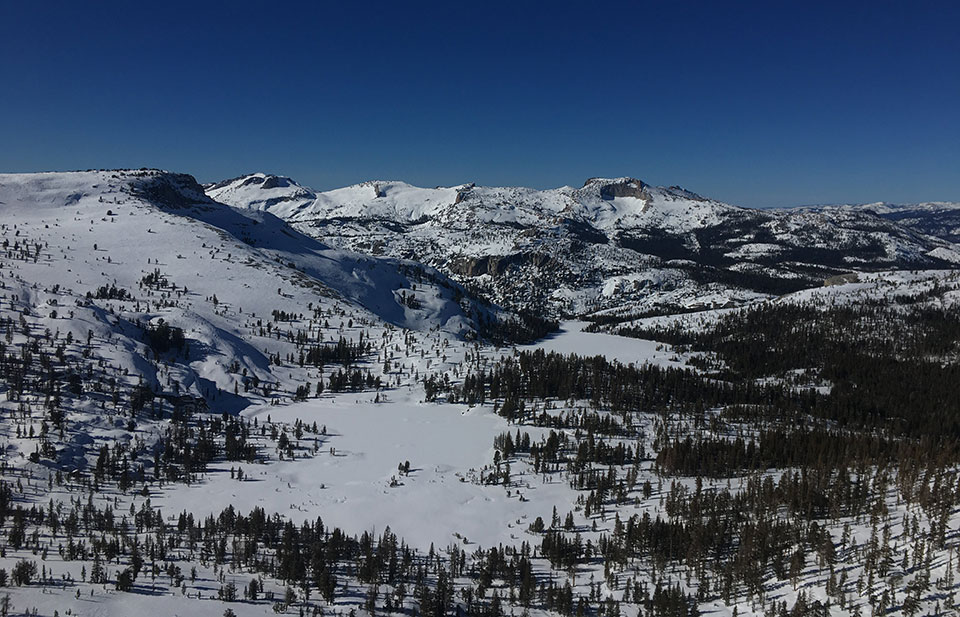 Avalanche and Snowpack Conditions
Please refer to the Eastern Sierra Avalanche Center (ESAC) for the avalanche advisory for this part of the Sierra Nevada.
The avalanche hazard is presently low, but beware of ice, loose wet snow and/or rockfall when the sun hits those solar aspects especially as the temperatures increase again. We observed evidence of numerous old avalanches on the north faces of the Cathedral Range, the largest of which was adjacent to the Cathedral Lakes trail corridor.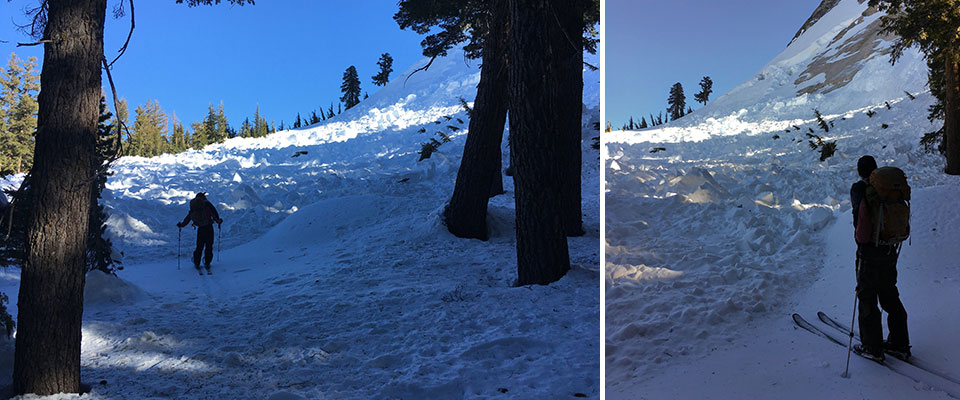 Snow Travel Tip
Mother Nature has corroborated the need for pointy snow travel gear. Sure, ski or boot crampons may help you from losing traction with the snow, but there is no guarantee. A common mistake when using boot crampons, is to hook them on a pants leg. Then, it's as if somebody lassoed your legs from under you and it's off to the races! What then? Well, hopefully, you're carrying either a ski pole/ice axe hybrid and/or an ice axe to arrest your fall. Whether or not you have trained to do so (again, in a more controlled environment with a clean runout), employing those tools does not necessarily mean they will slow or stop your slide before you get hurt. And there are different techniques involved depending on whether you fall with or without crampons on (for example, if you try to dig crampons in when already sliding it may flip you over versus if you aren't wearing them). As with all wilderness travel, prevention is your lightest and best tool of all! But, in conditions like this, a helmet doesn't hurt either.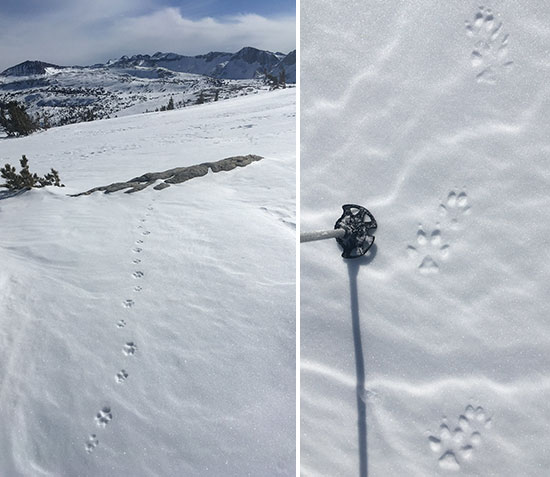 Wildlife
The weasels and pine martens pretty much swam through the bottomless snow of December. And the rabbits appeared to bound around with ease. Finally, the snow has set up enough for the coyotes and other critters that don't have wide, snowshoe like feet to travel farther distances without as much effort or energy expenditure. With such varied snow surfaces, sometimes it can be hard to tell what kind of canine passed through. For example, a coyote on average has front paw prints that are 2 ½ inches long with a straddle 4-6 inches wide whereas a Sierra Nevada red fox on average has front paw prints that are 2 ¼ inches long with a straddle 3-4 inches wide. On a perfect substrate, the red fox track may reveal a calloused chevron shape on its main pad (Halfpenny, A Field Guide to Mammal Tracking in North America, Johnson Printing Co., 1986). Virtually if not all the dog-like tracks that we see around here in winter are left by wily coyote, but sometimes we wonder…if they were left by its sly red cousin (the gray fox usually occurs at lower elevations and the wolf does not inhabit the park).
Questions
The wilderness is open! But, especially during this pandemic where local resources may be limited, we implore you to be self-sufficient and not put others at risk. Please #RecreateResponsibly by planning and preparing thoroughly for your outdoor activities in the park.
Read through the following two pages before embarking on any day or overnight snow travel within this park:
You may contact us with any additional winter Tuolumne Meadows related questions.
Happy Skiing!
Laura and Rob Pilewski - Tuolumne Meadows winter rangers