New snow: 13 inches
Total settled snow depth: 30 inches (at 8,600 feet)
High temperature: 48°F (January 19)
Low temperature: -3°F (January 17)
Ski Conditions and Weather
This week saw unsettled weather with cloudy skies, windy conditions, and some welcomed precipitation. Though January is still well below average for new snow and water, the ski conditions and snow coverage remain good. The cold and clear weather for most of January has turned much of snowpack below tree line into a faceted, sugary consistency. This unconsolidated snow has proven difficult for the animals without wings or large padded feet. One of the local coyotes was recently seen struggling through Tuolumne Meadows. Its tracks told the story of its plight. It ambled about looking to gain purchase and cover some ground. But every time it would take a step, it would sink up to its belly. It even tried jumping but this only left craters in the snow and not much progress. When the snowpack is like this we are sure happy for the invention of skis and snowshoes!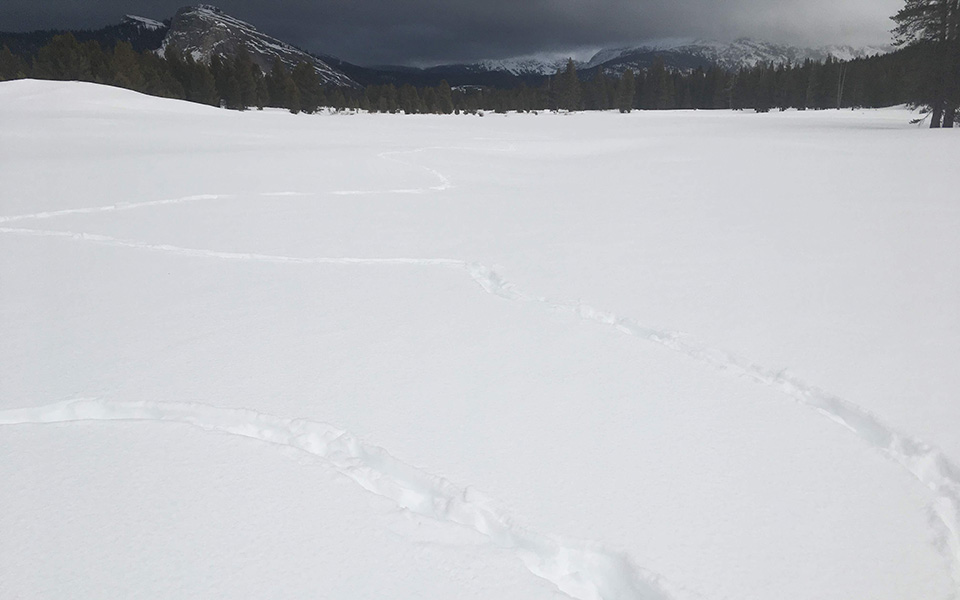 Avalanche and Snowpack Conditions
Please refer to the Eastern Sierra Avalanche Center (ESAC) for the avalanche advisory for this part of the Sierra Nevada.

Presently the avalanche hazard in the Tuolumne Meadows area is low. There was a 24 hour period following the snowfall on January 16 when some of the weak layers buried in the snowpack reminded us that they existed. We observed one natural slide that occurred underneath a cliff band during this cycle. There was widespread "whumphing" heard and felt as we traveled up the northeast aspects above Elizabeth Lake and near some rocky terrain features where even more facets tend to develop. Our weight on this new snow collapsed the faceted weak layer that has developed adjacent to the melt freeze crust that formed in early December. This was enough of a sign for us to keep on low angle terrain until the snowpack had time to stabilize. After a rather warm day, we did not observe this or any other signs of instability on any subsequent patrols. These weak layers in the snowpack can persist, however, and this is something to be aware of if the snowpack were loaded with new snow in the future.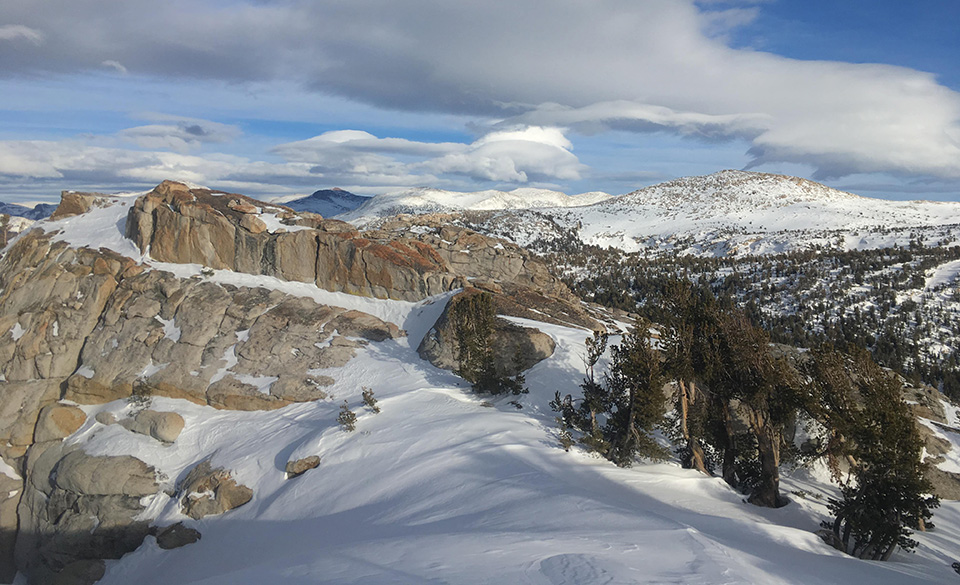 Wildlife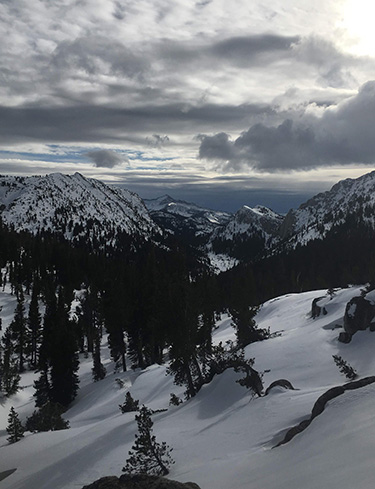 Yesterday while on patrol we topped out on a ridge and saw some peculiar looking bird tracks in the snow. Tucked in among the branches of a mountain hemlock was a female sooty grouse apparently unperturbed by our presence or the howling wind. It continued to amble about while nibbling on the buds and pollen cones of the tree. Since the sun was setting, we slid back towards home leaving our feathered friend to dine in peace.
General Information
The Tuolumne Meadows Ski Hut is open. There is firewood and 10 bunks that are available on a first-come, first-served basis.

For those visiting the Tuolumne Meadows Ski Hut from the east (only) permits are self-issued at the Ski Hut. For those entering from other areas, please see Yosemite's website: https://www.nps.gov/yose/planyourvisit/wildpermits.htm (#3: Do I need a wilderness permit during winter?) or you may contact the wilderness office at 209/372-0740. There is no phone service in Tuolumne Meadows. We can be contacted regarding winter travel to Tuolumne Meadows via email, but we may be delayed in responding if we are on patrol.  

Come prepared, and please make good decisions while traveling in the wilderness!

Think Snow!
Rob and Laura Pilewski - Tuolumne Meadows Winter Rangers