New Snow: none
Settled Snow Depth: 48 inches
High temperature: 58°F (January 12)
Low temperature: 9°F (January 18)
Ski Conditions and Weather
It was a dry week with temperatures above seasonal averages. The high temperature this week of 58°F resulted in a thin melt freeze crust forming on most aspects here at the middle elevations. Strong winds out of the east on January 14 has littered much of the snow surface with tree debris (needles, cones, etc.). Above tree-line the snow surface runs the gamut of wind affected snow.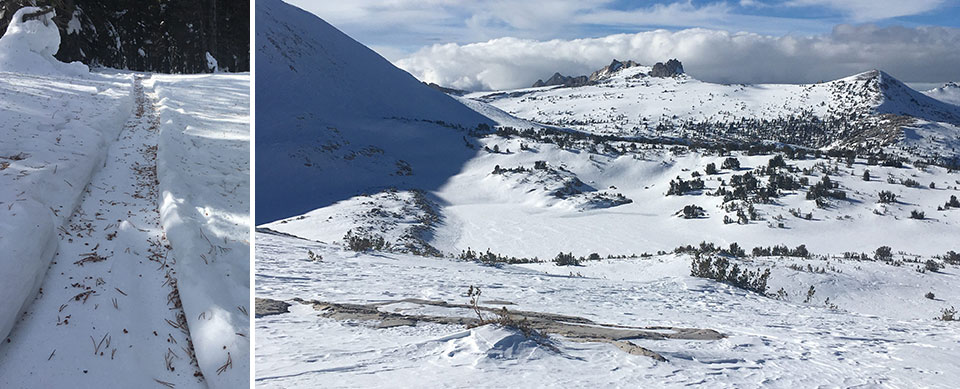 We did a patrol to the west of Tuolumne Meadows last week. Travel along the Tioga Road corridor has become faster as the snow has settled. Despite the past three weeks of dry weather, snow coverage remains excellent on all aspects except where it is stripped to the bone in the highest of alpine. If approaching the high country from Yosemite Valley, visitors should anticipate hitting snowline just below 7,000 feet. The Snow Creek trail becomes skiable at the bridge above the switchbacks. To the east of Tioga Pass, snow line starts around 8,000 feet with some patchy sun and wind scoured areas. There is also reportedly some steep attention-getting snow near the Green Bridge that may be quite firm depending on weather and cloud cover.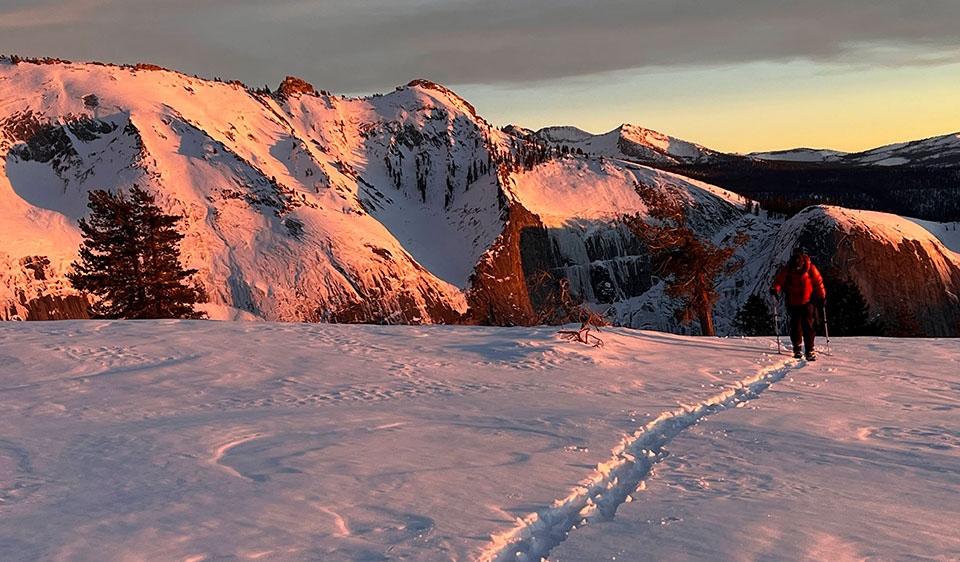 Avalanche and Snowpack Conditions
Please refer to the Eastern Sierra Avalanche Center (ESAC) for the avalanche advisory for this part of the Sierra Nevada. 

The avalanche hazard is presently low, but beware of ice, loose wet snow and/or rockfall when the sun hits those solar aspects. We observed numerous old avalanches on our patrol to Snow Flat this week. Many of them were along the north facing slopes of Tenaya Peak and Clouds Rest. The most impressive was at Olmsted Point where a sizeable slab pulled out and deposited a large amount of debris on and over the road. Presumably, these avalanches that were on the more solar aspects occurred after the December storm cycle and during the first warm up that occurred in earlyJanuary.

Snow Travel Tip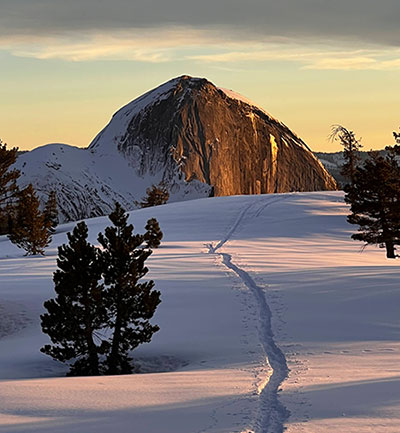 Well, we were going to wait and cover the pointy equipment come springtime, but since there are so many places with firm snow out there, we may as well talk about one of those pieces of equipment now: ski crampons. Many companies manufacture ski crampons, which are U-shaped metal pieces that clip into one's bindings and drape over the ski. These are slick (or are not so) because they have a hinge that allows for a gliding motion when moving forward, but they bite into the snow when stepping down. They grip more than skins alone do and are typically used together. Ski crampons are nice this time of year when the top layer of wind board snow can be greased up by a light dusting of powder. Sure, in places you might be able to take your skis off and boot pack, but then you waste all your energy post-holing. Ski crampons are especially handy on traverses provided they aren't so steep to where most of the teeth don't bite. They are also nice for skipping the wide switchbacks and bombing straight uphill. The only catch to this strategy can be when they can allow a person to ascend to where one becomes like a cat stuck up a tree; when it becomes too steep to transition gear either to boot crampons or ski descent mode. It's a good idea to be calculated beforehand and look for a natural terrain feature to do so. Otherwise, a shovel can sometimes work in a pinch to excavate a platform. Like all mountaineering equipment, it is good to practice in a more controlled environment with a safe runout before trying to keep up with your friends.
Wildlife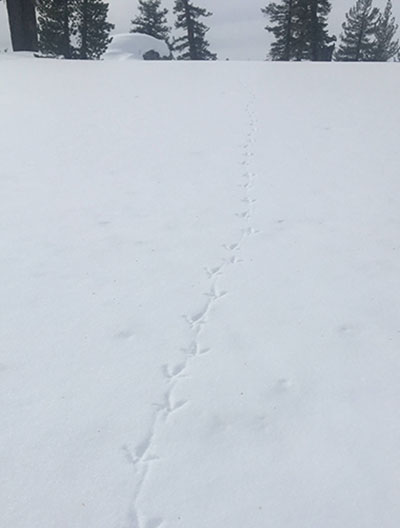 Typically, we hear the low mysterious calls of the sooty grouse in the springtime but don't see them. With this extended break in the weather, we not only saw their tracks (one apparently patrolled the ridge of Mt. Watkins before we did) but we may have seen that same bird, or its neighbor quietly perched a hundred feet up in a towering Jeffrey pine. It appeared to be dining on some buds and pollen cones among the highest of branches while basking in the morning sun.
Questions
The wilderness is open! But, especially during this pandemic where local resources may be limited, we implore you to be self-sufficient and not put others at risk. Please #RecreateResponsibly by planning and preparing thoroughly for your outdoor activities in the park.

Read through the following two pages before embarking on any day or overnight snow travel within this park: 
You may contact us with any additional winter Tuolumne Meadows related questions.  

Happy Touring!
Laura and Rob Pilewski - Tuolumne Meadows winter rangers