New snow:
trace 
Total settled snow depth: 8 inches as of January 14, 2015 (snow stake located at 8,600 feet) 
High temperature: 55 degrees F, January 7, 2015 
Low temperature: 14 degrees F, January 8, 2015 
Skiing Conditions and Weather: The snow surface has gone through some melt - freeze cycles this week which has improved the ski conditions. The snow is still pretty shallow, with the deeper snow on the north aspects. The Tioga Road is mostly snow covered with one small patch of dry pavement from Tuolumne Meadows to Tioga Pass. On the eastside you can ski from Ellery Lake to the park boundary, and below that is primarily dry pavement. A bike might be a good idea if approaching from the east. Presently, visitors are able to ski from the Tuolumne Meadows ski hut to the Snow Creek hut, although the snowpack is shallow along the lower sections of this route. The skiing on the road is pretty good and the north aspects have the best opportunity for making turns. This is an ideal winter for snow-shoeing especially along the trail corridors.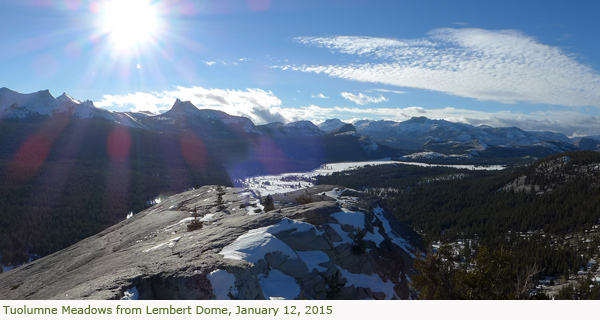 Avalanche and Snowpack Conditions:
For the avalanche advisory for this area of the Sierra Nevada go to
www.esavalanche.org
for the Eastern Sierra Avalanche Center (ESAC) and click on advisory. The ESAC site is undergoing changes this season and is not regularly updated as in past seasons, but it still posts relevant observations. 
The avalanche hazard in the Tuolumne area is presently low.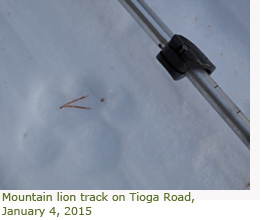 Wildlife:
With the unseasonably warm temperatures and shallow snowpack lots of critters are out and about. This week we saw tracks of the porcupine again in several locations as well as bear, mountain lion, and pine marten tracks. Flocks of Red Crossbills and Black-eyed juncos were also seen flying back and forth across these lovely clear blue Sierra skies. 
Questions:
The Tuolumne Meadows Ski Hut is open! There is an ample supply of firewood and 10 bunks that are available on a first-come, first-served basis. There is power but no public phone service in Tuolumne Meadows this winter. We can be contacted via
email
, but we may be delayed in responding if we are on patrol. Contact the wilderness office at 209/372-0740 with any questions or concerns. Come prepared; don't count on electricity or phone service at the ski hut. 
Happy Touring! 
Laura and Rob Pilewski -Tuolumne Winter Rangers