New snow:
16 inches 
Total settled snow depth: 42 inches (at 8,600 feet elevation) 
High temperature: 35 degrees F (January 11) 
Low temperature: - 9 degrees F (January 8)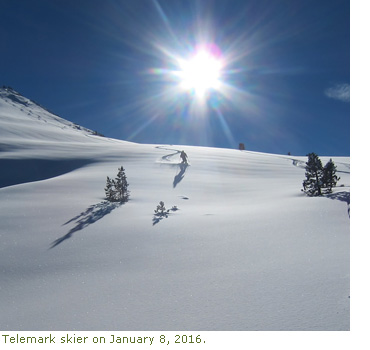 Ski Conditions and Weather
The weather was ideal for winter recreation this week. The Tuolumne Meadows area received 16 inches of low density snow followed by cold and calm days. Trail breaking was initially quite arduous, but has since set up nicely for good turning and touring. Snowline stretched all the way to the gate in Lee Vining Canyon and there is a trail broke from the east to Tuolumne Meadows. Presently snow coverage is good on all aspects with some wind scouring at the highest elevations. Winter weather is dynamic and visitors should be prepared for changing conditions. Bring ski wax and a scraper for the changing temperatures. 
Avalanche and Snowpack Conditions
For the avalanche advisory for this area of the Sierra Nevada go to
http://www.esavalanche.org
for the Eastern Sierra Avalanche Center.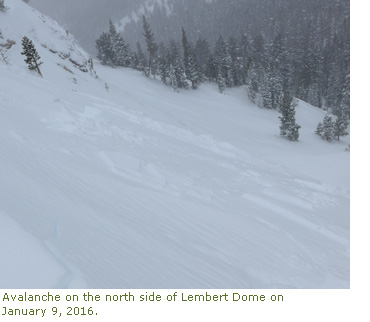 There was a brief period of S-SW winds following this weeks' snowfall that caused wind slabs to form on N-NE aspects. The snow was low density and easily transported to lee slopes forming wind slabs that were overriding good sliding surfaces. Several shallow slab avalanches were observed on the north side of Lembert's Dome this week and visitors should be cautious when traveling above treeline. Below treeline the snow is not wind affected and the new snow has bonded well to the old snow surface. Deeper instabilities still exist in places, though the basal layers are becoming less and less reactive as the snow depth increases. 
Many animal tracks were observed in the new snow this week, though no new suspects were identified. The Tuolumne Meadows area is rich with Pine Marten, Douglas squirrels, and smaller rodents that leave the most delicate tracks on the snow surface. 
Questions
The Tuolumne Meadows Ski Hut is open! There is an ample supply of firewood and 10 bunks that are available on a first come, first served basis. There is power but no public phone service in Tuolumne Meadows this winter. We can be contacted via
email
, but we may be delayed in responding if we are on patrol. Contact the wilderness office at 209/372-0740 with any questions or concerns. Come prepared;don't count on electricity or phone service at the ski hut. 
HAPPY SKIING! 
Laura and Rob Pilewski 
Tuolumne Winter Rangers