New Snow: 75 inches
Settled Snow Depth: 102 inches
High temperature: 34°F (January 6)
Low temperature: 3°F (January 6)

Ski Conditions and Weather
It was another wet week in the Golden State. Here at 8,600 feet in the central Sierra Nevada the precipitation fell as snow, and we now have over 100 inches HS (Height of Snow) on the ground. This is the earliest we have hit the century mark in our twelve winters in Tuolumne Meadows. The current Atmospheric River event is warm and wet with about ten percent snow density measured at our weather plot. That is to say that in 34 inches of new snow we have measured 3.36 inches of SWE (Snow Water Equivalent). The snow is still falling out there as of this writing and with temperatures forecast to drop this afternoon as a cold front moves through, snow densities will also be falling. This is a skier's dream scenario of blower powder on top of "Sierra Cement." If only you could get to a steep enough slope that is not rated as "high" avalanche hazard you would be in business…. It is a good time to be riding the lifts where our alpine heroes on the ski patrol have been working hard to keep the slopes safe for the skiing public!
With new snow that is this deep, it is going to take a minimum of a day or two of settlement to make traveling any distances a reasonable or safe affair. With the potential for more snow this weekend that window may be even more limited. Anyone considering venturing into Tuolumne Meadows this year should allow themselves plenty of time and should consider it a true mountaineering adventure no matter which direction they travel from.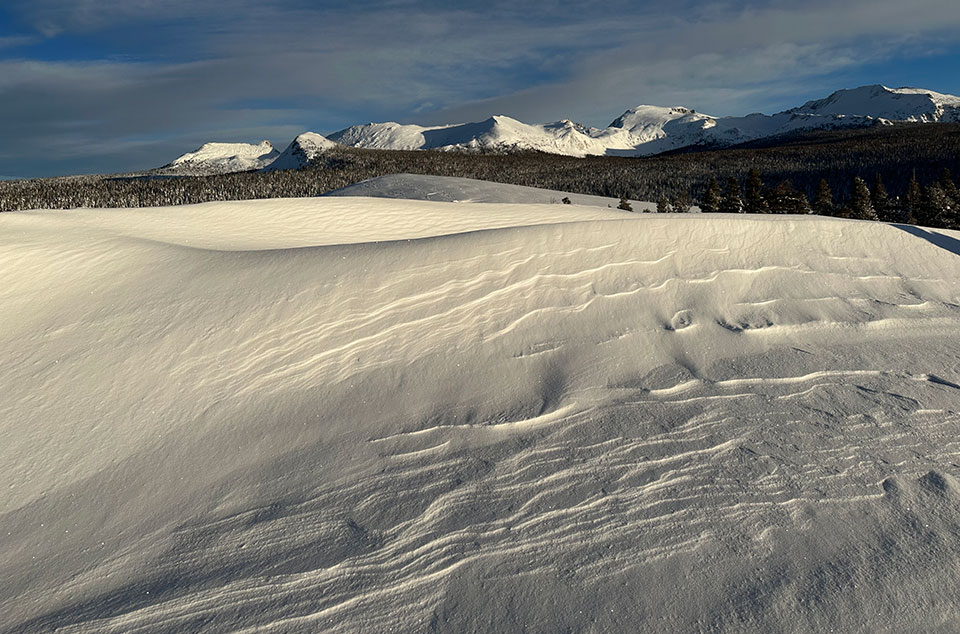 Snow Travel Tip
2023 is the perfect year to make good on a New Year's resolution to learn about avalanches. While this massive amount of snow is settling, you may want to pick up a book, read some of these online resources, and/or or take a course on traveling safely in avalanche terrain.
Wildlife
Of course, if you are traveling by wing like the golden eagle that passed over Tuolumne Meadows this week, you might be able to skip that snow safety course and just pay attention to wind speed and directions. The winter rangers' vision and world are quite limited in times like these. Oh, to have those eagle eyes and fly among those clouds in such tempest!
The only resident we heard stirring were a few hardy mountain chickadees mobbing a possible unseen predator obscured in the snow. These birds not only huddle among the tree cavities with other species to stay warm but they also team up to call out any trespasser to eliminate their element of surprise.
Avalanche and Snowpack Conditions
Please refer to the Eastern Sierra Avalanche Center (ESAC) and the Bridgeport Avalanche Center for the avalanche advisories for this part of the Sierra Nevada. 
The local avalanche centers hoisted an avalanche warning this week due to extreme winds and heavy snow loads. During limited breaks in the storms, once again we observed natural avalanche activity primarily on northeast facing wind loaded slopes at or above tree line. With recent high winds, the chalkboard is constantly being erased before we even lay eyes upon it. It will be interesting to see what has happened once the dust has fully settled.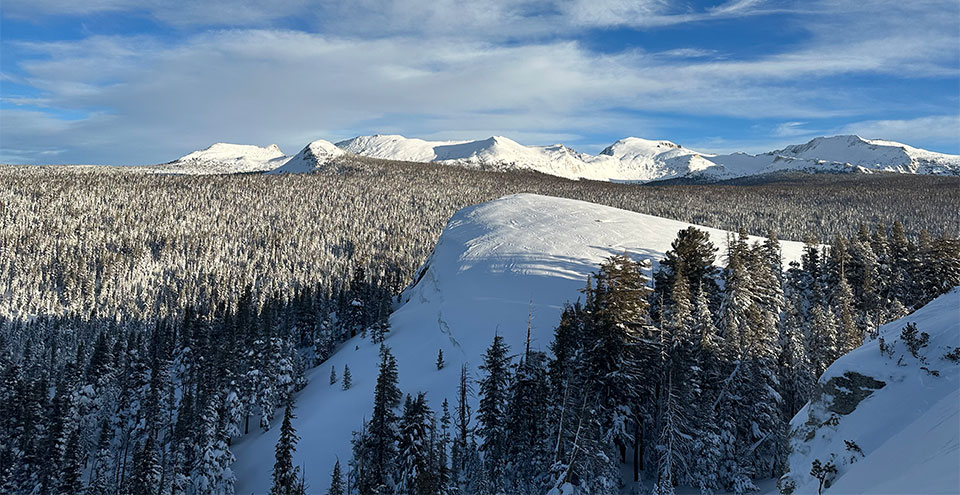 Questions
The Tuolumne Meadows Ski Hut is open! There is an ample supply of firewood and 8 bunks that are available on a first-come, first-served basis. For those visiting the Tuolumne Meadows Ski Hut from the east (only) permits are available by self-registration at the ski hut itself. For those entering from other areas within Yosemite, learn more about how to obtain your wilderness permit ("#3: Do I need a wilderness permit during winter?") or you may contact the wilderness office at 209/372-0740. As of this writing, there is electricity but no phone service in Tuolumne Meadows.Come prepared, and please make good decisions while traveling in the wilderness!Read through the following two pages before embarking on any day or overnight snow travel within this park: 
You may contact us with any additional winter Tuolumne Meadows related questions but response times may vary if we are away on patrol.  

Happy Snow Day!
Laura and Rob Pilewski - Tuolumne Meadows winter rangers