New snow: 14 inches
Total settled snow depth: 10 inches (at 8,600 feet)
High temperature: 47°F (January 7)
Low temperature:  17°F (January 7)
Ski Conditions and Weather

This week saw a welcome change from the dry weather that has dominated the winter so far.  Although the Tuolumne Meadows area did not receive the soaking that much of the rest of California did, the 14 inches of snow that fell over the course of the week vastly improved moods and ski conditions. Snow coverage is now good above 8,500 feet on all but southerly aspects. The Tioga Road is 100% snow covered from Ellery Lake to Tuolumne Meadows. There is a ski track through this stretch which makes the going easier.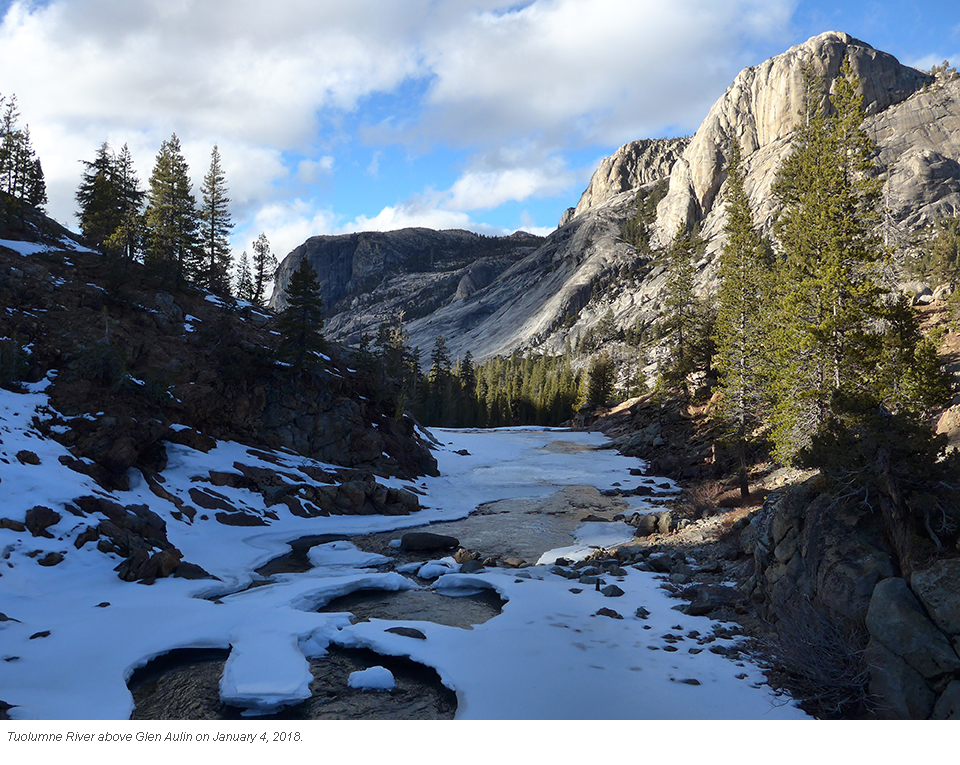 There is significantly more snow at the higher elevations, than here in Tuolumne Meadows. We dug another snow pit yesterday at 9,500 feet on a north aspect and the total depth was 75 inches.  The wet new snow on top of the old faceted snow made for some arduous and challenging trail breaking the past few days. The forecast is for warm and dry through this weekend so the snow should settle a bit (as long as it is still freezing overnight), which will make for better ski conditions. The best opportunity for making turns is on north aspects above 9,500 feet.   
 
Avalanche and Snowpack Conditions

Please refer to the Eastern Sierra Avalanche Center (ESAC) for the avalanche advisory for this part of the Sierra Nevada.

The snowpack is very dynamic as of this writing. This storm cycle, we saw rain as high as 8,600 feet elevation with 14 inches of new snow. Higher elevations saw even more snow but not necessarily enough to trigger the weak layers within the snowpack. Presently, the winds are increasing and loading leeward slopes which will temporarily increase the avalanche hazard. While touring this week we witnessed widespread whoomping and snow pits revealed weak layers deep within the snow pack on near surface facets and depth hoar. Skiers will have to make safe decisions this week especially when skiing in avalanche terrain. The Tioga Road corridor will pose less hazards. However, if temperatures warm in the afternoon, folks will have to be cognizant of rock fall and wet slides. Be advised too, that lakes below 8,600 feet may not be frozen beneath the new snow.
Wildlife
A well-adapted winter traveler, the pine marten was seen "swimming" through the powder near Tuolumne Meadows. The usual winter residents the mountain chickadee, brown creeper, red-breasted nuthatch, Clark's nutcracker, and flocks of red crossbills have been active as well. 
 


Questions

The Tuolumne Meadows Ski Hut is open. There is firewood and 8 bunks that are available on a first-come, first-served basis. There is no phone service in Tuolumne Meadows at this time. We can be contacted via email, but we may be delayed in responding if we are on patrol. Contact the wilderness office at 209/372-0740 with any questions or concerns. Come prepared, and please make good decisions while traveling in the wilderness this winter.

Safe skiing!
Laura and Rob Pilewski - Tuolumne Winter Rangers