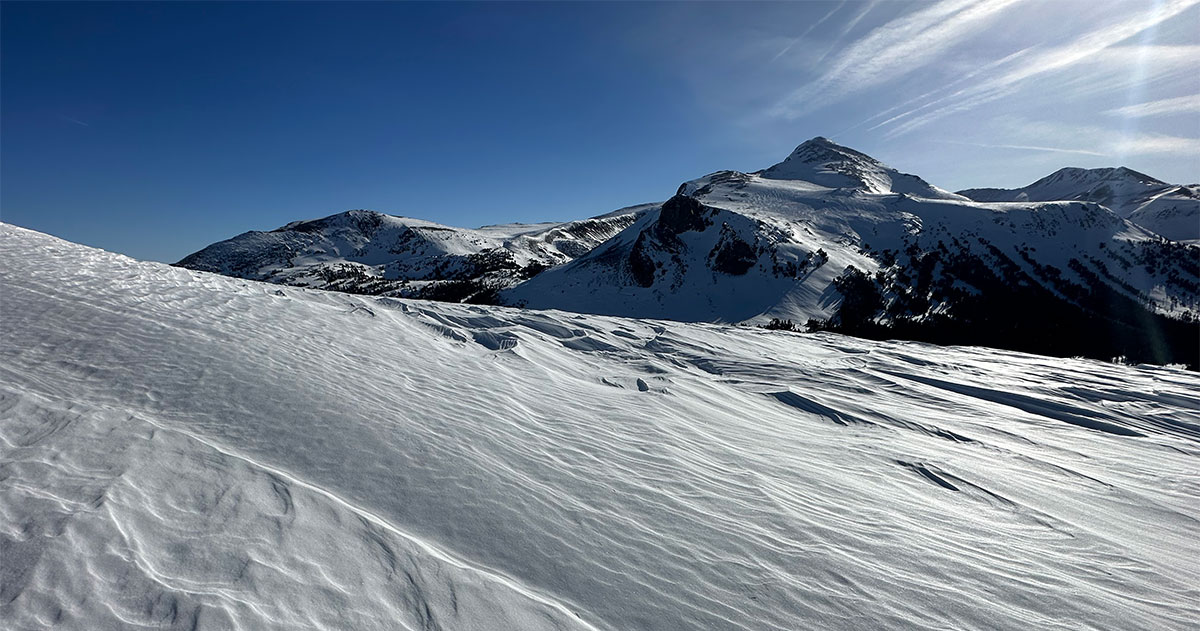 New Snow:
14 inches
Settled Snow Depth
: 101 inches
High temperature
: 46°F (February 1)
Low temperature
: -5°F (February 6)
Ski Conditions and Weather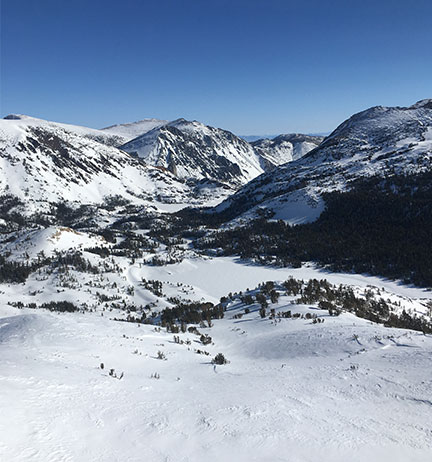 The week started warm and dry and ended cold and wet. A nice little storm over the weekend brought fresh snow, high winds, and cold temperatures. Ski conditions were vastly improved by the new snow. The debris that littered the old snow surface from the two weeks of dry weather and wind is buried for now.
The big storms of January have left great snow coverage on all aspects. In fact, according to the February 1 snow survey results, the Tuolumne River drainage is 200% of normal for this time of year. There is, however, plenty of bare ground being revealed on the wind scoured slopes in the alpine region. One should pay close attention to the weather forecast and get on it early if a solar aspect is your ski objective for the day. The morning is the best time to be in nature and tends to be less windy as well. When the storm cleared this week, we were treated with a bluebird morning with crisp temperatures. The morning light on a juniper forested hillside laden with fresh snow is sure hard to beat!
The forecast is calling for dry weather and warming temperatures this week. Be prepared with glide wax, a scraper, and plenty of patience.   
The Lee Vining approach to Yosemite remains a mountaineering experience. We recommend an ice axe and crampons in the kit as hard and steep snow will likely be encountered.   
Avalanche and Snowpack Conditions
Please refer to the Eastern Sierra Avalanche Center (ESAC) and the Bridgeport Avalanche Center for the avalanche advisories for this part of the Sierra Nevada.
The high winds that accompanied the new snow this week brought a period of heightened avalanche hazard. We observed cracking in the new snow as wind slabs developed quickly during the storm. We also observed some shallow but widespread wind slab avalanche activity in the Gaylor Lakes basin below the cliffs and rock bands prior to the storm.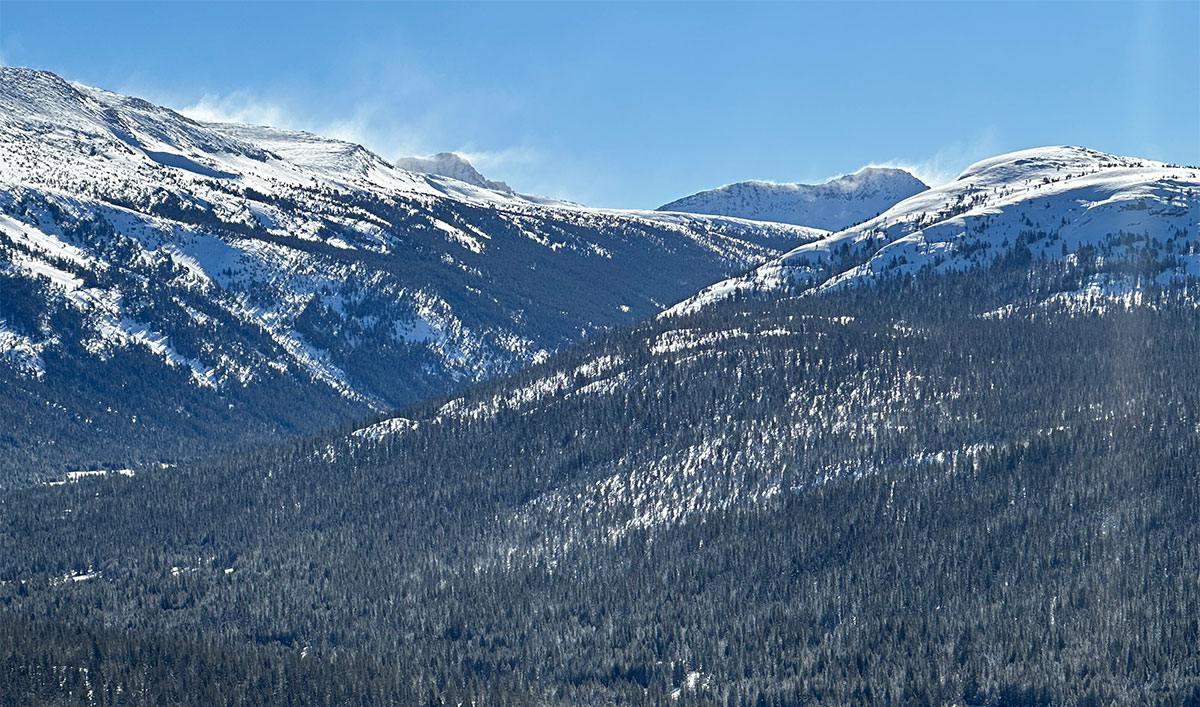 It looks like a windy week ahead so wilderness travelers will need to be attentive for the potential for new wind slabs. It does not need to be actively snowing for wind slabs to form. If there is enough loose snow in the "fetch" to be transported, wind slabs can form well after the snow has stopped falling from the sky.
Wildlife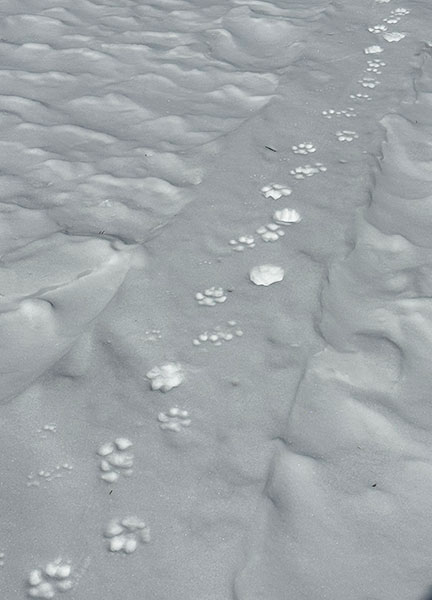 This week it was the canines that took advantage of our ski track on their way to and from Dana Meadows. Long and short-tailed weasel tracks chose their own path as they don't need the added assistance.
As we ascended Gaylor Peak the lenticulars started forming to our chagrin, but a couple of golden eagles appeared to enjoy the lift the winds gave their wings.
As we were descending on our skis, we spooked a white-tailed jackrabbit which initially sprinted downhill. Suddenly it seemed to recognize that we weren't adept at following it in the uphill direction, so it abruptly turned 180 degrees and hopped away. It almost seemed to know that we wouldn't be able to don our skins in time to give chase in an uphill direction had we been its predators.
Questions
The Tuolumne Meadows Ski Hut is open. There is firewood and 8 bunks that are available on a first-come, first-served basis. For those visiting the Tuolumne Meadows Ski Hut from the east (only) permits are self-issued at the ski hut.  For those entering from other areas, please see Yosemite's website: https://www.nps.gov/yose/planyourvisit/wildpermits.htm (#3: Do I need a wilderness permit during winter?) or you may contact the wilderness office at 209/372-0740. As of this writing, there is electricity but no phone service in Tuolumne Meadows.
Come prepared, and please make good decisions while traveling in the wilderness!
Read through the following two pages before embarking on any day or overnight snow travel within this park: 
You may contact us with any additional winter Tuolumne Meadows related questions but response times may vary if we are away on patrol. 
Happy skiing!
Laura and Rob Pilewski - Tuolumne Meadows winter rangers