Weather: January 31st through February 6th
High temperature: 53°F (February 1st)
Low temperature:  1°F (February6th)
New Snow: none
Total settled snow depth: 42 inches as of February 6th
Skiing Conditions and Weather: 
It was a dry week with calm winds and seasonal temperatures in the Tuolumne Meadows area.  The base snow depth remains unchanged in spite of the persistent dry weather, however, and coverage is still excellent for ski touring.  The lower elevation south and west aspects have been yielding some corn snow in the afternoons, while the higher elevations remain wind affected and have a predominately hard and rough textured snow surface.   A brief change in the weather is forecast for the next few days with a chance for precipitation and colder temperatures.  
 There are several miles of dry pavement interspersed with snow drifts from the gate at the bottom of  Lee Vining Canyon to the 9,000 foot level (near the Warren Fork).  Otherwise, the Tioga Road is 100% snow covered from there west to Crane Flat in Yosemite National Park.  
Avalanche and Snowpack Conditions:
For the latest avalanche advisory for this area go to www.esavalanche.org for the Eastern Sierra Avalanche Center and click on advisory. The ESAC site is updated several times a week and more often during weather events.
The avalanche hazard is low on all aspects and elevations in the Tuolumne Meadows area until the next significant weather event.  There is a lot of hard snow out there which will make for a good sliding surface for any newly fallen snow.    Wilderness travelers should use caution after any upcoming snowfall on slopes steeper than 30 degrees, especially wind effected slopes above tree line.   Most slopes are wind effected and supportable above tree line, and in various stages of melt freeze below timberline.  
Wildlife:
We had quite the unique experience this week along the north ridge of Johnson Peak. We saw what appeared to be a rock sitting on top of the snow, but were confused as to where it had fallen from. But, just as we were squinting our eyes trying to figure out what it truly was, it defied gravity and started rolling uphill towards us.  Before we knew it, this bold pika, aka "rock rabbit," was running over the tips of our skis wishing Happy Birthday to Ranger Laura.
Last but not least, the coyotes of Tuolumne were heard on several occasions and an unkindness of ravens enjoyed the Super Bowl weekend in the area (sorry 49'ers fans).
Questions: The Tuolumne Meadows Ski Hut is open.  There is an ample supply of firewood and 10 bunks that are available on a first come, first served basis. You can call the Tuolumne Meadows Ranger Station at 209/372-0450. If you leave a message we will get back to you the first chance we get. Power and phones are frequently out of service. Contact the wilderness office at 209/372-0740 with any questions or concerns if you are unable to reach the ranger station. Come prepared; don't count on electricity or phone service at the ski hut.
Laura and Rob Pilewski
Tuolumne Meadows Winter Rangers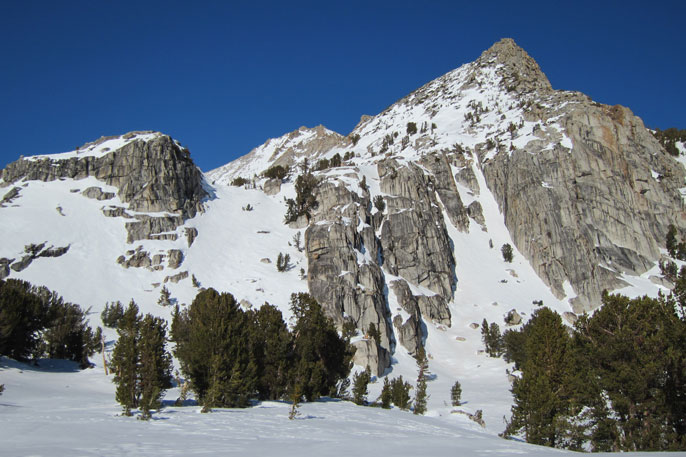 Whitebark pines and granite cliffs, February 6, 2013.