New snow: 3 inches
Total settled snow depth: 42 inches (at 8,600 feet)
High temperature: 55°F (February 22)
Low temperature: -2°F (February 18)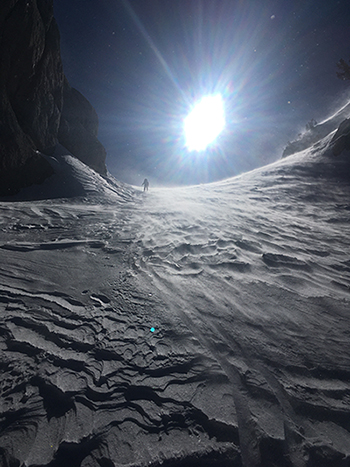 Ski Conditions and Weather
The photo "wind and sun" pretty much sums up the ski conditions and weather for the week, and this winter season so far. In a winter that has included two significant weather events, a historical Mono Wind event in mid-January and a cold atmospheric river winter storm in late January, the rest of this season has been rife with wind and sun. The textured snow in the photo, the result of wind blowing up and down the slope (at different times and dependent on changing weather patterns), is representative of what the alpine snowpack looks like presently. Although at this point there is not much loose snow left to leave a ski track like the one in the photo. Visitors to the alpine zone above tree line should anticipate hard surface conditions and be prepared with an ice-axe and crampons if traveling in steeper terrain.
We have been out doing the monthly snow surveys this week. Per usual, the snowpack is deeper as one travels west from Tuolumne Meadows (as that area gets more precipitation), with five to six feet of snow on the ground at Tenaya Lake and Snow Flat. The snow line goes down to about 7,200 feet and is patchy below. The snow surface has become more supportable below tree line as it has gone through more melt freeze cycles. Touring conditions are good, though corn snow has been elusive so far.     
Avalanche and Snowpack Conditions
Please refer to the Eastern Sierra Avalanche Center (ESAC) for the avalanche advisory for this part of the Sierra Nevada.

The avalanche hazard is low in the Tuolumne Meadows area. We did observe several old glide avalanches on the slopes of Clouds Rest and Cathedral Peak while on patrol in these areas this week. Glide occurs when the entire snowpack slowly slides as a unit on the ground. Glide avalanches are difficult to forecast and occur on steeper slopes and often in areas where the ground consists of a smooth surface. The domes and granite slopes of Yosemite are prime areas for glide avalanches to occur.

As we continue into a warm spell, visitors should be attentive on solar aspects for the potential of wet avalanches and rockfall.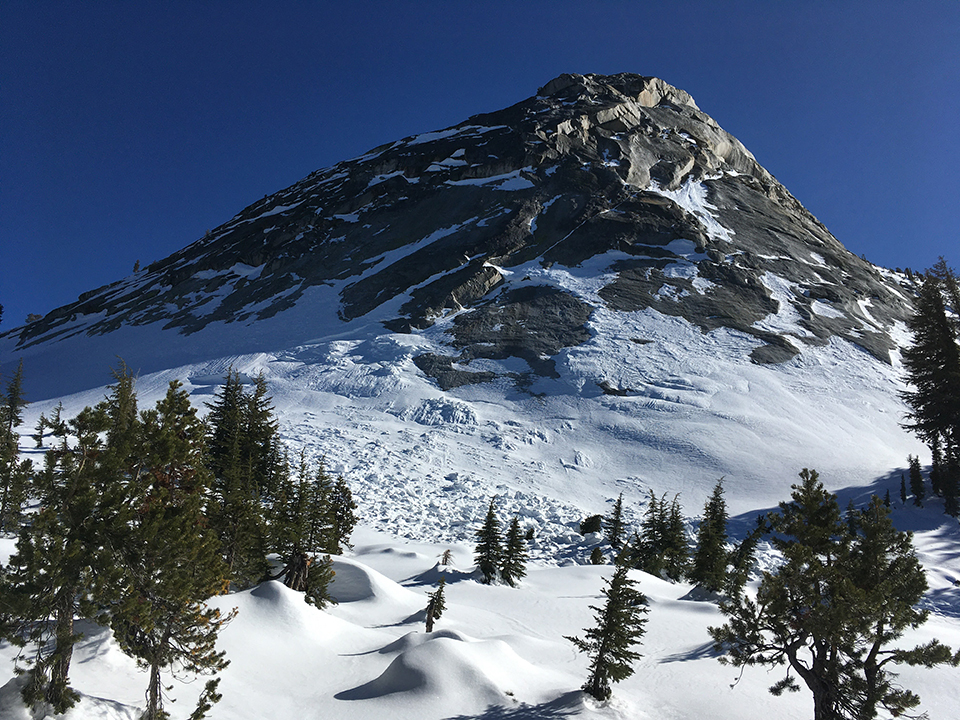 Wildlife
While sliding along the ridgetop en route to Snow Creek one afternoon we spooked a sooty grouse from its perch in a Jeffrey pine. These birds winter in the high Sierra surviving on "…pine needles, buds and pollen cones" (Beedy and Pandolfino, 2013). With the warmer, sunny weather, this male may have been already staking its claim on a prime piece of real estate as its breeding territory. We were certainly impressed by the view of Mt. Watkins and the Valley!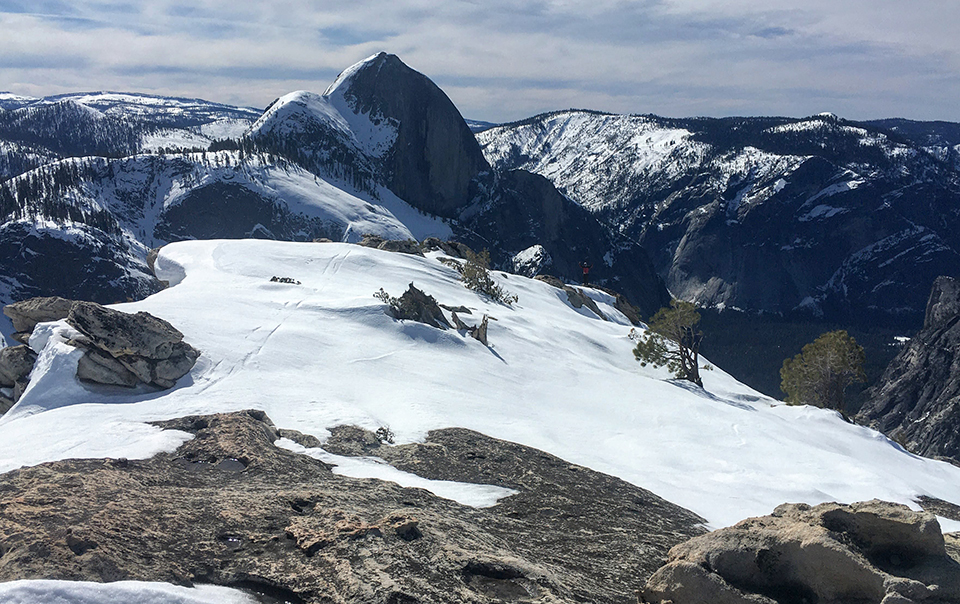 General Information
The Tuolumne Meadows Ski Hut is closed for the 2020-2021 season.

Enjoy the Sunshine!
Rob and Laura Pilewski - Tuolumne Meadows Winter Rangers