New snow:
55 inches
Total settled snow depth:
137 inches (at 8,600 feet)
High temperature:
47°F (February 15)
Low temperature:
18°F (February 17)  
Ski Conditions and Weather
After the epic January here in the Sierra Nevada we thought perhaps the weather would become more "settled" in February. Au contraire, as of this writing we have measured 128 inches of snow and 13 inches of water equivalent at our weather plot here in Tuolumne Meadows so far this month.  To put that in perspective, the historical averages for this site are 63 inches of snow and 4.39 inches of water equivalent for February. Perhaps it will be a miracle if it
doesn't
snow in March!  
This week we took advantage of the four day window of dry weather we had and patrolled up to Tioga Pass and Mt. Dana. For those familiar with the Tioga Pass entrance station and facilities, the only things visible above the snow surface when we arrived were the chimney on Ferdinand's Hut, the flagpole, and the top of one of the pillars of the massive entrance gate. Of course this was really no surprise given that there is over 200 inches of snow there. Like rodents, we had to burrow down to enter our park "accommodations" for the night. Needless to say, our shovel skills are well honed this season.

The skiing in the alpine was good supportable wind board, and it was great to get up high and feel the awesome space that makes up this part of the Sierra.  We are realizing the futility of talking about ski conditions during a winter season that goes through so many changes so fast.  This much we can say with certainty……snow coverage is excellent and there is skiing to be had.  Lots and lots of skiing.  And snow. Yippee!  
Avalanche and Snowpack Conditions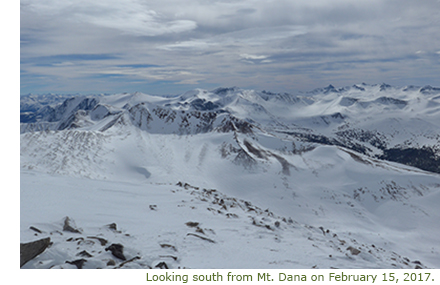 Please refer to the 
Eastern Sierra Avalanche Center
 for the avalanche advisory for this part of the Sierra Nevada.  
In order to get to Tuolumne Meadows from the east, one has to run the gauntlet of Lee Vining Canyon. This should not be taken lightly this season. All avalanche paths are holding snow and the frequency of storms and wind events has kept the hazard at moderate to high consistently since early January. The Tioga Road in essence, does not exist in places and can be quite steep and treacherous. Route selection and proper planning are essential to ensure safe travel in the mountains this winter. Presently, the biggest avalanche concerns are from wind slabs and storm slabs. The high winds that accompanied the latest atmospheric river event have the potential for wind slab formation on all aspects and elevations. Wind slabs can form on slopes, gullies, and places that otherwise would not be considered a threat. Even a small avalanche in the wrong place (i.e. a terrain trap, or above a cliff) could be catastrophic.     
Wildlife
A pair of golden eagles was seen patrolling the park boundary above Mt. Dana. Although they covered the miles more quickly with a few flaps of their wings, it's hard to say what was a more fun way to travel that day….flying or skiing!  
Questions
The Tuolumne Meadows Ski Hut is open. There is firewood and 10 bunks that are available on a first-come, first-served basis.
Power has been intermittent and there is NO phone service in Tuolumne Meadows this winter.
 We can be contacted via 
email
, but we may be delayed in responding if we are on patrol. Contact the wilderness office at 209/372-0740 with any questions or concerns. Contact the wilderness office at 209/372-0740 with any questions or concerns. Come prepared, and please make good decisions while travelling in the wilderness this winter.  
Happy Skiing!
Laura and Rob Pilewski - Tuolumne Winter Rangers