New snow: 39 inches
Total settled snow depth: 92 inches (at 8,600 feet)
High temperature: 32°F (February 14)
Low temperature: -17°F (February 19)
Ski Conditions and Weather

This week continued the February weather trend of cold and wet. It started with a warm AR (Atmospheric River) storm that brought rain, graupel, thunder, lightning and then snow and lots of wind. The week is now ending with a cold "inside slider" storm that is forecast to bring a few more inches of snow and below average temperatures. Our weather plot here in Tuolumne Meadows broke the 40 year record for February snowfall this week when it exceeded the previous record of 174 inches set in 1998. Despite this fact, it hasn't broken the record for water content due to the cold, low density snow. We will be setting out tomorrow to perform the monthly snow surveys and anticipate sampling a snowpack that is well above average depth for March 1. This bodes well for California and its recreationalists who like water in its various forms.

Speaking of recreation……it was another banner week for skiing in the Tuolumne Meadows area. The rain put a damper on things initially, but colder temperatures and 35 inches of new snow soon buried the slushy mess left in its wake. That was until the skies cleared and one could see that shiny, rain crust being reflected atop the wind swept ridges. We have found this remnant of the AR in all areas primarily below 10,000 feet. For now it is a supportable and smooth layer which makes for fine skiing where the snow has melded to and buried it. However, in the alpine zone, it presents a hazard when on steeper terrain (trust us, we tried to get an edge and failed!).  We will continue to monitor this layer as winter progresses, both from an avalanche hazard standpoint, and as a safety issue for "slide of life" conditions.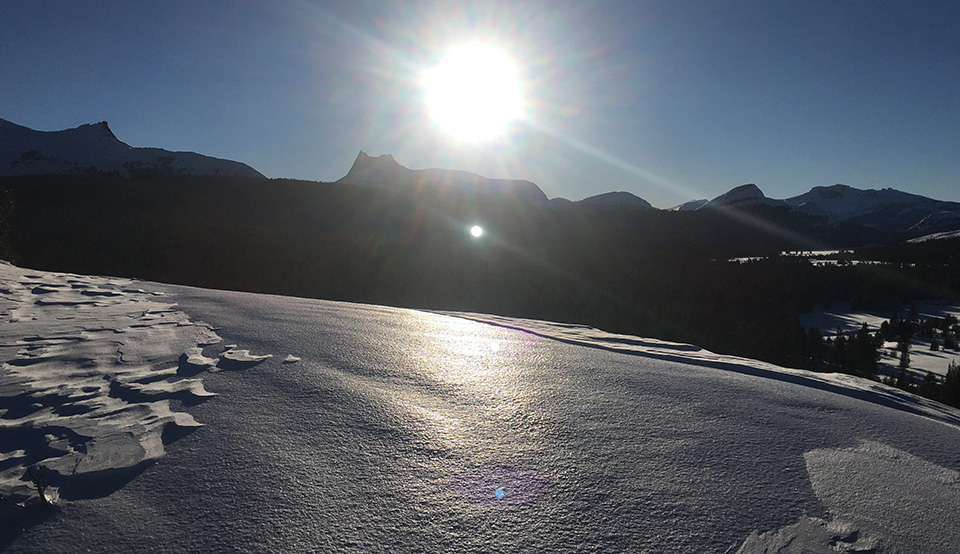 As of this writing Highway 120 has not been plowed above the USFS office in Lee Vining Canyon which adds about two miles to an already lengthy approach to Tuolumne Meadows from the east. The Poole Power Plant road is also unmaintained at this time and impassable to vehicular traffic. If one is ambitious enough for this trek, be advised that crampons and/or an ice axe may be warranted on the approach to Tioga Pass for the remainder of the ski season especially where there may be avalanche or wind deposited snow, and/or that rain crust!
Avalanche and Snowpack Conditions

Please refer to the Eastern Sierra Avalanche Center (ESAC) for the avalanche advisory for this part of the Sierra Nevada.

The last couple of days of sunshine (not today) has given us the opportunity to get out and look at the effects of the big, wet February on our snowpack. We observed minimal avalanche activity or signs of instability during the week in our travel zone between 8,600 feet and 10,000 feet and on most aspects. We did not observe any avalanche activity in the higher alpine reaches either, as we scanned the slopes with binoculars. High winds have scoured much of the alpine terrain and redeposited snow on various aspects as we had winds out of the SW and NE this week. Overall, the avalanche hazard in the Tuolumne Meadows area is presently low. Travelers to the alpine terrain above tree line should be attentive to wind slabs forming and subtle differences in aspect and terrain features where newly formed wind slabs may be lurking. 
 
Wildlife

This month has been quite stormy so the wildlife, like us, hasn't been able to travel as far unless it has wings. And, the four-legged critters' tracks have been wiped clean by the wind and snow. Consequently, our observations have been somewhat limited. But, we did see a flock of red crossbills for the first time this season while shoveling the roof of the ski hut. Douglas squirrel, long-tailed weasel, and pine marten tracks have also been evident.
 
General Information

The Tuolumne Meadows Ski Hut is open. There is firewood and 8 bunks that are available on a first-come, first-served basis.

There is no phone service in Tuolumne Meadows. We can be contacted regarding winter travel to Tuolumne Meadows via email, but we may be delayed in responding if we are on patrol.

For those visiting the Tuolumne Ski Hut from the east (only) permits are self-issued at the ski hut. For those entering from other areas, visit: https://www.nps.gov/yose/planyourvisit/wildpermits.htm or you may contact the wilderness office at 209/372-0740.

Come prepared, and please make good decisions while travelling in the wilderness!

Happy Skiing!
Laura and Rob Pilewski - Tuolumne Meadows Winter Rangers