New snow:
1 inch
Total settled snow depth:
95 inches (at 8,600 feet)
High temperature:
52°F (January 29)
Low temperature:
-16°F (January 25)

Ski Conditions and Weather
We just completed our first set of snow surveys for the month of January 2017 (aka the February 1 snow surveys). All five of our courses from Snow Flat, Tenaya Lake, Tuolumne Meadows, Rafferty Creek and Dana Meadows yielded snow depths (HS) and water content (SWE) within the top three to five ever recorded for the month. But nobody knows what the rest of winter or spring will bring, not even good ol' Punxsutawney Phil. However, if you're ever curious about real-time snow or
water data for the state of California
, you can check it out yourself. It was obviously created to provide information for water allocation, but it can be a great tool for planning ski trips and early season backpacking.  
The warm temperatures this week caused the snow surface, on all aspects except north, below 9,500 feet, to go through a melt-freeze cycle. In the alpine zone, the snow is wind affected. As always, conditions are ever changing and the new snow in the forecast should soften up the ski conditions again.  
Avalanche and Snowpack Conditions
Please refer to the 
Eastern Sierra Avalanche Center
 for the avalanche advisory for this part of the Sierra Nevada.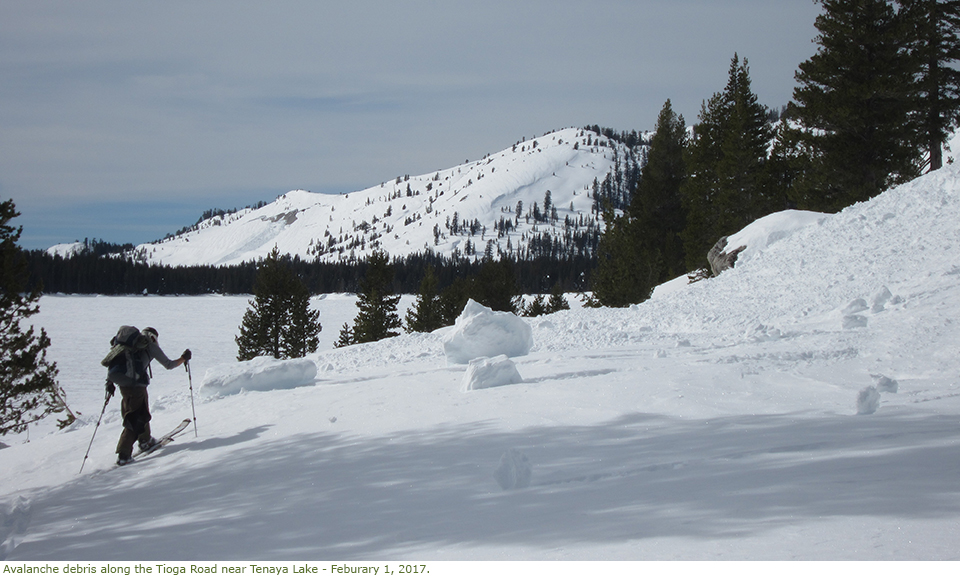 This week our travels brought us through some avalanche prone zones. Although relatively stable when we went through, significant debris piles were seen along the Tioga Road. Those notable slide paths were the usual suspects: Olmsted Point, Stately Pleasure and Polly Domes east of Tenaya Lake, and Tenaya Peak. A visitor also stated that avalanche debris has also hit the road in numerous places east of Tioga Pass. As a result, the area below or east of Ellery Lake Dam along the road has become quite steep where, depending on conditions, one may want an ice axe and or crampons.  
As of this writing, more snow is forecast and the avalanche hazard will likely be increasing.  
Wildlife
Not only are the Juniper berries attracting bird life this season, but the predators are enjoying the abundance of food among the branches as well. As evidence by their scat and hundreds of tracks, coyotes are feasting on the berries which are now easily reached from the top of the deep snow. Also, birds of prey and pine marten are doubling down on the birds which are now stuffed with these berries as evidenced by a couple of feather explosions of cedar waxwings.    
Questions
The Tuolumne Meadows Ski Hut is open. There is firewood and 10 bunks that are available on a first come, first served basis.  
There is NO power or phone service in Tuolumne Meadows this winter.
 We can be contacted via 
email
, but we may be delayed in responding if we are on patrol.  Contact the wilderness office at 209/372-0740 with any questions or concerns. Come prepared, and please make good decisions while traveling in the wilderness this winter.
Happy Groundhog Day!
Laura and Rob Pilewski - Tuolumne Winter Rangers
P.S. - It's snowing again now!